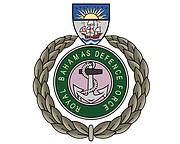 By LETRE SWEETING
Tribune Staff Reporter
lsweeting@tribunemedia.net
THE Royal Bahamas Defence Force is aggressively recruiting new officers and is in the process of expanding the agency's fleet, according to RBDF Commodore Raymond King yesterday.
Commodore King spoke to reporters about the progress of partnerships, procurements and recruitment initiatives for the RBDF on the sidelines of the National Maritime Exhibit and Career Fair at the Mall at Marathon.
"With respect to partnerships, we have a very strong relationship with the United States of America, Turks and Caicos, and we're strengthening our relationship with the Republic of Cuba," Commodore King said.
"There's a comprehensive maritime agreement talks and discussions that would've started a few years ago, we are now poised to recommence those discussions in April," he said.
"So we would agree formally to work together to combat all those transnational threats like illegal fishing, migrant smuggling, arms and weapons smuggling, drug smuggling and so we're looking forward to that agreement with the Republic of Cuba in April," Commodore King said.
"I just returned from a Northern Caribbean Security Summit, which brought the stakeholders together, Turks and Caicos, the United States and The Bahamas. We looked at the possibility of strengthening the agreements that we have. There is an agreement that we signed in early 1982. We discussed the need to broaden that particular agreement," he said.
"The government is looking at a public private partnership (PPP) as a financing mechanism to fund the growth of our bases in the southern and northern regions of The Bahamas," Commodore King said.
"We're in the procurement process to acquire another 62-metre patrol craft, another auxiliary vessel or roll-on/roll-off vessel in the event of the eventuality or the unfaithful incidence whereby you have multiple islands affected by a storm or hurricane. We want to have that capacity and capability of deploying to multiple islands at the same time," Commodore King said. "We are also procuring some smaller vessels, what we call safe boats, they are coastal patrol vessels. We're looking at procuring about four of those right now," he said.
"We are now aggressively recruiting, for our next entry we're looking for possibly 200 recruits come July. And we just got approval to expand reservist component, so now we are advertising for industry professionals who wish to join our reserve unit," Commodore King said.
National Maritime Policy Implementation Committee chairperson Rev Angela Palacious said her mandate as a part of the committee has been trying to implement the National Maritime Policy, created in 2015, which she said will be upgraded and updated shortly.
"Once this exhibition is over, our work continues to prepare for Cabinet the latest implementation strategies that are happening in the 32 maritime related agencies, companies and departments that make up the committee," she said.
Mrs Palacious added that the goal of the exhibition is to promote and introduce business professionals, students and other interested persons to various entities and career possibilities within the maritime industry.
Agencies participating in the exhibition include, LJM Maritime Academy, the Royal Bahamas Police Force (RBPF), the RBDF, the Department of Environmental and Marine Resources, the Department of Environmental Planning and Protection (DEPP), Bahamas Reef Environment Educational Foundation (BREEF), the Bahamas Customs Department, Bahamas Maritime Cadet Corps (BMCC), Bahamas National Trust and other maritime related agencies.
Prime Minister Philip "Brave" Davis and Transport and Housing Minister JoBeth Coleby-Davis are expected to attend the exhibition on Thursday.
Students from several public schools are also expected to visit the exhibit and career fair throughout the week, through free transportation arranged by the NMPIC.