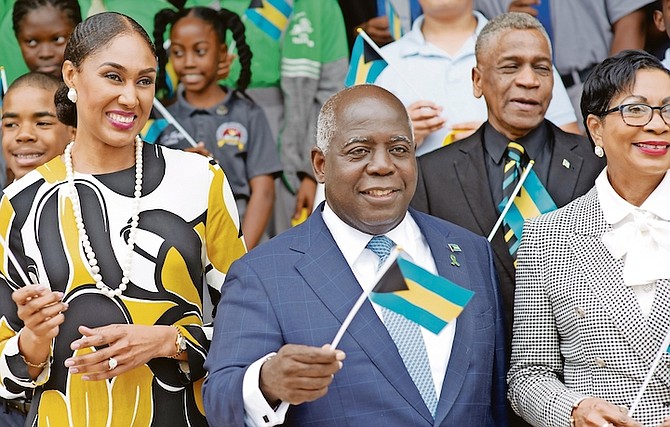 By LETRE SWEETING
Tribune Staff Reporter
lsweeting@tribunemedia.net
SOME 50 events and 242 initiatives are planned for The Bahamas' 50th independence celebrations, according to the official calendar of events released digitally to the public yesterday.
The Independence Secretariat officially launched the 50th anniversary calendar of events yesterday at the. The celebrations, which began December 3, 2022 with the The Road to 50 Race, will last until November 11, with The Road Continues Race.
The calendar includes activities hosted by 33 Family Island districts, participation from foreign missions and other events and activities hosted by various local organisations, agencies and NGOs.
Prime Minister Philip "Brave" Davis during his remarks yesterday boasted that the calendar included events, initiatives and celebrations for all Bahamians.
"Well, we are here to celebrate our country's 50th year as an independent nation. That's the country's birthday. What's most important is that we celebrate in a way that includes all Bahamians, young and old, and everyone in between, north and south, and everyone in between," he said.
"Today (Wednesday), the releasing of the official national independent Secretariat calendar of events is done so that Bahamians can prepare for the months ahead, which will be filled with exciting events," Mr Davis said.
"Our 50th year represents a turning point for all the Bahamians, regardless of their background, beliefs or politics, to come together to make the next 50 years even better. In the spirit of unity, we must ensure that this monumental year is celebrated, honoured, and used as the launching point for the new Bahamas that we see in our visions," he said.
"Throughout 2023, we will host a diverse range of events that will serve as a springboard for our next chapter. As a nation. The slate of events will work in alignment with three things, One Nation, which speaks to the elements that unify us as a people using food, values, and of course Junkanoo. (Second) our legacy, which includes honouring nation builders, and ensuring that the full story of an independent Bahamas is recorded, and told. And finally, our future, as we launch health and food security initiatives, engage our children and empower youth. That's our future," Mr Davis said.
Leslia Miller-Brice, chairperson of the Independence Secretariat, mentioned several key events listed within the calendar.
Events, celebrations and activities include official 242 challenges, which will occur May 3 through December 31, marking 242 days, which includes the Eat Local, Eat Fresh initiative, and the My Country, My Responsibility initiative.
May 5 will be observed as National Jubilee Day where schools across the country will host a special assembly to celebrate the country's golden jubilee. The following day there will be a 50th on Bay Street Festival. Other events of note include a gospel concert on June 25, a national float parade and nationwide motorcade on July 1 and the Independence Military Tattoo and Cultural Show on Clifford Park on July 9.
On each Sunday in July at 7.10am, a national prayer and fellowship will be held for 50 minutes.
On Friday, March 24 at the Grand Ballroom at Baha Mar, a 1973 masterclass series will be continuing in recognition of Sir Lynden Pindling, his life and legacy. This event is open to the public as space will permit.
On Sunday, March 26, the Independence Secretariat will host a Dame Doris Johnson's National Women's unity march and concert at 3pm, Mrs Miller-Brice, also the Seabreeze MP added.
All events are free and open to the public with a few exceptions mentioned on the calendar.
The full 115-page listing of the calendar of events is featured online at celebrate-bahamas.com.