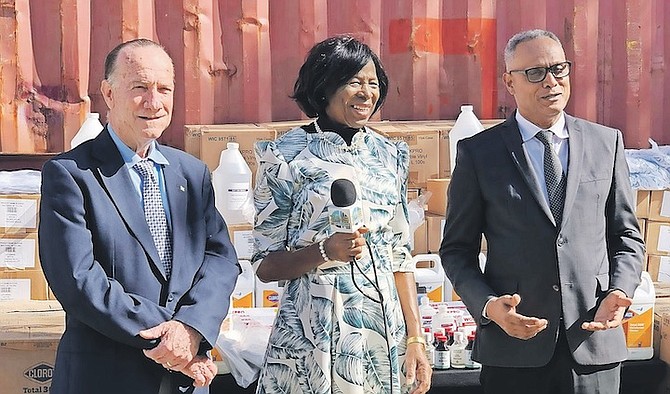 By LETRE SWEETING
Tribune Staff Reporter
lsweeting@tribunemedia.net
"HUNDREDS" of cleaning supplies and utensils were donated to The Ministry of Health for clinics and other facilities throughout The Bahamas on Friday, from the Cynthia Mother Pratt Foundation, with help from supporters and sponsors in the United States.
Former Deputy Prime Minister Cynthia "Mother" Pratt, through her foundation, donated hundreds of hand sanitisers, gloves, facial masks and Clorox disinfectant cleaners, housed in a 40 feet container trailer.
The presentation was made at the foundation's current base outside of Mother Pratt's church, Prayer and Praise Assembly, on Ragged Island Street.
Mother Pratt presented the donation to Health Minister Michael Darville, and expressed her appreciation for the donations.
"We are grateful to present these donations," she said. "We do care. And we are concerned. Every day when you speak about health care in our country. And some of the challenges that we're facing? We stop and think what can I do instead of complaining? What can I do to help my country? And so that's why I'm delighted to be a part of this."
Mother Pratt added: "And, of course, I want to thank those donors who have sent this from the United States. And these have been sponsors for us now for many years. It is because of giving people, who want to give. We don't look for anything in return. But we want to see our country move forward in a healthy way.
"We are proud to be able to present them to the Ministry of Health. We have masks. We also have gloves. We have hand sanitisers, all of those things can be distributed to the clinics and to different areas, the schools and all of that and that's what we are about. And so we are trying our best to see how we can help in a small way," she said.
Health Minister Dr Darville expressed his gratitude to Mother Pratt and her foundation, adding that the items donated will go where they are supposed to go.
"Today, I'm pleased to be here with Mother Pratt to accept this gift on behalf of the Bahamian people in the government of the Commonwealth of the Bahamas that will be earmarked for our clinics, not only in New Providence but throughout the Family Islands," he said.
"These supplies will go where they're supposed to go. Today, it's the Ministry of Health. And we are so pleased to be a part of this great gift. And I'm certain that it will go a long way," he said.
Dr Darville said the supplies "are absolutely vital, for sanitisation of our clinics".
"These supplies will be distributed throughout the Family Islands in order for us to be able to ensure that those individuals who come to our clinic come to an environment that is completely sanitised. Mother Pratt did say something, that COVID is still with us. But there's also lots of upper respiratory tract infections this time of the year. The same sanitisation mechanisms for COVID exist for upper respiratory tract infections," Dr Darville said.
Last year, the Cynthia Mother Pratt Foundation with help from supporters also donated more than 35,000 pairs of footwear to the Ministry of Social Services and Urban Development for both New Providence and Grand Bahama.