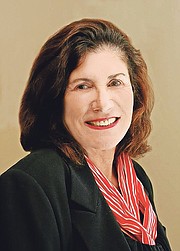 A STRANGE phenomenon has been taking place in Montagu Bay in recent months, growing exponentially in recent weeks. Montagu Bay is looking a lot like Elizabeth Harbour in Exuma, a stretch of water between islands that turned from a helmsman's highway into a watery parking lot for boaters.
Montagu, the bay that lies between the eastern district of New Providence and Paradise Island and Atholl Island to the north has suddenly become a floating marina. There are no dock slips, pilons, ladders, boardwalks, connections for shore power, restrooms or laundry facilities as you would see in a marina where boats in a city environment normally dock.
Yet more and more boats convene as if there were a convention of catamarans and they are free to come and go, drop anchor (hopefully not on coral), spend a night or longer, take off for Exuma presumably and honker down in the next safe harbour.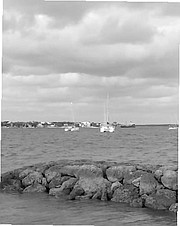 I point this out not because I am anti-sailing. I landed in The Bahamas 41 years ago on a sailboat, met my husband who was then an avid racing sailor, at a regatta and we spent the best years of our lives on one sailboat or another. In fact, my husband is still a sailmaker as well as a marine surveyor and his reputation is so solid that boats come up all the way from St Thomas to have sail repairs done right.
Zut I also know what the excessive sailboat traffic did to Elizabeth Harbour in Exuma. There have been times when so many sailors gathered that they were able to walk across the harbour on a line-up of inflatables. Did the fun and the challenge outweigh the impact on the harbour?
Boaters brought benefits, livened up George Town, filled the few small cafes with freshly baked bread and croissants, spent money in restaurants, bought fuel and liquor, tied up at Minnis dock for a daily run to the grocery store or to get water. They created the world we now call Exuma, the boater's paradise of The Bahamas.
They also left gobs of plastic bags filled with trash in town because there was never a solid plan for where all these boats were supposed to dump their refuse. It wasn't their fault. It was lack of planning.
While everyone was partying and talking about the beauty of Exuma and the fun of Elizabeth Harbour, something else was happening. The fish disappeared. A watery parking lot for vessels became a tragedy for what attracted them in the first place. Again, not their fault. These sailors loved the waters of Exuma, surely among the most beautiful and breathtaking in the world.
But no one was checking – were all the boats on moorings to avoid dragging anchor and to protect whatever was left of any coral reefs? Was it just a free run, no charge for spending the winter in the warmth of the Bahamian sun on a boat that owed nothing to The Bahamas and could up anchor and sail off at the next high tide to make it safely over the shallow Exuma banks?
I have no idea why the boats, a few luxury yachts and monohull sloops, but mostly catamarans, have now chosen Montagu Bay as their parking lot. Is there a shortage of available slips at a reasonable rate in Nassau's marinas? I do know that one day this week seven yachts were turned away from the most sophisticated new marina because it was full. Were others just as busy?
Palm Cay Marina is so packed with catamarans, most of which go out on weekly charters to the Exumas, that they've made it difficult for local boaters to keep their vessels there.
Nassau Yacht Haven has undergone an upgrade and is busy. Does Nassau need another marina? Or should there be a charge, as Mario Carey has suggested in his urging that we monetize the waters of The Bahamas, not just for the big ships passing through but for the hundreds of smaller vessels that winter here?
I do not know the answer, but I know that something does not feel right about the risks we are taking with our waters, both environmentally and for security. Is the increasingly crowded harbour an accident waiting to happen as more boats moor in a channel where mailboats, tour boats and other vessels pass constantly?
As I pose the question, please remember that I am a sailor, former commodore of the racing Bahamas Yacht Squadron, co-founder of Books on Board, a means of trading books with others living or staying on boats where space is limited. I would happily give up my home on land to live on a boat.
My respect for sailors is deep and abiding, and I was one of those who fought for years to make sailing the national sport of The Bahamas. Finally, it is -- as it should have been all along.
But as we celebrate the Road to 50 and acknowledge the importance of this means of transport that carved a path for our forebears to make their way through the islands, we are risking that which made the journey so special.
We need to monitor what is happening, ensuring that mooring buoys are in place, coral is not being destroyed or compromised and those who spend a night respect the laws that include a no take zone for fish, conch and crawfish.
We need to understand what happens to their trash and whether the boats all have proper holding tanks which are not being emptied in the bay.
We are just at the beginning of what appears to be a new chapter in Nassau's boating annals and if something needs to happen to prevent Montagu Bay from going the way of a now-barren Elizabeth Harbour in Exuma, this is the time. All of this is offered with no disrespect to those on the catamarans that dot the bay. I look at them daily on my way to an office on land and feel a stab of longing for the life they enjoy at sea.
To the sailors - May you enjoy The Bahamas while respecting the rich marine resources that drew you here and may you continue to take the slow, steady ride when the wind fills your sails and a broad reach is as gentle and rewarding as the dream you had when you were young and one day wanted to sail the Lucayan Sea.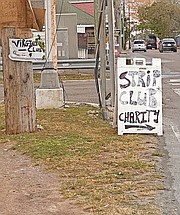 CHARITY?
ALL IN the name of Charity – It's show time, or so the sign at the intersection of Kemp Road and Shirley Street, promises.
Thanks to the arrow, the sign pointing the way to strip club action is clear on directions. What's not so clear, as someone said, is whether the show is for charity or Charity is the show.
If you happen to find yourself in the neighbourhood and learn whether charity refers to open wallet to meet a need or the dancer who can put on a show, please let The Tribune know.
Thanks to the gentleman who sent the photo at 0:47pm on March 14. I wonder if he knows.