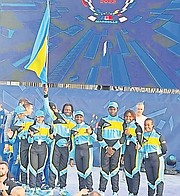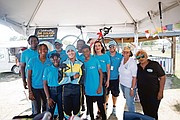 By FAY SIMMONS
jsimmons@tribunemedia.net
YOUNG Bahamians have been getting a taste of the racing world thanks to Edukarting Bahamas - even resulting in a trip to compete in France.
Members of the Edukarting Bahamas team were present at the 2023 Antique Auto Club of the Bahamas car show at the weekend and shared their experiences with The Tribune.
The Edukarting Programme was founded and coordinated by the Bahamas Motorsports Association with the support of the FIA Sport Grant Programme and provides an opportunity for students to learn kart driving and road safety skills.
Last year, the team competed at the 2022 FIA Motorsport Games in France, which is considered the Olympics of motorsports along with 72 countries.
Ramando Hudson, team captain, fondly recalled his first time racing on a professional race track.
He said: "It was exciting because it was my first time driving on a proper race car track and the experience was awesome to me."
He added: "I got in Edukarting during school, it was like a summer camp. The guys who come from the UK used to come over and I was interested so I asked about it and I joined."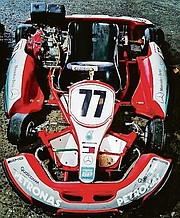 Maria Scott, a 10th grade student at Aquinas College, was captivated by the French culture and enjoyed bonding with her teammates.
She said: "It was a great, the culture was so much different in France and there was so much to learn while we were there. The actual racing itself was so thrilling. It was an amazing experience and being there as a team. We had so much fun off the track as well as on the track."
Naja Rolle, a student at the University of The Bahamas, considered the trip a learning experience and is looking forward to future competitions.
She said: "It was a very good experience. We got to see a lot of different types of races that we don't necessarily do in The Bahamas so I feel as though it was a very good learning experience for us and it will prepare is for the next year."
The Edukarting initiative was introduced in 2013 as a summer camp into public schools and four of the schools with automotive programs continued as an after-school Kart Club.
Dominick Robinson, E-sports Racer, and many other current members of the team were introduced to the sport through the camp.
He said: "It was a summer 2019, and there was an ad in the newspaper for the summer camp so I just decided to try it out."
Ms Scott said: "I started at the Edukarting camp in 2017 or 2018. I started in the parking lot of BTVI, and we were just learning the basics, the flags, how to drive stuff like that. And then we moved to the drag strip over by the sports centre where we raced and competed to see who would get chosen to go to France."
Ms Rolle was inspired to join the team due to her older sister's experience with the camp and has been actively involved ever since.
She said: "My sister was involved in this when I was younger, so I ended up following her. I went through the whole course, and then I decided that I was very much interested in it. I asked if I could teach, it has been eight years now and it's been blossoming ever since. I've been involved in everything from that day."
The team gave various reasons to get involved with the sport, including teamwork, communication skills, mechanics and off course entertainment.
Ms Scott said: "I feel like it's important that we get more girls in it. Because driving and racing and stuff like that is more of a boy managed field. There weren't many girls, I was only competing against one other girl to go while I was there was four or five six different boys. So it's really important that we get more young ladies involved."
Mr Hudson said: "It helps you like communicate with people and practice teamwork. It takes up a lot of time so you don't have any idle time at home doing negative stuff.
Ms Rolle said: "They could come to us from the Instagram Edukarting Bahamas or Road safety Bahamas we should have an Easter camp coming up. So just get involved in it. Once you're involved. You'll get to learn so many new things. This is not only about karting, it's about safety, it's about financing, PR, marketing and mechanics. It has a little bit of everything for anyone, so anybody can get involved."
Mr Robinson said: "If you like to speed, if you'd like to drive, this is the sport for you."