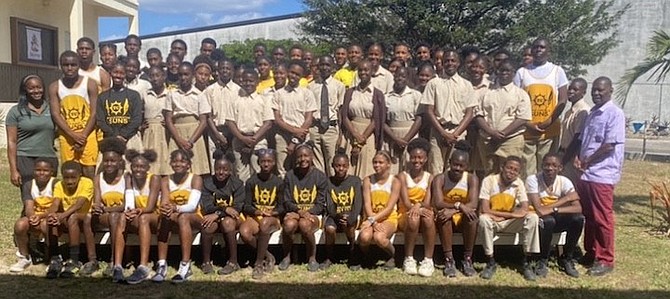 SCHOOL pride is still at an all time high at Temple Christian High School following their historic third-place finish at the Bahamas Association of Independent Secondary Schools (BAISS) Track and Field Championships.
The achievement is a remarkable one that reflects positively on the school and its athletics programme.
"Finishing third in the BAISS championships is no small feat, and it is something that should be celebrated and recognised by the entire school community," said high school principal Perry R. Cunningham.
"This accomplishment is a testament to the hard work and dedication of the student-athletes, coaches, and staff who have worked tirelessly to prepare and compete at the highest level.
"Our high school's achievement sets a new standard of excellence for future athletic teams to strive for. It demonstrates that with hard work, dedication, and commitment, anything is possible. The school community is proud of the student-athletes, coaches, and staff who have brought honour to the institution."
Reflecting on the journey to this point, he said:
"The team faced several challenges leading up to the BAISS track and field championships, including COVID-19, injuries, lack of equipment and staff, limited financial support and balancing academic work with athletic training.
However, they were able to overcome these obstacles through hard work, dedication and the support of their coaches, parents, staff and community."
Looking to the future, the principal added, "To maintain and build on this success, the school's athletics programme has several goals, including identifying new talents, improving facilities, implementing a physical conditioning programme, inviting accomplished athletes to motivate student-athletes, implementing a mentorship programme, participating in more competitions, increasing athletic scholarship awards, and gaining more parental support."
Coach Kenya Culmer is the head of physical education and head of the track and field programme at Temple Christian High School. She has been with the school for six years and has a background in track and field as a former athlete.
She attended Temple Christian Elementary and was introduced to the high jump by coach Demeritte. After high school, she was awarded a full track scholarship at Southern Illinois University, where she earned a bachelor's degree in business management.
In 2012, Culmer made history as the first Bahamian woman to jump over 6 feet, becoming the national high jump record holder. She originally came to Temple Christian to help out on a short-term basis, but six years later, she is still with the school, making a significant impact on its athletics programme.
Coach Culmer credits the team's success to a rigorous six-month training programme that focused on endurance, strength and technical aspects of each event. "Our students and coaches sacrificed much time into the preparation for the B.A.I.S.S. competition. We took the time to test each athlete and identify their strengths, which allowed us to put them into events where they could excel. The athletes themselves deserve much of the credit for their consistency and dedication, leaving everything on the track and field in each event."
She added: "The athletes handled the pressure exceptionally well, with not one expressing fear of competing against larger, more dominant schools. We taught them how to be confident and most importantly to believe that they can do all things through Christ who strengthens them."
Culmer leads a team alongside coaches Marvin Darville and Kevin Armbrister. An experienced coach, Armbrister was instrumental in the development of C.H Reeves' track and field programme for over 20 years, a high school who were dominant in the government school track and field sector for many years.
Darville has been head coach of the SunBlazers track and field club for 19 years, specialising in the sprints and hurdling events.
Culmer credited this experience in this area as a strong factor to the Suns' success in the hurdles events at the BAISS event.
She continued, "As a team, we were able to achieve this success through strong collaboration between the coaches and athletes. In addition, we were fortunate to have the support of dedicated parents and volunteer coaches, all of whom worked together to make this achievement possible. As we always say, 'teamwork makes the dreamwork.'"
Cunningham added: "By recognising and celebrating these achievements, we can inspire and motivate future generations of athletes to strive for greatness and continue to build a strong athletics programme at Temple Christian High School. "This historic achievement shows that with the right resources, support, and guidance, even a relatively small student population can achieve great things.
"It is a reminder that hard work, dedication and teamwork are the keys to success, and that anything is possible when we set our minds to it.
"This achievement is a testament to our school's commitment to excellence and the development of well-rounded students.
"This accomplishment is not only a victory for the athletics programme but for the entire school community, and it should serve as inspiration for all students to strive for greatness in all aspects of their lives," said Cunningham.