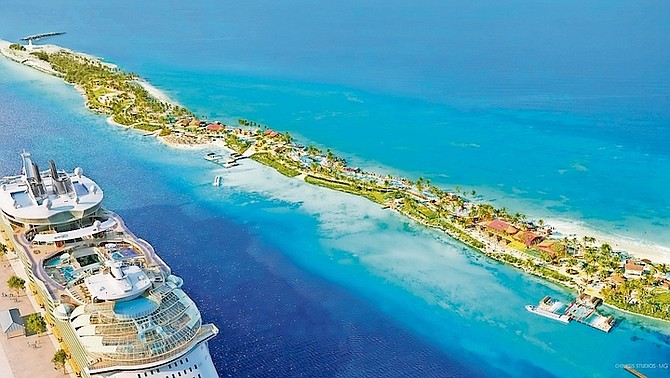 By LETRE SWEETING
Tribune Staff Reporter
lsweeting@tribunemedia.net
CONCERNS were raised by some downtown merchants yesterday that business will decline if Royal Caribbean International moves forward with its $110m beach club project on Paradise Island.
Samantha Allen, manager of Pirates of Nassau Museum, fears the new attraction will lead fewer tourists to visit Downtown, an area she is desperate to see revitalised.
"There may be a lot less tourists getting off (a cruise ship) and just running Downtown as they might opt to do today," she said. "I don't even know exactly what Royal Caribbean has planned, I haven't seen the deal as to what's included, but I imagine they're going to offer them just like they do (with) their private islands where they have the beach and beach chairs and whatnot. So, I'm certain they will be attracting lots of people that will opt to do that."
"But you can't really (blame tourists) if they choose that option because Downtown has not been looking very spiffy. I work down here, I walk down there. Attention is definitely not being paid to the state of Downtown. I don't know who is supposed to pick up the garbage and why the businesses are allowed to put their garbage out by the bins. That should be just for passers-by to put in their trash and not the trash of a store.
"And even now, I just spoke to the police officers at the police station downtown because, you know, they have no garbage bins there so the tourists are just leaving their empty drinks and bottles and coconuts all along the wall of the police station.
"I am curious to know who is responsible for taking care of and maintaining these things."
Mike Maura, CEO and director of Nassau Cruise Port Ltd, has said RCI's project can coexist with existing products, saying guests do not have sufficient experiences and adventures.
However, vendors like Rebecca Small, president of the Straw Business Persons Society, told The Tribune she is wary they will be left behind.
"There's some concern that we vendors may be left behind because if the focus now with tourism is to highlight this elaborate (RCI) project, of course, we will get left behind if there is no major advertisement to showcase the straw market. I'm concerned about that," Ms Small said.
"I feel that if the government doesn't set up a system (for us) as vendors who built the straw industry to where it is today, we're going to get left behind."
Ms Small wants the government to meet with stakeholders and address their concerns before the RCI project takes off.
"When I think about all of the souvenir shops on Bay Street, that is direct competition (to us). We are supposedly the biggest souvenir shop with Bahamians, entrepreneurs, self-employed individuals on the main Bay Street. They have just set up across the market another souvenir shop that is a direct conflict, in my opinion, with the Straw Market, and now, the RCI project."