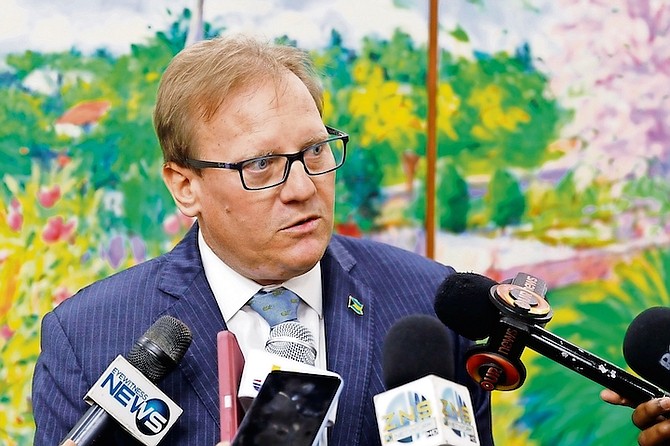 By RASHAD ROLLE
Tribune News Editor
rrolle@tribunemedia.net
CHILDREN born out of wedlock to Bahamian men and foreign women won't be recognised as citizens of The Bahamas until they prove that their biological father is a Bahamian through a process mandated by the government or determined by the courts.
How to prove paternity is a question the Davis administration will grapple with as it seeks to satisfy the expectation of people who now see themselves as Bahamian citizens following the Privy Council's landmark ruling. The administration can address the matter through legislation.
Attorney General Ryan Pinder told The Tribune: "Needless to say, you have to prove that your biological father is Bahamian, which means you have to prove paternity. A framework needs to be put in place for that."
When Chief Justice Ian Winder ruled in favour of Shannon Rolle in 2020, he deliberately left the question of how to establish paternity unanswered.
Former Attorney General Sean McWeeney, the sole chairperson of the 2016 Constitutional Commission, said yesterday that requiring scientific tests is the ideal approach to establishing paternity.
"You always have to prove that the man is the father if it doesn't happen in the context of marriage," he said. "There are some who are saying they should just use an affidavit, but given the historical laxity with which Bahamians used affidavits, I think it would be dangerous to rely on that. There really should be scientific proof of paternity; at the moment DNA testing."
"There will have to be steps taken to guard against abuse of the system. You certainly don't want an industry being created out of this where people feel they could just get an affidavit of paternity and just get citizenship on that basis."
Mr McWenney said in cases where a person's father is dead, DNA tests could be performed "on anything the deceased person may have used".
"You have to ask a scientist about that: how do you go about extracting the materials used for DNA testing?" he said.
National Security Minister Wayne Munroe, who tried the landmark case before Chief Justice Ian Winder and the Court of Appeal, said people who will benefit from the Privy Council's ruling must now be patient so the government can address the paternity issue.
"The matter isn't fully resolved as far as this is concerned," he said. "There were two issues. The first issue was a matter of principle, the construction of Article 6, and that's what's been settled, that Article 6 means that a child of an unwed Bahamian father born in The Bahamas is a citizen.
"The part that isn't resolved that the Chief Justice has to determine because it was referred back to him by the Privy Council, is how do you prove that your father is a Bahamian? Is it enough for your father to come up and say it? Does he have to do an affidavit? Does he have to sign your birth certificate or do you have to have DNA evidence? That hasn't been decided. In the Supreme Court case that I did, it expressly said that issue is not being decided and it will await this outcome.
"If you go and dash to the Passport Office, they're gonna consult the OAG and OAG will no doubt take a position. It would be irresponsible not to take a policy position which can apply to everyone, and so as the lawyer who did the initial case and the initial appeal, now as a member of the government, I would advise caution and a degree of patience while the government puts in place the policy to address that issue of paternity, because in reality, there's no value in saying you're going to rush and pressure the government because if you don't get a passport, what can you do? Bring an action. Then you have to wait for a court date and the rest of that. It's just as easy for you to wait and see how the government will bring about the matter."
It is unclear what the DNA testing capacity is in The Bahamas.
"I think the Immigration Department and the Office of the Attorney General is going to have to treat with that to bring forward a solution," Mr Munroe said. "There are a number of things that no doubt the government of which I am a member will be considering going forward and once it's considered, then, of course, if it's by virtue of legislation, we'd have to table a bill and the public would be able to see it and give their views."