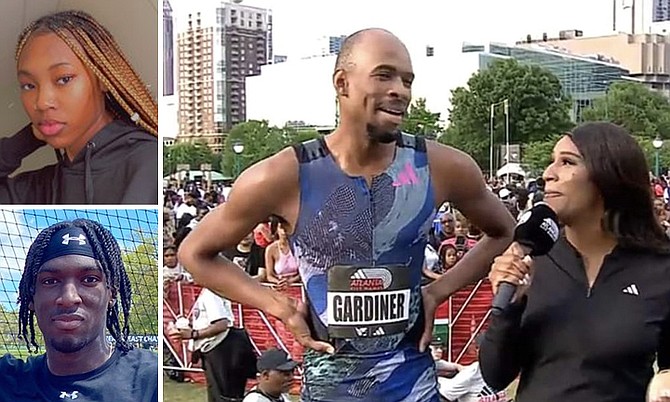 By BRENT STUBBS
Senior Sports Reporter
bstubbs@tribunemedia.net
Fort Scott Community College's versatile sophomore Damazvia Dames had a stellar performance over the weekend to lead a number of Bahamians competing in various meets around the United States.
At the National Junior College Athletic Association's (NJCAA) Region VI Championships in Coffeyville, Kansas State, Dames sped to victory in the women's 200m in 22.94, well ahead of second place finisher Naiya Morgan of Barton Community College in 23.36.
On the field, Dames also picked up a win in the triple jump as she soared 40-feet, 7-inches or 12.37 metres. Her nearest rival in the event was Ahniesha Presulme of Barton County Community College with 38-9 (11.81m).
Back on the track, after posting the fastest qualifying time of 11.45 in the preliminaries of the 100m, Dames got second in the final in 11.35 behind Barton County Community College's Carabile Tshosa in 11.26.
And in the 4 x 100m relay, Dames ran the second leg for Fort Scott as the team of Keyann Wilson, Kamerin Carter and Chaniqua Tonge placed second in 45.76 with Barton County winning in 45.10.
Dames also contested the long jump where she placed fourth with her best leap of 18-10 (5.74m). Winning the event was Kerrishma Williams of Garden City Community College with 19-7 1/2 (5.98m).
Also at the meet, Cowley College and Grand Bahamian native Delicia Boothe placed eighth in the women's 10,000m 43:40.35 to erase the Bahamian national record of 45:50.79 that was previously held by Jennaya Hield in 2015.
Boothe, the daughter of former men's marathon record holder Delroy Boothe, also got 13th in the 5,000m in 22:23.37.
Farquharson second fiddle
At the 2023 America East Outdoor Championships in Albany, New York, Stephen Farquharson, competing for the University of Albany, was second in the men's long jump with a personal best leap of 24-11 1/4 (7.60m). His team-mate Louis Gordon won with 25-4 1/2 (7.73m).
Gardiner in century
At the Adidas Atlanta City Games at the Centennial Olympic Park in Atlanta, Georgia, World and Olympic champion Steven Gardiner stepped all the way down to the 100m where he got in some speed work.
The multiple Bahamian national record holder from the 200-400m could only mustre a best of 10.38 for ninth place in the preliminaries. The top qualifier, Oblique Deville of Jamaica, won the final in 9.99.
The 27-year-old Gardiner was shy of his lifetime best of 10.35 that he ran at the Life University Track and Field Stadium in Marietta, Georgia, on August 22, 2020.