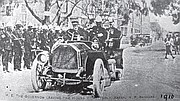 By PC 2641 R Fox,
Cpl 3599 C Johnson
IN 1845, just five years after its birth, The Bahamas Police Force (the "Force") had its manpower reduced due to its high cost of £904 annually - which is equivalent to $541.06 in today's currency. The Force did not have formal contracts for the first set of police officers, and they worked a 24-hour shift with a foot patrol system lasting more than a hundred years. Furthermore, records indicated a patrol system of two hours during the day, four hours during the night, and a break period at the station were equivalent to the hours on patrol.
Morale and discipline were low due to poor working conditions and low salaries, primarily among the Constable rank. In 1863, a Commission of Inquiry was appointed to investigate the inefficiencies in the Force, which led to a new Police Act being passed in 1864. The Act provided provisions to increase manpower, mandate literacy, improve working conditions, and grant the Inspector the power to discipline subordinates. In 1891, a new Police Act was passed that instituted new regulations. A separate force called the Constabulary was established, which focused on military aspects to fill the void of the British West Indian Regiment that withdrew from The Bahamas. In addition, applicants desirous of becoming Police Officers were required to be deemed physically fit by the Force's Medical Officer to become a serving member.
The new regulations also required Police Officers to sign contracts, granting them a pension or gratuity after 21 years of service but not allowing new applicants. Hence, this caused resentment within the Force, as many police officers of Bahamian heritage felt that the foreign police were treated better and would replace them. The Constabulary also faced criticism from residents for their aggressive conduct. Consequently, on April 15, 1893, tensions escalated in the Grants Town community when an officer of the Constabulary attempted to arrest a male for obscene language and disorderly behaviour, which resulted in a riot. The four officers posted at the station had to vacate until the following day due to the unruly mob. No one was seriously hurt, but this event led to the restructuring of both organisations.
The Force and Constabulary began conducting drilling parades together at least three times a week to build camaraderie while the Constabulary only policed the city area. This arrangement lasted 16 years before it was determined that it could no longer work. That said, in 1909, a new Police Act was passed, combining both organisations into one Police Force again while keeping the paramilitary characteristics of the Constabulary. This brought the total manpower to 74, which is unheard of compared to the 3,000-plus officers employed today.