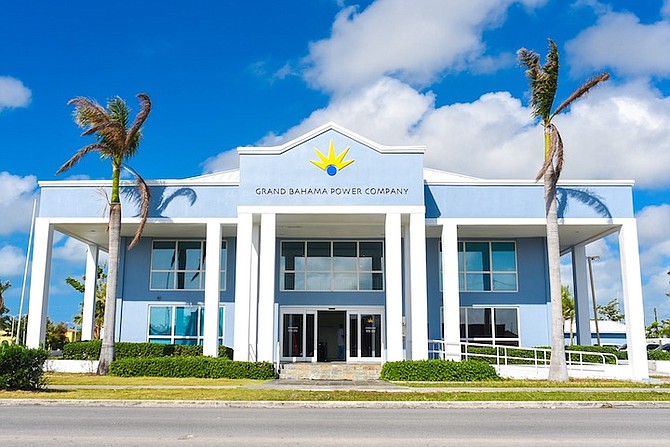 By NEIL HARTNELL
Tribune Business Editor
nhartnell@tribunemedia.net
Grand Bahama Power Company says the solar power rate it has obtained from independent energy providers (IPPs) is "30 percent less than what you see elsewhere" in the Caribbean.
Dave McGregor, Caribbean chief operating officer for Emera, GB Power's 100 percent owner, told Tribune Business that the nine cents per kilowatt hour (kWH) rate agreed with both solar IPPs is also "significantly cheaper" than the 13 cents per kWH that the utility spends purchasing excess energy from businesses and residences with roof-top systems.
Describing the latest agreement with Bahamas Solar and Renewables, a subsidiary of BISX-listed FOCOL Holdings, as "a very good deal for the customer", he added that the provider's five mega watt (MW) plant when fully operational will give Grand Bahama a combined 14 MW of solar. The Bahamas Solar and Renewables site will join the two locations, one for 4.5 MW and the other for 5 MW, already being developed by Lucayas Solar Power.
"It's 14 MW altogether," Mr McGregor confirmed to this newspaper. "All three plants are at different places, different sites. They're all about the same size - a 20-ace site. The locations were selected by a combination of land that didn't flood during Dorian and we look to have them spread out so if there is some cloud cover they don't all lose production at the same time. We have a little geographic diversification."
He added that, together, the three solar plants will each supply about 3 percent of GB Power's energy needs over the course of a year, taking their collective contribution to around 10 percent. "It's a start," Mr McGregor said. "All three are saying they should be complete within a year. I think Lucayas is a couple of months ahead, but FOCOL say they will be done in just about a year.
"We're working on a couple more [solar IPPs]. I can't say too much about them, and then we'll be at the point where we need to look at doing some studies on battery storage. We need to store the excess of solar in the day so we can use it at night. That's the next step."
Turning to the economics of the Bahamas Solar and Renewables tie-up, Mr McGregor added: "It's exactly the same contract as Lucayas. I would say it's an average nine cents per kWH. It's a little higher in the early years, and a little lower in the later years, but it averages out at nine cents per kWH over a 25-year power purchase agreement (PPA).
"It's a good price for plants of this size, 3 MW to 10 MW. I would say the rate is about 30 percent less than what you see in the region, and significantly cheaper than roof-top solar in Grand Bahamas. That is around a rate of 13 cents per kWH. Do the math. It's a very good deal for the consumer. It's clean, green energy, it's less pollution, it's less dependency on fossil fuels. It's got so many benefits."
Mr McGregor said GB Power was targeting 30 percent of its energy mix to come from renewable sources from 2030, in line with the National Energy Policy, and plans "to keep going as long as its economical for customers. As we put batteries in it becomes a little more expensive, but there are still significant savings on plant maintenance...
"We've got a firm eye on maintaining stable prices for customers, so at the end of the day we will go in as hard and fast as we can as long as it does not negatively impact customers," Mr McGregor said. "It's just continued execution of our plan and continued stability of electricity prices for consumers. They've been relatively stable since 2015, never higher than 12 cents per kWH on the fuel side in the last seven years, and we want to continue that enviable record."
Dexter Adderley, FOCOL Holdings president and chief executive, said his company's agreement will increase educational and employment opportunities for Bahamians. He added that 20 FOCOL employees are currently being trained in the maintenance of renewable energy apparatus.
"We are thrilled to be working with Grand Bahama Power Company as we expand opportunities for Bahamians to access training and develop new skills in the renewable energy sector," Mr Adderley said. "This rapidly growing industry requires a workforce with the necessary skills and knowledge to meet the demands of this sector.
"Already at FOCOL, 20 staff members are enrolled in international training programmes so that they are equipped with the necessary skills and certifications to ensure our operations are conducted safely and efficiently. Again, this reflects our commitment to creating a more sustainable, cleaner future for The Bahamas. Bahamas Solar and Renewables is fully committed to delivering jobs, and clean renewable energy, for the people of Grand Bahama
"We recognise that our actions have a direct impact on the environment. And we are devoted to harnessing the power of the sun and other renewable sources to minimise our carbon footprint. This ambitious project will not only serve as a symbol of our commitment to renewable energy, but also as an opportunity to stimulate economic growth and create much needed jobs for the community," he continued.
"By investing in clean, sustainable energy, we are actively working to preserve the environment for generations to come while empowering our community with new employment opportunities."
Ian Rolle, the Grand Bahama Port Authority's president, said the agreement between GB Power and FOCOL Holdings further positioned the island as a local leader in renewable energy development.
He added: "This project is an exciting step towards cleaner and greener energy sources that reduce our carbon footprint. Not only that, but it is the second project of its kind announced within the past 30 days positioning Grand Bahama as the leader in renewable energy development for The Bahamas.
"The significance of this project extends beyond Grand Bahama as it contributes to The Bahamas' efforts to combat climate change. Apart from that, investing in renewable energy is a critical step towards building a more resilient future for the country.
"The new solar farm project on Grand Bahama will significantly impact the island's energy landscape. It will generate clean, renewable energy, reduce carbon emissions and improve the island's energy security. It will also create jobs, boost economic growth and promote sustainable development across the length and breadth of our island."