With Charlie Harper
TUESDAY afternoon this week was generally a fine spring day on the American east coast, with the last remnants of a much-needed morning rainstorm having largely cleared out to create a pleasant day for work in the yard or other entertainments.
Or to watch TV. But Tuesday this week was different. The Champions' League semifinal was on television in mid-afternoon. CBS has paid $250m per year for the American broadcast rights to a package including the world's greatest annual soccer tournament – the Champions League in Europe. (For comparison, CBS pays the NFL $1.1bn annually for the broadcast rights to NFC games).
Anyhow, it happened that on Tuesday afternoon, daytime viewers were treated to something different from the usual network lineup of soap operas or vaguely titillating reality shows.
Instead, startled fans could watch a match between the two best soccer teams in the world – Manchester City from England and Real Madrid from Spain. And this Champions League semi-final leg absolutely lived up to its advance billing.
The game, played at Real's legendary Santiago Bernabeu stadium in the Spanish capital, ended in a 1 – 1 draw featuring goals by Madrid's meteoric Brazilian winger Vinicius Junior and City's Belgian midfield genius Kevin De Bruyne. Both goals were magnificent lightning bolts.
But the game was also notable because neither club's more renowned striker scored. 35-year-old Karim Benzema, born in France to Algerian immigrant parents, has anchored championship teams for Real Madrid in club competitions and for France internationally. He was around the goal but City's wobbly defense kept him off the scoreboard.
Manchester City's magnificent Viking, 22-year-old Erling Haaland of Norway, also didn't score. City, whose depth, coaching and financial resources have enabled the team to gradually overhaul resurgent Arsenal for what will be an astonishing fifth Premier League title in the past six years, is again this year seeking its first ever Champions League crown.
Veteran coaches Pep Guardiola of City and Carlo Ancelotti of Madrid are truly worthy opponents for this epic two-match battle. Next Wednesday will offer the decisive climax – a rematch, in mid-afternoon, again on CBS.
BREAKING TRUMP NEWS
But Tuesday CBS viewers were startled by something other than a soccer match on TV in mid-afternoon. The game was interrupted by "Breaking News!"
A solemn Norah O'Donnell was summoned to reveal that the jury verdict in writer E Jean Carroll's rape, battery and defamation civil lawsuit against former US president Donald Trump. Joined by a correspondent outside the Manhattan courthouse, a network legal analyst and a political commentator, O'Donnell interrupted the titanic soccer match for over 20 minutes to reveal that the jury had found Trump liable for $5m on the battery and defamation charges, but not on the rape charge.
"If you don't go back to the game, I will actually vote for Trump next year," an outraged Twitter user exclaimed.
Since Trump refused to attend the trial and his defence team called no witnesses, this outcome was hardly surprising. He reacted typically with a denouncement of the trial's illegitimate basis and political origins. Trump's case was likely damaged when, in his taped deposition, he confused a picture of the plaintiff with an image of his second wife.
That didn't help support his assertion that Carroll was "not his type".
With a few exceptions, Republicans yesterday reacted by trying to evade the issue of this latest "first" in a lengthening list of Trump's dubious, unprecedented accomplishments. Senators Lindsay Graham and Mitt Romney seem to have staked out the leading positions for and against Trump respectively.
To be fair, what should GOP politicians do? Trump still seems certain to be their presidential nominee next year, and they know he cannot win unless Biden is incapacitated somehow and the Democrats stumble to find an effective replacement.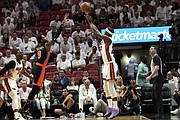 Florida teams playoff success
 It's starting to look like our "local" South Florida pro basketball and ice hockey teams are on a course to deliver memorable post-season runs in the NBA and NHL playoffs.
 To the surprise of very few experienced observers, the Miami Heat seem to have their second round series with the New York Knicks under control. And there is basically one reason: Jimmy Butler. This talismanic figure took a circuitous route to South Florida in his NBA career, with prior stops in Chicago, Minnesota and Philadelphia.
 Butler is a six-time NBA all-star, a four-time member of the All-NBA team, a five-time member of the league's All-Defensive team, and a 2016 winner of an Olympic gold medal. "Jimmy Buckets" is a terrific playoff player, and he has led a scrappy, injury-hobbled Heat team past top-seeded Milwaukee and played in New York last night to dispatch the Knicks.
Under the leadership of owner (and Carnival Cruise Lines chairman) Mickey Arison, President Pat Riley in the front office and Head Coach Eric Spoelstra on the bench, the Heat have represented unusual stability in the NBA. Arison has owned the team since 1995. His Heat are three-time NBA champions.
They may not win a fourth title this year, but Miami has certainly proven the value of sound, stable front office direction and creative, consistent coaching this year. To be 2023 champions, the Heat would have to beat Philadelphia or Boston and the Western Conference NBA titlist – probably the Lakers or Nuggets.
Still, the 76ers' surprising win in Boston on Tuesday night looks good for Miami. Despite the renaissance of James Harden and burgeoning maturation of NBA 2023 MVP Joel Embiid, Philadelphia would be an easier opponent for our South Florida heroes than would the battle-tested and veteran-influenced Celtics. Either way, the other Eastern Conference semifinal series looks like a bloody donnybrook that might leave the survivor vulnerable to the Heat.
It all might prove to be too much even for this attractive, overachieving Heat team. But then again, not many prognosticators had them beating Milwaukee to start the playoffs, so who knows? It will be fun to watch.
Meanwhile, on the ice, remember last year when the Florida Panthers, who play their home games out in western Broward County practically across the freeway from the Everglades, earned the President's Trophy with the best regular season record in the NHL? They were everyone's darlings going into the playoffs in 2022.
Then they crashed and burned, collapsing against the much more playoff-tested Tampa Bay Lightning. Not much was expected of the eighth-seeded Panthers in this year's postseason tournament.
But it certainly looks like the Panthers learned something from last year's disappointment. All they have done so far is to beat the Boston Bruins, this year's President's Trophy winners and owners of the best regular-season record in the 106-year history of the NHL. This upset earned them the right to face the Toronto Maple Leafs, also significantly higher-rated. The Panthers hoped to close out a 4-0 series sweep against the Leafs last night and advance to the conference finals.
Any Canadian with even a slight interest in sports will tell you that the Maple Leafs are one of the enduring disappointments from the land up north. A member of the so-called Original Six (with Montreal, New York, Boston, Chicago and Detroit), the club was one of six NHL teams to have endured the Great Depression in the 1930s. The Leafs have won 13 Stanley Cup championships, second only to the 24 championships of the Montreal Canadiens.
The Hockey Hall of Fame is in Toronto. Hockey is Canada's national sport. Toronto is Canada's flagship city. The Leafs generally rule there. But not so much lately.
Since winning their last title in the 1966–67 season, the Leafs' 54-season drought between championships is the longest in league history.
It is interesting to note that the Leafs' futility matches that of the English national men's soccer team, which also won its last and only world championship in 1966. England is the home of soccer. But England is also currently the only team to have won the World Cup but not their own major continental title (the European championship).
The Leafs aren't likely coming back against the Panthers this year, so their title drought should continue. For the Panthers, meanwhile, the hurdles on their path to an NHL title might be less difficult to surmount than those of the Heat. After the recent success of the Lightning, might another ice hockey title trophy be headed to the Sunshine State?