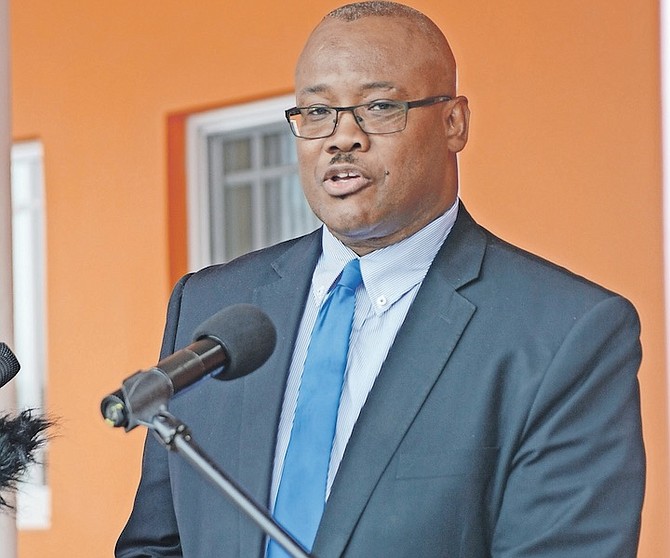 By DENISE MAYCOCK
Tribune Staff Reporter
dmaycock@tribunemedia.net
ENVIRONMENT Minister Vaughn Miller said energy company Equinor would face severe penalties if officials find that the company failed to properly clean up its 2019 oil spill in East Grand Bahama.

He said the Department of Environmental Protection had received many complaints about oil north of the Equinor South Riding Point plant.


"A team will be dispatched to do follow-up," he told reporters on Tuesday ahead of a Cabinet meeting in Grand Bahama.

He said he would meet Grand Bahama residents to give an update when his team finishes its investigation.
The Tribune recently visited the site and observed residual oil on the ground, on trees, and on the aggregate mound in the area.

Asked about this, Mr Miller said: "If they are not in compliance, I would personally advocate for the strictest, severe penalties."
"We take this seriously," he added. "We have one Bahamas, and this land is our land. It is our country."
"We are the stewards of the environment, and we want to leave it as good as we met it, if not better for those who would inherit it from us.

"And so, if there are violations, I will personally see to it the most stringent, strictest, and most severe penalty be levied."
Grand Bahama residents told The Tribune about the emergence of a fence east of Equinor's plant that prevents East End boaters from accessing the channel.
Mr Miller said he is looking into the matter.
"Actually, I went there yesterday and saw it for myself and I was amazed," he said, adding that Equinor has "taken a lot of acres of land."
"I was surprised at it, and while I am here, we will be getting to the bottom of this situation and inform the residents of Grand Bahama," he said.
In September 2019, about 55,000 barrels of crude oil spilt at the Equinor terminal during Hurricane Dorian. The storm tore off dome caps from two of the four storage tanks containing oil. The spill impacted a large area of the nearby forest and the surrounding area.

Equinor has conducted remediation work to clean up oil from the affected area and dug 24 to 27 wells to test for groundwater contamination. The company said tests showed no contamination.