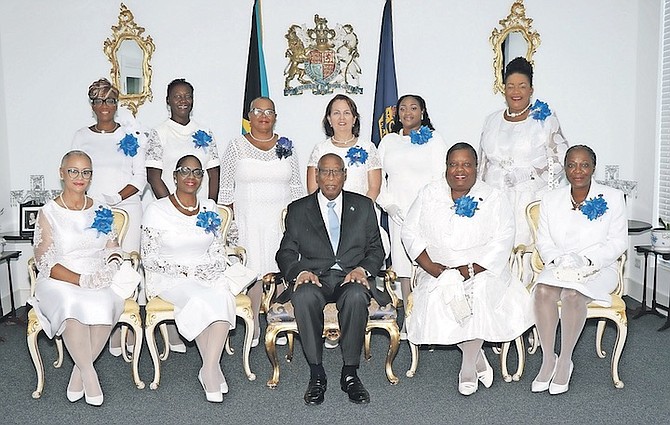 Anglican Church Women
The Anglican Church Women (ACW) paid a courtesy call on Sir Cornelius A Smith on Tuesday, May 16, at the Office of the Governor General.
The ACW will celebrate its 59th anniversary and 50th conference Session and May 20-26 has been proclaimed "Anglican Church Women Week," by Prime Minister Philip Davis.
Charlene Rodgers, president of the Anglican Church Women Council, discussed with the Gov- ernor General the ACW'S theme, which is "We've come this far by faith... look where God has brought us."
Mrs Rodgers pointed out that this year's theme challenges the ACW to reflect on the various stages of growth within the organisation, and prayerfully give thanks to God for what He has done.
Activities planned to mark this milestone are a "Toast to 50" luncheon, where presidents who served in the year 1973 will be honoured, an anniversary church service on Sunday, at Christ Church Cathedral, which will commence with a procession of witness, and from May 22-23 the ACW conference will be held at The Murillo Bonaby Parish Hall at Christ the King Parish, Ridgeland Park.
Cancer Society of The Bahamas
The Family Island branches joined forces on May 6, to bring awareness in their communities with their presence, visibility and a purpose to decrease the number of people being diagnosed with cancer.
---
Humane Society and BAPD aided by Commonwealth Building Supplies
Commonwealth Building Supplies (CBS) is celebrating 50 years of business since launching in March 1973. As a part of their celebration, the retailer donated a total of $50,000 in monetary and material donations to the Bahamas Association for the Physically Disabled (BAPD) and the Bahamas Humane Society (BHS) both. Both organisations received the donations during a reception held by the company at the Balmoral Club.
Created by the late Carl Treco, a well-known Bahamian contractor, CBS began operations with only six employees and two vendors. Now, the company employs just over 100 employees and has two retail locations, CBS Bahamas in the Southwest Plaza and CBS PROstore on Robinson Road.
In 1980, John Treco and Brent Burrows Sr, son and nephew of Carl Treco, now president and vice president respectively, were brought into the company. Reflecting on years of business, Mr Burrows shared his sentiments during CBS' milestone anniversary.
"Seeing Commonwealth Building Supplies reach 50 years makes me feel very, very proud of the accomplishments we have made over those years. It's an exciting feeling to know that we have been around that long," Burrows said.
"When I think about opening the retail store in the Southwest Plaza about 12 or 13 years ago, where we still are today, that was a big achievement. That move allowed us to employ at least an additional 60 staff. Now, we have the CBS PROstore on Robinson Road where we first started. All of it has been extremely rewarding to continue the legacy that we were given."
He added: "That's why as a large company within the Bahamian private business sector we made it a priority to have a community aspect to our business and this celebration. We understand the importance of community and supporting organisations who care for the most vulnerable in our country. Every year we give to the Ranfurly Home, that's our main charity, but because we go there every December we decided to highlight other organisations during this event. The CBS family is happy to support the amazing work of both BAPD and BHS."
Receiving $35,000 in donations from CBS, the Bahamas Association for the Physically Disabled's president, Charlotte Albury was elated by the news.
She said: "We are overwhelmed with this generous donation. Our prayers have truly been answered as we were brainstorming on how we were going to raise funds for these much needed repairs and upgrades. The Bahamas Association for the Physically Disabled is a school for special needs children suffering mainly from cerebral palsy. We have 22 attending now with 13 on the waiting list. We provide classroom experience, physiotherapy, daycare,arts, meals, bus service all free of charge. We also provide two hot meals a day free of charge for those children so the new kitchen will assist us in doing our job that much better. The renovations of the bathrooms are long overdue. Unfortunately, the money we raised always went to the children and we never had any left over for this kind of work.
She added: "On behalf of BAPD we cannot thank CBS enough for stepping forward and offering this amazing assistance to us. Many times donors want to donate to the warm and fuzzy part of the organisation leaving material things on the back burner. We honestly have been racking our brains on how we were going to get the funds for these much needed projects and then we got the call saying CBS wanted to help, so our prayers were answered for which we will be forever grateful."
Speaking for the Bahamas Humane Society that received $15,000, Percy Grant, shelter manager, described the donation as a blessing.
He said: "We at the Bahamas Humane Society are extremely grateful to CBS for their donation to our organisation. This a true blessing for us as we have been in desperate need for these items as we continue to experience a major influx of animals that need our care and assistance. Both the material and monetary donation to our facility will make a significant impact in supporting our needs right now and we are very appreciative."
Shawn Gabrielle Gomez, marketing director at CBS, explained how the monetary and material side is just one aspect of CBS' donation.
He said, "In general when we give donations we try to create meaningful content around it and that is super beneficial to the organisations and institutions that we are assisting. We want to provide them with opportunities to receive even more assistance, so we hear their stories and we tell it. The more people who can see the work and understand what these organisations are doing increases the likelihood for support. The truth is most of these organisations don't have the budget for content creation and marketing so we use our presence as an opportunity to market them and share their stories."
Expressing gratitude to the customers who have supported the business for the past 50 years, Mr Burrows reinforced the company's stance that service is key.
He said: "To everyone who has supported CBS over the five decades that we have been around we say thank you! Words can never be enough to express our gratitude but that's why service is so important to us. CBS tries hard to be the leader in customer service in The Bahamas and in our industry. We try our best to satisfy our customers. If a customer experiences an issue we try to solve it because we know that even more important than the product is how our customers feel while getting the product."