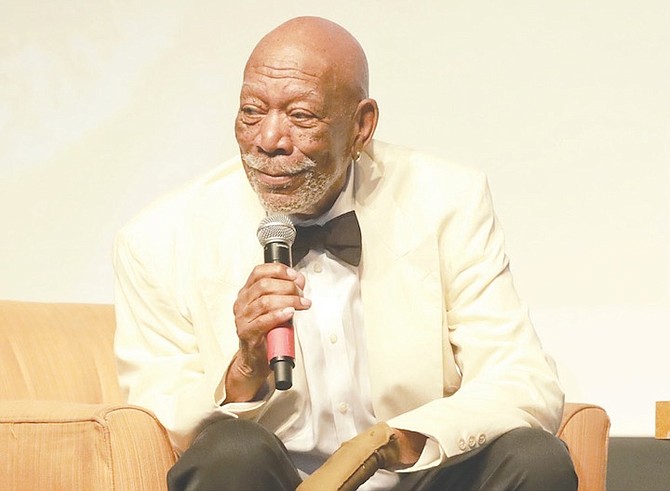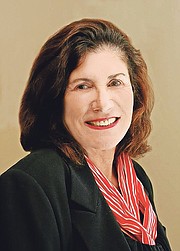 ONCE you've played God, it must be hard to be human. But on a recent Sunday night in the Atlantis Theatre, the real Morgan Freeman strolled out on stage, took a seat in a comfortable armchair and talked with a crowd of film festival goers, answering every question with humour and honesty, even if a few would not have gotten a thumbs up for intelligence on Rotten Tomatoes.
Freeman, if you recall, was the unforgettable human-like god playing opposite Jim Carrey and Jennifer Aniston in the 2003 fantasy comedy Bruce Almighty, a critical and commercial success. In 2007, he starred in the sequel Evan Almighty, a fantasy comedy panned by critics. In a body of work that spans more than 70 years and parallels the history of much of the 20th Century and the first few decades of the 21st, Freeman has occupied a singular space, as untouchable as a god-like figure, his deep voice recognizable at the first syllable. He is so credible that if he told you to jump in a freezing lake, you would ask for a steaming blanket and a hot rum toddy when you got out.
It's not often that you get the privilege of seeing the super talented up close in a living room-like setting, able to ask questions they freely answer. "Will you ever go back to Broadway or do Shakespeare again?" one man asked. "No," Freeman said instantly. "Why not?" the gentleman persisted. "Because you have to remember your lines," Freeman retorted just as quickly much to the crowd's delight, reminding us all that stage is unforgiving, you don't get do-overs.
His powerful presence also reminded us that in an age when drugs, thugs and violence dominate action-packed thrillers, we don't get the thoughtful movies like many of those Morgan Freeman made, films that helped shape how we saw history – Unforgiven, Seven, Million Dollar Baby, The Shawshank Redemption, Street Smart, Batman Begins, Driving Miss Daisy and a piece of classic humour that never gets old, The Bucket List. Had it not been for the acting skill and sly devilish humour of Freeman and Jack Nicholson, the Bucket List story line could have fallen flat on its face. A poor man with little left to lose befriends a rich miserable man as they both lay dying in a shared hospital room. They agree to flee and peel off on one last go at every crazy adventure on their want-to-do list before they kick the bucket. Instead of dying of critics' barbs, it gave rise to millions of belly laughs and personal bucket lists.
Looking at and listening to Morgan Freeman you understand the giant chasm between a star who earned his badge of honour and the hyped-up hysteria over some of today's headliners whose looks take them where talent cannot.
Freeman was invited to The Bahamas by the Bahamas International Film Festival and its founder Leslie Vanderpool, who through 18 years of annual festivals is helping to put The Bahamas on the map with lectures, workshops, indie and first-run films in a space no one before her occupied in this country despite the great actors and performers who populated the screen and the numerous movies made in whole or in part in The Bahamas.
Freeman, who will turn 86 on June 1, was invited to the final night of the 2023 film festival to receive the Sidney Poitier Tribute Award presented by Vanderpool and Sir Sidney's daughter, Pam Poitier. Freeman spoke emotionally of his admiration for Sir Sidney, the man he credited with being his mentor, his inspiration, his guiding light, the man who set the stage for him and who he looked up to more than any other individual in his world. It was a reminder that it took The Bahamas a very long time to appreciate the extraordinary talent of a native son and to honour him as Hollywood had done.
It is not unusual for Bahamians in the arts, whether visual or performing, to earn more respect abroad for their talent than support at home. When the late great singer and performer Kayla Lockhart Edwards was alive, she drove around personally, humbly asking friends and supporters if they wanted to buy a ticket to her concert, trying to fill seats at the Dundas. Yet when news broke that she would be performing live at the James L Knight Center for the Performing Arts in Miami, tickets would sell out in a day.
The announcement last week that the government was planning a school for the arts was welcome news, a flash of brilliance long overdue and warmly welcomed. There were those few who were quick to criticize, asking why we had to partner with a group from the UK. No sector, commercial or otherwise, is a zero-sum game. We can hone and teach and mentor, preserve and perpetuate and promote local arts with roots in the most remote of Family Islands or the heart of Nassau along with benefitting from the experience of those who have done a centre for the arts before. Grasping the rarity of a Sidney Poitier or a Morgan Freeman does not mean we have to eschew the talent of a Marlon Brando, Richard Burton, Tom Hanks, Jamie Fox or Richard Harris.
One day that proposed school and the attention it brings to the increasing recognition of the importance of the orange economy will do for culture and the arts what winning Olympic Gold does for Bahamians – driving everyone to believe in the heroes who make the difficult seem easy and the hard to achieve real.
There will never be another Morgan Freeman with that shock of gray-white hair, twinkling eyes and a voice recognisable at the first syllable but maybe someday there will be a Bahamian worthy of the Sidney Poitier Tribute Award.
Thank you to all who live in the space of the Orange economy. Whether you struggle with creativity or just a way to support it, whether you enjoy public admiration or work quietly in your little corner of the universe, thank you for making all our lives richer by your art, song, dance, performance, for bringing out the better side of us.
My, my Miss American pie – in the middle of the Straw Market?
Speaking of culture, there's a clash that happens far too often – you are in a Bahamian setting, filled with locals - local people, local wares, local fare, the soothing sound of local voices - except something feels off. Something in the air is just not right. Then you realise - it's the music. There are lots of places like that, Bahamian cultural sites where the one thing that isn't Bahamian is one of the things that make the Bahamas so special.
There, in the middle of the world-famous Straw Market on Bay Street where you can strike up a good conversation with many of the 400 vendors, what do you hear but "My, my Miss American Pie, got my Chevy to the levy but the levy was dry." OK, it was a great Don McLean song, but what about a Ronnie Butler or KB or D-Mac or Wendy? Miss American Pie in the world-famous Straw Market?
It's like finding a Louisiana hot sauce in a Bahamian restaurant.
By the way, if you have not been to the Straw Market in a while, I highly recommend a visit. It is an amazing place and just to see the work of hands like wood carver James Rolle or the dignified ladies like Rebecca Small and Celestine Eneas, each of whom has kept a contingent of culture mavens engaged, is a treat. Yes, there are a lot of hanging t-shirts and a lot, an awful lot, of foreign-made goods, but in the mix are real Bahamians with real talent trying to earn a living in a competitive arena that deserves another good look. If you are not a regular, you will be pleasantly surprised at the experience.