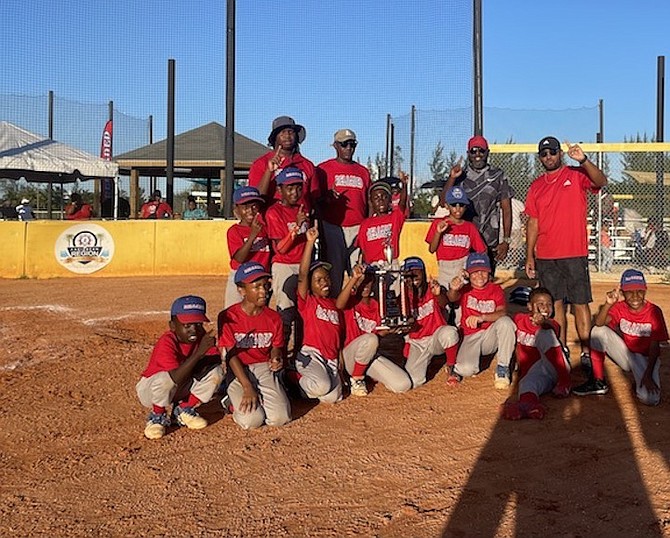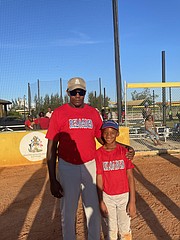 By TENAJH SWEETING
tsweeting@tribunemedia.net
AFTER hosting a successful Reloaded Baseball Invitational featuring teams from Nassau and the Family Islands in March, the programme held a team championship game for the Coach Pitch division this past Sunday at the Baillou Hills Sporting Complex.
The championship matchup saw Reloaded Team A (8 and under) and Reloaded Team B (8 and under) compete for the hardware. On the day, Team B secured the victory 11-8 over their opponents after an evening of baseball.
Peron Burnside, president of Reloaded Baseball, talked about yesterday's championship event.
"It's very good [as] we focus on the kids who were unable to compete in their championship game during the Reloaded Invitational and we wanted to make sure they got reps and experience in," Burnside said.
The president emphasized that they are always about the development of the kids and he was very fulfilled to see them perform today.
He added that the focus needs to stay on board with developing young men and Reloaded Baseball is committed to doing that at the foundational level.
Reloaded Team B's winning efforts were highlighted not only by team play but also the individual play of Lynn Bain. She amassed a total of two hits and three home runs on the day as the team's stand out player.
Javado Bain, head coach of the winning team and father of Bain, talked about his club's gameplay en route to a championship win. "It feels pretty good to win it's a combined group of kids from the reloaded program and the kids put up a good effort and fight. Although it was not an easy win they showed their skills and did their best," Bain said.
As a coach he said he was super impressed with his athletes as they held their composure despite being down in the middle of the game and came out on top.
He described L Bain as a firecracker and was very impressed with her play and was happy with her batting and added that she just had the fire under her during the game as she always does.
The Reloaded Baseball programme was launched in interest of helping younger players develop basic baseball fundamentals and skills. The group has recently entered into partnership with the
National Sports Authority (NSA) for more games of this nature to be held at the Baillou Hills Sporting Complex.