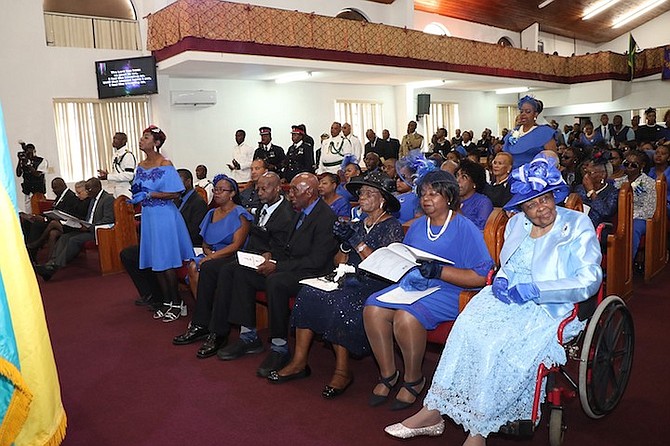 By BRENT STUBBS
Senior Sports Reporter
bstubbs@rtribunemedia.net
AT a state recognised funeral service for the late Ray Minujs Jr, one of his protégés Meacher 'Pain' Major said he felt more should have been done for his former long-time coach and mentor.
In an interview during the service on Friday at the Kemp Road Ministries, Major called Minus Jr a "phenomenal person" who was responsible for his development as an amateur and professional boxer.
"We lost an icon. Legends never die. But like I told so many other people, we can't find another person like Ray for the sport of boxing," Major said. "Had it not been for him, boxing would not have had the success that it did in the Bahamas.
"Because of Ray, we can see over the years that nobody has done what he has done. Ray Minus Jr made so many sacrifices with his life, his relationships, his marriage and he never once complained. It was all about boxing."
Major, who now resides in Buffalo, New York, said whenever he came home and he visited Minus Jr, the only thing he was concerned about during their conversation was how he could get boxing back and not worrying about his health.
"That was the kind of person Ray was. I'm really going to miss him. Every time I came home, I always went to see him. I really miss him. It's so sad to see him go. He had so many ideas and plans for the sport of boxing."
Minus Jr, 58, died on Thursday, April 27, losing his past year battle with Lou Gehrig's disease, known as ALS. He was the country's most decorated boxer, having fought for three world titles in the World Boxing Council, World Boxing Association and World Boxing Organisation.
While he didn't win any of those titles, he compiled an impressive 37 (27 by knockouts) and 9 win-loss record. He was also a six-time British Commonwealth champion; Commonwealth Boxer of the Year in 1989; two-time WBC Continental of Americas champion; four-time Bahamas bantamweight champion; three-time featherweight champion and four time lightweight champion.
Deputy Prime Minister I. Chester Cooper, who filled in for Prime Minister Philip 'Brave' Davis, said Minus Jr was not just a national icon and a champion boxer, but a champion of life.
"His boxing career was not just about victories and titles, though he did attain many. It was about determination, about resilience and about the courage to charge challenges head on, both within and beyond the ropes of the ring," Cooper said.
Highlighting some of his achievements, Cooper said Minus Jr, in each weight class he competed in, did so with power and an "unmistakable will to win."
He called Minus Jr an "artist in the boxing ring."
"Each triumph echoed the determination of a true champion, the spirit of a true Bahamian," Cooper lamented. "Although he didn't always emerge victorious, his fighting spirit remained unbroken.
"He was the embodiment of commitment to the sport he loved, to the people he represented. His life outside the ring mirated his life within. He was a beloved son of the Bahamas, who touched countless lives, not just through his boxing prowess, but through his commitment to his community, his humility and his unyielding spirit."
After retiring from the sport, Minus Jr not only groomed a number of amateur and professional boxers through his Champion Amateur Boxing Club that he founded in 1997, but he also shared the success of First Class Promotions with his ex-wife Michelle from its inception in 2000.
Minus Jr eventually became a consultant with the Ministry of Youth, Sports and Culture, which prompted Minister Mario Bowleg to call him a nation builder, who represented the country with pride over his 19 years as a competitor.
"The Bahamas has lost an elite boxer, an exceptional human being, but more importantly, a builder, not a carpenter or contractor, but one who builds character with boxing gloves," said Bowleg about the manner in which he helped to change so many lives.
"Ray was passionate about boxing and he loved being in that 400 square arena. I can comfortably say that he inherited his boxing prowess from his father. You did a remarkable job with your son."
While he went on to become the most decorated boxer in the country, Bowleg said Minus Jr was responsible for the development of so many other fighters like Jermaine Mackey, Meacher Major, Anthony Woods, Derrick Sawyer, Wilson Theophilus, Alpachino Allen, Jerry Butler, Shimon Bain, Damian Tinker and Richard Pitt.
"I am standing on the ground that Ray has impacted the sport of boxing and has made an invaluable contribution to the sport of boxing," Bowleg said.
"I can envision him now, running and jumping and doing sit ups with those who have gone on before him like he never did before," said Bowleg.
After hanging up his gloves and hearing his last bell, Bowleg said Minus Jr has served the country well and he saluted him for his tenacity even when he fought Quincy 'Thrill-A-Minute' Pratt three times and was victorious. His pastor, Reverend Dr. Ivan F. Butler, in delivering the eulogy, said Minus Jr won a lot of awards for his battles in the sport and he made the Bahamas very proud and he could have comfortably said "I have fought a good fight."
Butler said Minus Jr was "fearless."
"He was never intimidated. He was bold and courageous. He never retreated from a challenge. He was always prepared. That was what made him successful. That was what made him a great champion."
Asking the young people in the audience if they could take a page out of Minus Jr's book, he wanted them to make sure that they were "prepared. Make sure that you give it your best shot. Ray always gave it his best shot."
Minus Jr left behind his parents Alice and Ray Minus Sr, his daughter Rayshell Minus-Rolle, her husband Terez Rolle and their children Terell and Terray Rolle; his brothers and sisters and a host of other relatives and friends.
One of his brothers Renaldo "the Terminator" Minus was overwhelmed with emotions as he reflected on his brother's journey.
"As I Knew Him,'' having trained alongside him as he competed in the sport as a heavyweight champion. Kenny 'lightning' Minus, a Bahamian middleweight champion, accompanied him for moral support.
Major, one of the most accomplished fighters to come under Minus Jr's tutelage, noted that he was seriously contemplating running for presidency of the Amateur Boxing of the Bahamas whenever incumbent Vincent Strachan would set the date for the election of officers.But because of his close relationship with Minus Jr, Major said he's not certain if he will still pursue it.
"I asked Ray to please stay around until I win the presidency because he was the reason why I was going to run," Major said. "I wanted to correct the mistakes they made for him, putting him on the backburner. "We just lost someone who is really special in the sport of boxing and I don't think there's anyone who can fill his place, not even myself. He made so many sacrifices including picking us up at 5am every morning. It's really tough for me to see him go."
Minus Jr was laid to rest in Lakeview Memorial Gardens where a number of boxers performed one last salute to their coach by performing 20 push ups. It was a challenge that was initiated by Jermaine Mackey, another of Minus Jr's accomplished boxers, in memory of one of the drills that their former coach instructed them to do on a regular basis.