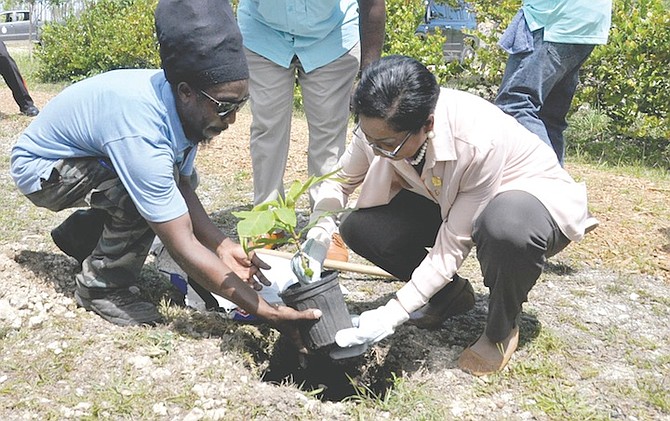 By DENISE MAYCOCK
Tribune Freeport Reporter
dmaycock@tribunemedia.net
ANN Marie Davis, the wife of the Prime Minister, has pledged to plant as many breadfruit trees as she can in Grand Bahama and elsewhere in the country.
She said the trees are resilient and can provide food security for families, support the environment and tackle climate change.
On Monday, Mrs Davis planted trees at the Bahamas National Trust's Rand Nature Centre in Freeport.
She planted the Lignum Vitae, the Bahamas' national tree, and a breadfruit tree, in observance of The International Day for Biological Diversity, celebrated on May 22.
The BNT has launched a 50/50 tree planting campaign to plant 50 trees in recognition of the 50th anniversary of the Independence of The Bahamas.
Ellsworth Weir, BNT director of parks, said the native Bahamian trees used for their 50/50 tree campaign were grown at the Leon Levy Native Preserve Park in Governor's Harbour, Eleuthera, by tropical botanist Dr Ethan Freid, who assisted in the careful selection of the trees.
The plantings were held at the arboretum, a new feature at the Rand Nature Centre. Mr Weir said the goal is to make the area the center for people to come and learn about different plants.
He thanked Mrs Davis for partnering with BNT in the tree planting.
"We want to be able to partner with you as you recognise the importance of trees. And it is important, especially here in the northern Bahamas where we lost so many trees during Hurricane Dorian," he said.
Mrs Davis also took the opportunity to plant breadfruit trees at three Urban Renewal Centers: in East Grand Bahama, in Pineridge, and in Lewis Yard at the Lewis Yard Primary School.
"We have to raise the awareness of how good the breadfruit tree is, she said. It is the most underutilized tree in this region. People don't know the importance of it."
"Most importantly, on Grand Bahama, it has already been proven that the breadfruit tree is resilient to climate change because it is probably one of the only trees that survived Dorian in East Grand Bahama," she said.
"So, we decided that this is the tree we should plant as much as we can. So, we have to spread the news about it, how good the fruit is in terms of nutritional value, and how it supports the environment with carbon sequestering in its trunk, bark, leaves, and roots. It puts the carbon into the soil and helps reduce our carbon footprint."
Mrs Davis indicated that it is the choice tree that feeds and can sustain a family of four for ten years or more. She said the tree takes 15 months to two years to grow and can yield about 100 to 200 fruits.
"Looking at food security, if you have the breadfruit tree in your yard or nearby, you can't go hungry."
"So as simple as it is, we are going to put a breadfruit tree everywhere that we can and make sure it is accessible so we can't go hungry at all. I am here to plant breadfruit and educate people about it."
Mrs Davis has planted breadfruit trees on Cat Island and plans to visit other Family Islands to do the same.
"The BNT has a schedule which will take us to Abaco as well, and I think Eleuthera. So, we will see where else. I plan to go wherever it takes me. I am putting aside trees to plant in school yards, yards for certain places such as the Children's Home, and places where (people) would need food, and not have to always incur costs," she said.
"I am here to just populate breadfruit trees in Grand Bahama as much as I can," she said.
Kyla Tener-Knowles, centre manager at Urban Renewal East Grand Bahama, said they were grateful to Mrs Davis for stopping by and planting a breadfruit tree at the center.
"We are so excited to have Mrs Davis here who planted and spoke of the significance of the breadfruit tree. We are very grateful," she said.