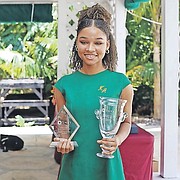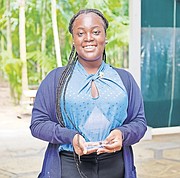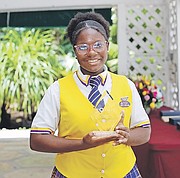 Three students took home a cash prize for their participation in an essay competition on sustainability, renewable energy and climate change
Yesterday, the winners of the Inti Environmental essay competition were announced and rewarded with cash and other prizes.
The competition was sponsored by solar company Inti Corporation in collaboration with the Ministry of Education and focused on the theme "renewable and sustainable energy can significantly impact climate change in The Bahamas".
Cierra Rahming, University of the Bahamas was the tertiary level winner and received $1000.
Makayla Kerr, Kingsway Academy won the secondary division and received $750.
Sarah Roker, Sister Mary Patricia Russell Junior High School, Grand Bahama won the junior division and received $500.
Makayla Kerr was also named the Inti Environmental youth ambassador and will participate in environmental conferences over the next year.
She was selected by a panel of three judges after completing a three-question interview.
Owen Bethel, the president of Inti Corporation, presented the awards and stated that the environmental youth ambassador will be the face of the company is upcoming public service announcements and will host an environmental forum.
He explained: "The recipient of the environmental Youth Ambassador award will be given the opportunity to attend and participate in several established environmental conferences to be held over the next year, both here in The Bahamas and abroad. Subject of course to the selected individuals eligibility and academic schedule. She will be the voice and or face of the company in several proposed public service announcements and she will host an environmental forum for local youth."
The University of The Bahamas was the educational institution that had the highest number of entrants and as a result won the Environmental Leadership Award.
Zane Lightbourne, Minister of State in the Ministry of Education and Technical Vocational Training, lauded the essay competition as an opportunity for young persons to become ambassadors for the country's sustainability.
He said: "I think that through competition and through essay it's also a research opportunity for our young people and [an opportunity] for them to become ambassadors for us as a country, for our people and our sustainability."
The competition was judged by a panel of teachers in partnership with the Ministry of Education. The judges scored the essays based on its content and innovation to addressing climate change and its effects on countries like the Bahamas.
In addition to the cash prize, winners received prizes donated by Haus of Assembly a local home goods and accessories store.