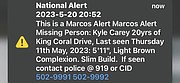 By EARYEL BOWLEG
Tribune Staff Reporter
ebowleg@tribunemedia.net
THE senior police officer responsible for the MARCO alert system said the alerts would have a link showing a picture of the missing person in the future.
Assistant Commissioner Zhivago Dames spoke to The Tribune after many residents in New Providence received an alert on Saturday about Kyle Carey, a 20-year-old reported missing on May 11th.
Some people noted there were no attached photos showing the missing man. Others complained that mostly Aliv customers got the notification, not BTC customers.
Mr Dames addressed the issues raised yesterday.
"We were of the impression that persons were aware of what he looked like," he said. "And so sending out the MARCO alert, we assumed that there was an image of him out there but we are now going to embed a link into the message when we send them out to ensure that those persons that might not have seen a photo that the system will take them to a link that they can see a photo of the person who might be missing."
Amendments to the Child Protection Act created the MARCO alert system.
Asked why an alert was sent out for Mr Carey, who is 20, ACP Dames said: "Kyle, who is an adult, all of the necessary dissemination of information was sent via those platforms to help to locate Kyle. Kyle, being an adult, time has been passing and so a decision was made to use the MARCO Alert system that is for young children to help disseminate the information out to the public to help look for Kyle."
As for why more Aliv customers appeared to get the notification than BTC customers, ACP Dames said people must change their phone settings to get the alert.