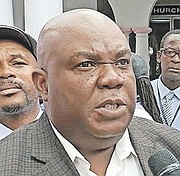 By YOURI KEMP
Tribune Business Reporter
ykemp@tribunemedia.net
The Bahamas Taxi Cab Union's (BTCU) president yesterday voiced optimism that the new call-up protocols at the Nassau Cruise Port (NCP) will eliminate hustling by drivers for fares.
Wesley Ferguson told Tribune Business the union was "very receptive" to the new structure that is being put in place, comparing it to the call-up system at the Lynden Pindling International Airport (LPIA). "They are contemplating an electronic system as their end goal so they can cancel you out if you are misbehaving," he added.
"I think taxi drivers are excited to go to the port to see how the new system will work. We are trying vigorously to cancel out that kind of negativity that is attached to taxi drivers and the way they have performed on the dock. So we are basically trying to get rid of that kind of action, and that kind of hustling, and try to get them to work as professionals."
Taxi drivers at Prince George Wharf have operated differently to those stationed at LPIA. The former, prior to the Nassau Cruise Port's $322.5m redevelopment, was not organised like LPIA and lacked a call-up system. There were also concerns over security, along with reports of physical altercations between drivers competing for passengers and fares.
Mr Ferguson said he believes Nassau Cruise Port will help put an end to these practices through a more organised system. "We are going to have to tweak it as we go because we know not everybody is going to fall in line, but once there are some disciplinary measures levied against them if they step out of line, then they will get it quick, fast and in a hurry," he added.