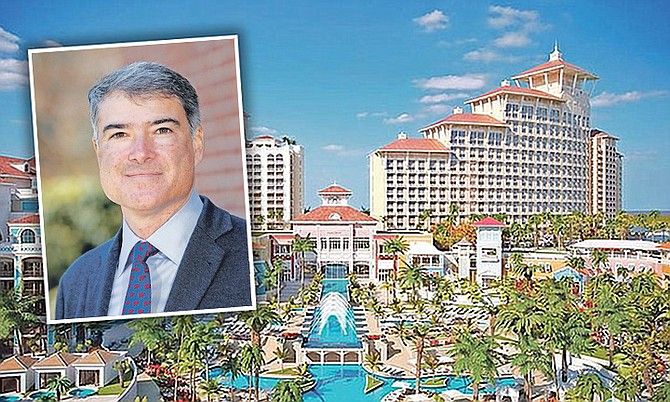 • Found to have orchestrated ouster of Sarkis
• Original developer wins on every single issue
• Developer lost $830m; contractor's gain $700m
By NEIL HARTNELL
Tribune Business Editor
nhartnell@tribunemedia.net
Sarkis Izmirlian yesterday secured a major legal victory after a New York judge ruled "it is now clear" that China Construction America (CCA) sabotaged Baha Mar's completion and orchestrated the developer's removal.
Judge Andrew Borrok shredded the Chinese-state owned contractor's bid to obtain a summary judgment that would have dismissed Mr Izmirlian's $2.25bn fraud claim, and instead found for the mega resort's original developer on every legal issue raised.
Besides dismissing the "breach of contract" counterclaim made by CCA and its ultimate parent, China State Construction and Engineering Corporation (CSCEC), the New York State Supreme Court judge also threw out multiple defences raised by the Chinese contractor - including assertions that Mr Izmirlian's claims were "discharged" by the Bahamian Supreme Court proceedings that ultimately saw Baha Mar acquired by Hong Kong-based Chow Tai Fook Enterprises (CTFE).
The ruling paves the way for the full two-week trial of Mr Izmirlian's $2.25bn fraud and breach of contract claim against CCA, which is due to be heard by the New York court between August 1-16, 2024. Justice Borrok said prior court decisions, which had upheld the original Baha Mar developer's accusations, had only been strengthened by what has emerged during the legal 'discovery' process where both sides produce their respective documentary evidence.
Among yesterday's findings, Judge Borrok ruled that this evidence has revealed:
Tiger Wu, CCA (Bahamas) executive vice-president, approved some 700 Chinese construction workers leaving the Baha Mar work site between December 2014 and February 2015 "despite knowing that those workers may have helped the project reach the substantial completion date on time". As a result, CCA had "disingenuously" informed then-prime minister, Perry Christie, that the Cable Beach mega resort would meet its March 27, 2015, completion date.

Mr Wu allowed the workers to leave "with the express purpose of causing CCA to stop work" so the contractor would have leverage over Baha Mar to demand it be paid more money. The judge said it was "also clear" that CCA "diverted resources and key personnel" to its newly-acquired British Colonial resort in downtown Nassau, which was a precursor to the $200m development of The Pointe on adjacent land.

Judge Borrok said the documents showed CCA and its affiliates were "actively pursuing their own interests to the detriment" of Mr Izmirlian, his BML Properties vehicle, and the Baha Mar project. He ruled that they "actively sought" to secure the original developer's removal, working with Baha Mar's financier, China Export-Import Bank, which is also owned by the Beijing government.
After succeeding in this goal, CCA received some $700m to finish Baha Mar's construction while Mr Izmirlian and his family lost their entire $830m investment. Referring to the New York State Supreme Court's prior dismissals of CCA's efforts to have the original developer's case thrown out, Judge Borrok yesterday wrote: "Discovery has only served to underscore the wisdom of the prior decision.
"It is now clear that Taizhong 'Tiger' Wu, one of the CSCEC representatives and CCA (Bahamas) executive vice-president, approved over 700 workers leaving the project between December 2014 and February 2015 in the final months leading up to the projected date for substantial completion, March 27, 2015."
This the judge added, occurred "without approval from BML Properties despite knowing that those workers may well have helped the project reach the substantial completion date on time, which it did not.
"Mr Wu did this after CCA sent a letter to CSCEC on January 21, 2015, stating that 'the project has entered the critical stage of final full-scale shock work' and that 'the production situation of the project is extremely severe, and if the situation cannot be fundamentally reversed, it will cause irreparable and catastrophic losses'," Judge Borrok added. "Indeed, CCA made clear that the joint venture partner needed to do the opposite of what Mr Wu did.
"To put this in context, Sarkis Izmirlian, president of BML Properties, witnessed CCA disingenuously - given the plan to divert workers and resources - tell the Prime Minister of The Bahamas and the Chinese Ambassador to The Bahamas that the project would be finished by March 27, 2015. Indeed, it is now clear that Mr Wu sent workers away with the express purpose of causing CCA to stop work so that they could force Baha Mar and BML Properties to negotiate funding.
"It is also clear on the fully developed record before the court that CCA diverted resources and key personnel to other projects in which Baha Mar had no interest whatsoever. For example, according to David Liu, one of CCA (Bahamas) vice-presidents and a CSCEC representative, while the project was ongoing, CCA (Bahamas) acquired another resort near to the project in which Baha Mar had no interest."
That was the British Colonial, and Judge Borrok said of CCA: "It is also clear that the defendants were actively pursuing their own interests to the detriment of Baha Mar and BML Properties. By letter dated March 18, 2015, Yuan Ning, president of CCA, wrote to Chen Guacai, vice-president of CSCEC, that to bring BML Properties back to the negotiating table, CCA suggested 'taking extreme measures such as a complete shutdown of the work'.
"The next day, CCA instructed its personnel to freeze handing over rooms. By e-mail dated July 6, 2015, from Mr Liu to, among others, Mr Wu, Mr Liu wrote: '[w]e should take advantage of The Bahamas government. If the Government, Export-Import Bank of China and CCA join forces, we can turn passive into active!' Put another way, Mr Liu saw an opportunity to fundamentally change the relationship between the joint venture partners and worked to cause this to occur.
"Indeed, at a meeting between the defendants and the Export-Import Bank of China on September 28, 2015, the defendants indicated that they should push for the Export-Import Bank of China to be named receiver of the project so that, among other things, they could 'protect the interests of China Construction's $150m preferred stock'," the judge continued.
"In other words, the fully-developed record now indicates that the defendants actively sought to remove BML Properties from the project so that they could protect their own investments and to the detriment of the joint venture partner. As is clear, they were successful as this is exactly what occurred."
Judge Borrok, in rejecting CCA's bid to dismiss Mr Izmirlian's case, ruled: "Discovery confirmed that BML Properties sustained a disproportionate loss, and that its losses stem from various breaches of duty and contract that the defendants owed to BML Properties.
"BML Properties lost its entire investment, which David Bones, BML Properties' expert, estimates to total $830m in tangible and intangible assets, including land and leased facilities, improvements, personal property, contracts, approvals, hotel assets, intellectual property, intangible personal property, casino operations and licence, and cash. The defendants, by contrast, made over $700m."
Judge Borrok found that there are multiple factual disputes that need to be determined, including whether CCA failed to use $54m in emergency funding obtained by Mr Izmirlian and Baha Mar as intended to pay sub-contractors working on the project and advance it to completion.
Also ruling that Mr Izmirlian can seek to recover lost profits by virtue of his ousting from Baha Mar's ownership, he added: "The CSCEC representatives had an obligation to act in the best interest of Baha Mar. On the record before the court, this they did not do.
"Contrary to the defendants' arguments, it does not matter that the CSCEC representatives 'wore different hats' in their different roles for different parties. When they changed their hats, they could not simply shed their responsibilities." Judge Borrok also determined that Mr Izmirlian's claims were not released by the Supreme Court proceedings in the Bahamas that wound-up the original Baha Mar because he was not a party to that case.
And he dismissed CCA's claims that Mr Izmirlian breached their investors' agreement by filing for Chapter 11 bankruptcy protection in the US without the contractor's permission. "The problem, however, is that Luming (Lawrence) Gao, CSCEC's representative, was unable to identify any damages stemming from this alleged breach and instead only indicated that damages were demonstrated by looking at the investors agreement. This is plainly insufficient to create an issue of fact for trial," Judge Borrok ruled.
"For the avoidance of doubt, the defendants' argument that they are entitled to damages because Baha Mar's soft cost expenditures were excessive is belied by the report of Ernst & Young finding that the majority of invoices audited were complete and accurate, and that the Baha Mar soft cost budget was reasonable and appropriate......
"Finally, the defendants argue that BML Properties breached Section 4.8 (1) of the investors agreement by causing Baha Mar to procure a loan outside of the regular course of business. However, the record facts establish that the loan was both necessary to continue the ordinary course of business and on terms favourable to Baha Mar," the judge continued.
"Among other things, the interest was payable in kind, there was no pre-payment penalty, Baha Mar could avail itself of better financing without penalty if another lender emerged, and the term of the loan was sufficient to allow restructuring of business while in Chapter 11. The loan came just days after the Baha Mar Board discussed at a June 24, 2015, meeting that Baha Mar's financial situation was worsening."