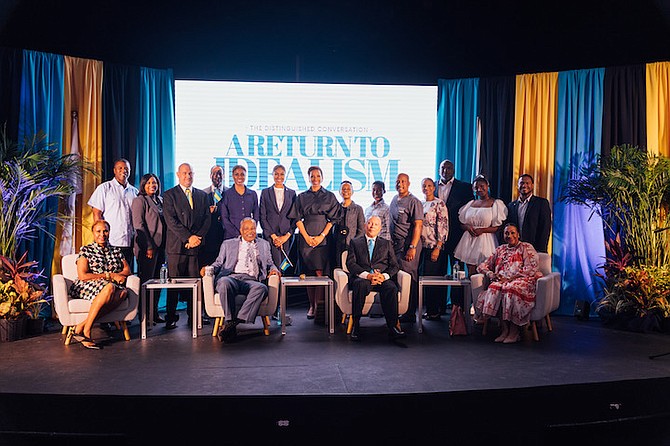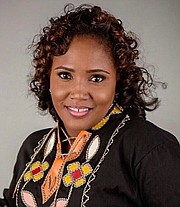 By FELICITY INGRAHAM
IN the very room where young college and university students brought political leaders together to debate prior to Bahamian Independence, two of these former youth leaders sat on a stage more than 50 years later to talk about the ideals that led to the formation of a new Bahamas.

Sir Franklyn Wilson and Sean McWeeney, KC, were both very young men with high ideals, pursuing tertiary education. They were both major players in a group of Bahamian university and college students from abroad, called Unicoll. These students would make a significant impact on the Bahamian political landscape. 

They brought members of the two major parties - the United Bahamian Party and the Progressive Liberal Party - and other political leaders together for a series of debates. Their ideals included living in a country with equal opportunity and respect for mankind, regardless of race, social status or origin. Many of these young Unicoll members drew inspiration from the nation builders celebrated as the country now embarks upon its 50th Independence anniversary. 

Both men were featured guests at the 50th Independence Anniversary Distinguished Conversation on the topic "A Return to Idealism" held at the University of The Bahamas Performing Arts Auditorium held on May 9.
Mr McWeeney pointed out that one common denominator that people who epitomised idealism in The Bahamas had, was a true sense of selflessness, serving their country above self.

"There were individuals who, at various times in our history, have risen above themselves - sometimes in just one single spectacular verse that emblazons them into history - in other cases the cumulative accomplishments of a lifetime," Mr. McWeeney said.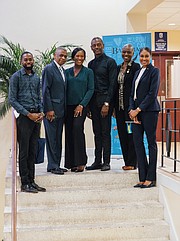 "Deep down, there was always a subjugation of self to the service of higher ideals that make us better than we were before."
"We could refer to it as the power of one - individuals who do not wait on the government or someone else to do things for them. They go out there, through their own initiative, do something truly historic and transformative."
During the course of the discussion, both men gave examples that the nation could look at for lessons on the kinds of ideals necessary to propel the country forward.
The National Independence Secretariat and the Antiquities, Monuments and Museum Corporation of The Bahamas (AMMC) partnered to host the Distinguished Conversation. The moderator was managing director of AMMC and University of The Bahamas (UB) associate professor Dr Christopher Curry. The guests were engaged in this conversation by Dr Ian Strachan, president of UB North and Dr Tracey Thompson, oral and public historian and AMMC board director.
A prime example of a Bahamian idealist, according to Mr McWeeney, was Rodney Bain. Long before he became the noted Secretary to the Cabinet, Mr Bain was set to teach in Cat Island. There, he had such a monumental impact on the young people, that some of the nation's greatest leaders rose up from Cat Island
Mr McWeeney said Mr. Bain was responsible for transforming an entire generation, impacting the likes of people such as former Commissioner of the Royal Bahamas Police Force, BK Bonamy, Sidney Russell, diplomat Dr Davidson Hepburn, and former Supreme Court Justice Joseph Strachan.
Sir Franklyn pointed to pioneer in the credit union movement in The Bahamas, Bobby Glinton. He travelled throughout the Caribbean at his own personal expense to visit credit unions and learn from them. He brought those ideas back to The Bahamas, based on the ideal of economically empowering the masses. His efforts contributed to the foundation of successful credit unions in the country today.
Mr McWeeney took a moment to hail the marines of the Royal Bahamas Defence Force who were involved in the HMBS Flamingo incident. These marines, especially the four who lost their lives (Fenrick Sturrup, David Tucker, Edward Williams and Austin Smith) paid the ultimate price with their lives.

"Their simple act of unparalleled bravery will forever be a part of Bahamian history," Mr McWeeney said.

He also hailed Dr CR Walker as a man of high national ideals who impacted him greatly.
"He was the smartest man I have ever met in my entire life," Mr McWeeney said of Dr Walker.
He was a young reporter at the Bahamian Times when he was called to interview Dr Walker.
Dr Walker was short in stature but huge in personality. He was a linguist with several languages under his belt. He was a medical doctor, a builder, an outstanding politician and Parliamentarian, teacher, social reformer and "philosopher extraordinaire".
Dr Walker was a brilliant man of wisdom, which he poured into the young McWeeney over the course of an afternoon interview at his house.
"I don't think a month goes by that I don't think of what CR Walker said to me over the course of that afternoon," said.
Mr McWeeney, a King's Counsel, served as Attorney General of The Bahamas from January 1989 to August 1992. He was a Senator from 1985 to 1992, and for a portion of that time, he was leader of the government in the Senate. During his tenure as Attorney General, he also acted as Minister of Foreign Affairs on several occasions.
His career in public life was spurred by Sir Franklyn Wilson, who invited him to join Unicoll when he was just 17 years old. Sean, however, was not a university or college student like the other members. However, his intellect and formidable with led to the young Sean becoming president of Unicoll just a year after joining.
"We were not thinking about what we could do to advance our own causes," Sir Franklyn said.
"We saw the need to look deeper to try to understand our country."

Unicoll, which later became Unicomm, he said, was the result of the idealism of Perry G Christie, former Prime Minister of The Bahamas and Bernard Nottage, former Minister of National Security. The idea was to agitate for meaningful changes in their country, rather than coming home to party during their college breaks. At the time, the young Franklyn was attending university in Canada, and Christie and Nottage were schooling in the United Kingdom.
This was around 1964/65. Those young men began to meet in what was the Government High School auditorium, UB's current Performing Arts Theatre.
Sir Franklyn said Mr Christie's ideal was that they "owe it to the country" to push for changes that would positively affect their future.
Those young powerhouses began hosting political debates and inviting some of the country's top leaders. Sir Franklyn recalls that in one instance, they invited Sir Stafford Sands and Sir Lynden Pindling, leaders of the United Bahamian Party (UBP) and the Progressive Liberal Party (PLP) respectively, to debate on the topic of economics in The Bahamas. 
Sir Stafford did not show, and a chair with his name tag sat empty. That night, speaking to a crowd packed with young Bahamians, the young political leader Lynden Oscar Pindling was able to rally much support. Sir Franklyn believes that had Sir Stafford appeared, there was a chance that things might have gone differently for the party.
A UBP member did take up an invitation to one of those debates - Peter Graham. Sir Franklyn recalls that MP Graham "acquitted himself extremely well in that audience".

Another white Bahamian who made an impact on the black political landscape was MP Donald McKinney. He was a prominent white Bahamian and member of the "Bay Street Boys". McKinney broke ranks and became one of only two UBP Parliamentarians to support the 1956 anti-discrimination resolution presented by MP Etienne Dupuch, editor of The Tribune newspaper from 1919-1973.
Mr Dupuch moved a resolution in the House of Assembly that helped to pave the way for the modern independent country we now know and celebrate at 50 years of Independence.
Mr McWeeney pointed out that McKinney paid for that decision, as he was not given another nomination to run with the UBP in the next General Elections.
Perhaps the highest form of national idealism in Sir Franklyn's mind, was exemplified by Cyril St John Stevenson. He said that Mr Stevenson saw the injustice in his country, and in 1950, he helped to form the Citizens Committee.
However, Mr Stevenson felt that more needed to be done to come against the oligarchy. He took his own resources and went to England to meet with members of the Labour Party and the Fabian Society, in order to understand the workings of opposition parties, and to align himself with individuals of similar views to his.
"He didn't stop there," Sir Franklyn said.
"He needed to see if this idea was working in the Caribbean. He funded his own trip and went to Jamaica. He saw Bustamante and Manley (Prime Minister and Leader of the Opposition). He went to both sides. Having seen that, he came back to The Bahamas, convinced that a political party could work."

Mr Stevenson, William Cartwright, and Sir Henry Taylor, all joined hands with other like minded activists, to form the Progressive Liberal Party.
Unicoll brought together powerful young men who eventually ended up becoming major players in several political organisations. They all knew that with Majority Rule as the order of the day, one day they would take the reins of government and lead the people towards a new future for their country.
It was in 1971 that this group, while on Clifford Park at a Queen Elizabeth celebration, burned the Union Jack. They knew that they had to evolve from just a pressure group, and they had to decide if they would form their own political party.
Mr McWeeney points out that when Sir Franklyn (who was in his early 20s at the time) was courted by Sir Lynden and the PLP, Unicoll was at a crossroads. Some decided to follow Sir Franklyn and join the PLP. Dwight Sawyer joined the Free PLP, which later evolved into the Free National Movement (FNM). Some other members followed Paul Adderley and Orville Turnquest into what was then the National Development Party (NDP).

Dr John McCartney, who was a political professor at Purdue University, was convinced that Unicoll should become its own political party. Thus, the Vanguard Nationalist and Socialist Party was formed.
Sir Franklyn Wilson is currently the chairman of Sunshine Holdings Limited (SHL), one of the oldest and largest conglomerates in The Bahamas. He is a legislator and land developer whom Mr McWeeney referred to as one of the greatest philanthropists in the country. Sir Franklyn has been extensively honoured by government and private entities for his contributions to the business landscape and national development of The Bahamas.
"The  greatest change we have all noticed in some 50 years, said Mr McWeeney, "is back when we started, we wanted to know what we could do to help advance the country."

"Today, the question is, 'What board can I get on, and how much does it pay?' In that, is reflected the erosion of idealism. Back then, these people didn't give a thought to that. They wanted to know how they could advance their talents in a very positive way. Their ideals formed the generations before us and our generation."

The 1973 Masterclass series continues during the month of June with three discussions taking place on June 1, 14 and 28. For more information, visit www.celebrate-bahamas.com or visit Celebrate Bahamas across social media platforms. Numerous events are planned leading up to Independence Day - July 10, 2023. Call (242) 604-1020 or Email independencebahamas@gmail.com for more information.