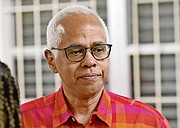 • Ex-minister: Cut corridor from East St to Dowdeswell
• Nassau must 'figure out how to create buzz and life'
• Admits 'fingers crossed' on wider cruise port impact
By NEIL HARTNELL
Tribune Business Editor
nhartnell@tribunemedia.net
A former tourism minister yesterday admitted that reviving downtown Nassau is "a huge lift" that would require "cutting" a corridor from East Street through to Dowdeswell Street to free-up land for redevelopment.
Dionisio D'Aguilar, who held the post under the Minnis administration, told Tribune Business that such an undertaking would be fraught with difficulties including land title "complications" and the competing interests of existing property owners and businesses.
However, he argued that Bay Street had to be "pushed south" because there was simply insufficient land between the road and the ocean to develop high-rise residences, retail and other attractions and amenities that would transform downtown Nassau into a true destination capable of attracting locals and tourists alike well into the evening.
Acknowledging that the city is effectively deserted after 5pm, Mr D'Aguilar added that The Bahamas "has to figure out how to create this buzz and life downtown". While successive administrations have "pecked" at the problem, improving sidewalks and street lighting, he suggested the Government "lacks the bandwidth in-house" to do what is required regardless of whether it is a PLP or FNM administration holding office.
While Nassau Cruise Port's $322.5m transformation is being viewed as a catalyst for stimulating downtown Nassau's revival, the former minister conceded: "It's really fingers-crossed that this brand new facility will cause the owners of properties and businesses on Bay Street to coral together and see how, as a collective, they can impact the experience on Bay Street.
"Everyone agrees that it's somewhat underwhelming and something needs to be done to create a destination for downtown. I've always argued that the downtowns that are successful create a destination people go to in the day and during the night. But we all know that Bay Street at 5pm just becomes a wasteland."
Mr D'Aguilar said that, while many European city centres are pedestrianised with cafes and other outdoor amenities, it was difficult to do the same with Bay Street because it is "heavily trafficked and such a critical artery and thoroughfare" for motorists. He instead suggested focusing on Woodes Rogers Walk as such a destination, which will require collaboration between the property owners, businesses in that area and the Government.
"The difficulty with Bay Street is there's many different owners, all with different agendas," the former tourism minister added. "They've all got different goals; some want to rent, some don't have the cash, some don't want to fix up. They're at different levels of wealth. It's hard to coral those owners on to the same path."
Mr D'Aguilar said successful shopping destinations in The Bahamas, pointing to Atlantis' Marina Village as an example, typically had one owner that was able to develop a destination concept. Downtown Nassau, he added, has been attempting to do similar for decades - but without success so far - through the creation of a Business Improvement District (BID) that would serve as a single entity to manage the city
"That requires a huge lift that, to-date, we haven't been able to do," Mr D'Aguilar told Tribune Business. "Substantial capital is required to make it happen. The Government fixes the lights, paves the sidewalks, but only pecks at the problem. It doesn't solve the problem. The properties east of East Street require enormous capital. And all those buildings are oriented towards the street. We need to reorientate those buildings to look at the ocean."
Many observers have long argued that downtown Nassau needs to become a 'living city', with Bahamian professionals attracted back to live and work in the area. Mr D'Aguilar suggested that land must be freed-up between Bay Street and Dowdeswell Street, east of East Street, to facilitate this, together with retail stores that face on to the ocean and harbour boardwalk.
To create "sufficient land", he suggested a new corridor will have to be "cut" between East Street, starting north of HG Christie's office, through Elizabeth Avenue to Dowdeswell Street. "You'd push Bay Street south to create the necessary real estate to build high rise apartments because the real estate between Bay Street and the ocean is not deep enough," he argued.
Pointing out that Baha Mar had done similar in re-routing West Bay Street to free land for its multi-billion development, Mr D'Aguilar added: "There's multiple owners and probably very complicated title. It takes something extraordinary to make that happen. It really takes someone who is visionary, and we need someone in government who has the leadership bandwidth to make that happen and coral it all together."
Recalling his recent visit to Cartagena, the port city in Colombia, Mr D'Aguilar said that while it, too, has its share of abandoned and dilapidated buildings, there were multiple boutique stores and restaurants with "a vibe that extends into the night" - unlike Nassau.
"We have to figure out how we're going to create this buzz and life downtown," he told Tribune Business. "This is a full-time job for someone in government with a mandate to make it happen. I personally don't think the Government, irrespective of whoever it is, has the bandwidth in house to deal with this. You have to go out and acquire that talent and vision to make it happen. But it's a huge lift."