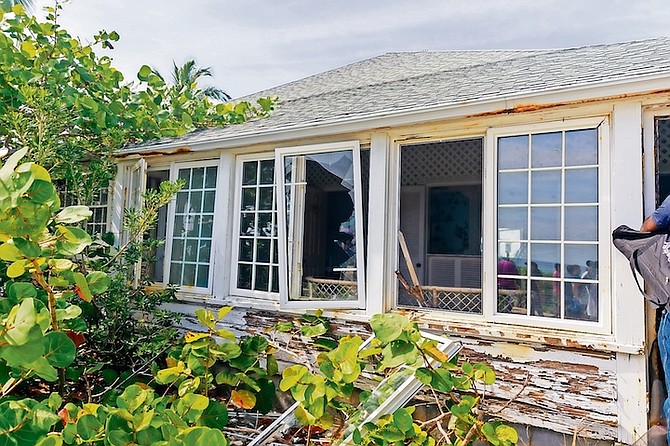 By JADE RUSSELL
Tribune Staff Reporter
jrussell@tribunemedia.net
AN estimated $50m will be spent to restore the western Paradise Island environment that will feature Royal Caribbean International's Royal Beach Club project if it gets final approval, according to RCI's chief product and innovation officer Jay Schneider.
He led reporters on a tour of the 17-acre property yesterday.
The site features rundown houses, sprawling vegetation, and piles of trash scattered around. There are abandoned homes with destroyed roofs, broken furniture, and pools of muddy water.
"Right now, we estimate it's going to cost about $50m in civil engineering, demolition and clean-up regrading getting the site into a natural habitat," Mr Schneider said. "Then we expect another fifty plus million and then infrastructure added on, whether that's a guest-facing food and beverage venue, or it's a wastewater treatment facility."
Mr Schneider said the idea that there is "pristine property" in the area is misconceived, noting most properties are in disrepair.
He said RCI officials are hoping to retain most of the natural ecosystem.
"We want to get rid of the old Nicolas Cage house, you know, we want to get rid of all the trash that he left behind when he abandoned the property and then we bought it," he said.
"You'll see a house over here that literally the roof is falling off and the house is starting to slide into the harbour. We want to get rid of that."
Mr Schneider said an old conch shell graveyard on the western side of the property causes damage to the harbour.
"We've been asked by the government to, when we clean this site up, remove that because during heavy winds, it actually lifts the conch shells and brings in the harbour and causes damage to the harbour," he said.
Yesterday's tour comes as RCI prepares for a public consultation event facilitated by the Department of Environmental Planning and Protection.
RCI recently released its first public consultation report for the Royal Beach Club at Paradise Island.
The event, which will allow residents to express their environmental concerns about the project, is scheduled for June 8.