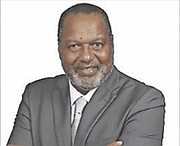 By NEIL HARTNELL
Tribune Business Editor
nhartnell@tribunemedia.net
ArawakX's belief that it stands to win "significant damages" from Bank of The Bahamas is being contested by the BISX-listed bank which says the two sides "have not engaged in any" settlement talks.
Neil Strachan, the commercial bank's managing director, told Christina Rolle, the Securities Commission's executive director, in an October 25, 2023, e-mail that no settlement has been agreed with the embattled crowd-funding platform as the latter's offer was previously "rejected".
The Securities Commission's chief, in her latest legal filing with the Supreme Court over the bid to have ArawakX wound-up, asserted that Bank of The Bahamas' response contradicted previous sworn assertions by both D'Arcy Rahming senior, the crowd funding platform's president, and his attorney "that there are ongoing settlement discussions/negotiations" between the parties.
Ms Rolle said the BISX-listed institution's position also has implications for ArawakX's hope that a damages payout could restore it to financial health amid allegations it has a $2.4m solvency gap. The crowd-funding platform is seeking damages after the bank previously froze all its accounts amid a battle for control with its major investor, former Colina Insurance Company president, James Campbell.
However Mr Rahming senior, contacted by Tribune Business at the Pan-Am Games in Chile, yesterday argued that there appeared to be a difference of interpretation or definition over the term "settlement negotiations". Even though ArawakX's offer was rejected by Bank of The Bahamas, he asserted that the mere fact it was sent means negotiations are taking place.
Mr Strachan, though, in his e-mail to the Securities Commission, wrote bluntly: "This is to formally advise that Bank of The Bahamas has not engaged in any negotiations of settlement terms, nor have we agreed to a settlement relative to MDollaz/ArawakX. An offer for settlement was sent to our attorneys. However, the offer was rejected."
He was contacted by Ms Rolle to seemingly test assertions made by Mr Rahming and ArawakX's attorney, Khalil Parker KC, both in sworn affidavits and court hearings respectively, that settlement talks with Bank of The Bahamas were ongoing and progressing.
"Per our conversation today, I am made to understand that you are not aware of any settlement agreement and/or negotiations between Bank of The Bahamas and MDollaz/ArawakX," the Securities Commission's executive director wrote.
"Please note, however, that Mr Rahming has in multiple affidavits sworn that MDollaz/ArawakX is currently in settlement negotiations with Bank of The Bahamas and his lawyer has included in written submissions as well as oral arguments that MDollaz/ArawakX has an expectation to recover 'significant damages' from Bank of The Bahamas as a result of these negotiations.
"I would appreciate if you could put the bank's position in writing as the Commission would be obliged to advise the Supreme Court of this contradiction to the sworn document." ArawakX has also argued against the winding-up and appointment of a provisional liquidator on the basis it would disrupt, and interfere with, both the progress of the case against Bank of The Bahamas and any settlement talks.
This argument, though, has been refuted by the Securities Commission which has argued that a provisional liquidator would be mandated to continue the legal battle.
Ms Rolle, in her October 30, 2023, affidavit, said: "At the court hearing of October 13, 2023, the respondent via its attorney, Khalil Parker KC, openly stated this claim arguing that the Commission's application for a provisional liquidator would interfere with the settlement discussions and likely disrupt them, depriving the respondent of anticipated funding due to the very high likelihood of those discussions being successful."
Mr Rahming, in response, told this newspaper: "I don't know what to say to that. It's our understanding from our lawyers that we are in talks with Bank of The Bahamas. We have the case ongoing, and are in talks with Bank of The Bahamas. The case is ongoing and we are aware there is an injunction on the case. These are undeniable facts.
"From my understanding and obviously from Khalil's understanding, we are having a conversation. We did send in a settlement letter, and that's our understanding of what it means by negotiation. If they have a different understanding or definition of what negotiation is, fine. They say we sent a letter to settle with them. If that's not negotiation, I don't know what is."
ArawakX is seeking damages from Bank of The Bahamas for breach of contract, injury to its credit and reputation and alleged "unlawful interference" with its business relationships, plus aggravated damages. No dollar figure, though, is specified in the statement of claim.
Th crowd-funding platform and its parent, MDollaz, said it first learned of a problem with its accounts when Tianna Gomez, a client relationship officer, informed ArawakX's vice-president of clearing, Ken Donathan, on October 24, 2022, that it was unable to process a $48,900 payment to Foot and Ankle International.
This represented a payment of investor monies to Dr Daniel Johnson's business, Footcare RX, which had been raised from a crowd-funding issue via ArawakX. The latter alleged that it was then informed by Yvette Johnson, Bank of The Bahamas' manager of premier and private banking, that its accounts were frozen following a meeting with James Campbell, its largest investor, who had injected some $1.6m into it.
"The bank was visited yesterday (October 20, 2022) by Mr James Campbell, who provided an amendment to the Memorandum and Articles of Association which introduced new articles specific to overriding provisions for the captioned company," Ms Johnson allegedly wrote. "In light of the above, effective immediately all accounts have been placed on hold and actively ceased as a result of the untenable position the bank is presented with."
Other legal documents allege that a new Memorandum and Articles of Association for ArawakX were drawn up to facilitate Mr Campbell, as its largest investor, becoming a director with an option to convert his $1.3m into a 22 percent equity stake.
However, the Rahmings have alleged these were never ratified, and they subsequently move to unwind them amid a battle for control of the crowd-funding platform with the former Colina Insurance Company president.