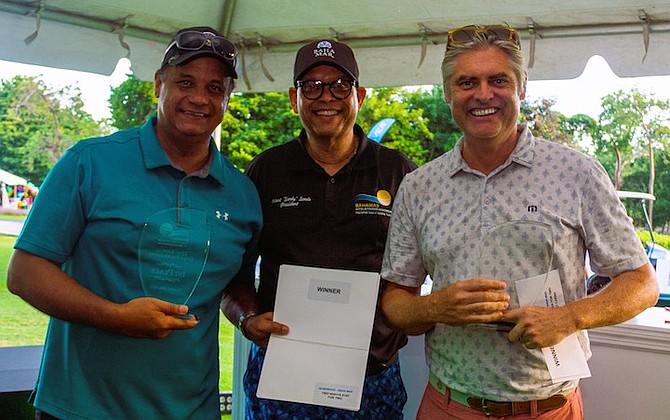 THE Bahamas Hotel and Tourism Association (BHTA) "resumed play" as the organisation brought back its immensely popular Annual "Spooktacular Golf Tournament" at the behest of players and corporate sponsors - after a three-year hiatus.
This year's tournament, held on Sunday, October 29 at The Royal Blue Golf Club at Baha Mar, was met with excitement and enthusiasm by throngs of golfers who enjoyed a beautiful day of play amidst a bevy of animated, interactive, aptly themed corporate "fun stations" that were interspersed along the green.
The tournament has become a favourite of the golfing community, due to the enthusiastic support of corporate sponsors, many of whom are directly or indirectly linked to the tourism industry.
These loyal supporters donate an array of valuable prizes, provide a wealth of gift bag giveaways and corporate swag bag items, in addition to their donation of funds and fun to ensure golfers have an all-inclusive day of competitive golf and entertainment.
The coveted tournament victory went to repeat winners Neale Jones and Tony Aranha who walked away with the first place trophy and top prize staycations at Bah Mar's Rosewood and SLS properties. Second place was awarded to Javier Bowe and Lynford Miller and third place went to two junior golfers, Maddison Carroll and Anissa Robinson, who clinched their top tier title amidst a cadre of seasoned golfers.
The two young ladies were pleased to be invited to play on Restaurant Bahamas' Team - they represented the long-term corporate supporter with grace and determination.
All top team players won prizes such as luxurious hotel stays at Goldwynn Resorts & Residences, Baha Mar's Grand Hyatt and the Royal Towers at the Atlantis resort on Paradise Island.
Newcomer Commonwealth Brewery Ltd. (CBL) came on board with enthusiasm as a corporate sponsor and event partner.
CBL paired with BHTA to take the tourney's prize ceremony to newly elevated levels of fun and anticipation. Golfers gathered under the CBL prize party tent surrounded by beverage stations conveniently located on the green apron of The Royal Blue Clubhouse. Effervescent CBL executives and team members served thirsty golfers with a variety of CBL distributed beer, wine and bubbly brands as the players eagerly awaited the results of the tally.
Major sponsors of this year's tournament also included Baha Mar, Baha Mar Foundation, Atlantis, Margaritaville Beach Resort and it's soon-to-be-open neighbour, The British Colonial, The Nassau Paradise Island Promotion Board (NPIPB), Royal Fidelity Bank and Trust, John Watling's Distillery, The Paradise Island Tourism Development Association (PITDA), The Bahamas Out Islands Promotion Board (BOIPB), Restaurants Bahamas, J.S. Johnson and The d'Albenas Agency.
Over half a dozen corporate sponsors set up "fun stations" along the course where they provided golfers with the opportunity to network, interact, play games and win prizes.
Golfers were asked to vote for their top three best fun stations. Taking first place was Margaritaville Beach Resort, who served sliders and rum infused cake to hungry golfers, who were invited to bike 'n' blend their own margarita before they took aim on the beautiful 16th Hole.
NPIPB won second place in the Golfers Choice award, with its brightly coloured, balloon-strewn Haunted House featuring unique spooky cocktails, Halloween music and giveaways, while Royal Fidelity took third spot as they enticed players off their tee with their exquisitely decorated cocktail lounge, their variety of libations served by aptly attired "Day of the Dead" costumed servers and staff.
The tourney has become known for its quantity and quality of prizes, the fun and frolic as well as the competitive level of play. Prize donors included Atlantis Paradise Island, Royal Blue Golf Club, Rosewood, SLS, Grand Hyatt, Goldwynn Resorts and Residences, Abaco Beach Resort, Comfort Suites, British Colonial, Embrace Resort, Pelican Bay, Graycliff Hotel, Makers Air, Lyford Cay Club, Rentokil, Green Systems Ltd., Baha Bay, John Watlings, Commonwealth Brewery, and Bahamas Wholesale Agencies (BWA).
Robert "Sandy" Sands, president of the BHTA, thanked players, corporate sponsors, prize donators and the Royal Blue Golf Club team for helping to make the association's 22nd annual Spooktacular event a resounding success.
The proceeds of the event help power the organisations integral workforce development efforts, a key component of the BHTA's mandate.