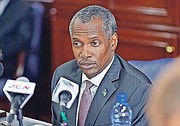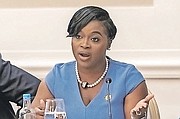 By NEIL HARTNELL
Tribune Business Editor
nhartnell@tribunemedia.net
A Cabinet minister was yesterday accused of "mischaracterising" a review of Bahamas Power & Light's (BPL) key generation investment by suggesting it had incurred a $21m cost "overrun".
Desmond Bannister, who had ministerial responsibility for BPL under the former Minnis administration, told Tribune Business the report into challenges with Clifton Pier's 'Station A' power plant did not read as if there were any such overruns "the way it is set up".
Suggesting it was "unfortunate" that Jobeth Coleby-Davis, minister of transport and energy, would make such assertions to the House of Assembly, he branded the review submitted to the Government by Shevonn Cambridge, BPL's chief executive, as "a gloss over of what really happened" with 'Station A' and the installation of the seven Wartsila baseload engines.
"It is unfortunate that the minister stood up in the House and mischaracterised what that report was really about and what happened at BPL," Mr Bannister told this newspaper. "It's a mischaracterisation to say that it was a cost overrun. I'm wondering why they even did this report because, quite frankly, I don't even think it speaks about any overruns the way it is set up."
Mrs Coleby-Davis, in tabling Mr Cambridge's July 30, 2023, review in Parliament, argued that the $117.9m spent on 'Station A' to-date represented a $21m "overrun" on the initial $96.9m budget allocated under the Minnis administration. In percentage terms, this alleged "overrun" was around 21.7 percent.
However, the dates in the report signal that at least some of the former figure relates to expenses incurred after the Minnis administration was voted out of office in September 2021 because they refer to the year 2022. And the report's use of the term "to-date" indicates that ongoing expenses are included in the $117.9m figure because it comprises all costs up to end-July this year.
Other sources familiar with the Wartsila deal and engines' installation, speaking on condition of anonymity, have also challenged the "overrun" assertion. One explained that the $96.9m covered only the initial acquisition and installation costs, and that the $117.9m figures includes expenses incurred subsequent to the Wartsila engines going live in early 2020.
Mr Cambridge's report to the Prime Minister said some $117.9m in costs have been incurred "to-date" relating to 'Station A'. These were broken down into $108.3m for the seven Wartsila engines and their "auxiliary" support infrastructure "through 2022"; $7.5m in expenses related to the "dismounting of Station A"; and $2.1m of repairs that remain ongoing to fix the building's structure and prevent concrete spalling.
Drawing on these figures, Mrs Coleby-Davis then told the House of Assembly on Monday: "To be clear, I am advised that the budgeted cost for the project was $96.9m. However, the cost-to-date is $117.9m, a cost overrun of some $21m. It is important to note that this figure continues to grow with no clear end in sight as many serious issues continue to come to light."
However, the alleged "overruns" was not the only aspect of Mr Cambridge's review that Mr Bannister, the former deputy prime minister, took issue with yesterday. He queried why BPL's chief executive could not "just say very clearly" that the fuel hedging strategy implemented by the former administration was "a good idea" that delivered reduced energy costs for Bahamian households and businesses at COVID's peak.
Mr Cambridge's report to the Prime Minister said BPL's fuel hedge was "in the money" even though the failure to achieve the targeted fuel mix "substantially ate into the benefits" because the utility ended up burning more of the expensive automated diesel oil (ADO) than originally projected.
"I think he should have just said very clearly that the fuel hedge was a good idea and made a positive difference for the Bahamian people," Mr Bannister said of the report, which was also sent to Alfred Sears KC, then-minister of works and utilities. "I'm not sure why he used that phrase. It just gives such a nasty impression. He started to explain it a little, and then went and made that statement.
"It just shows the right decision was made at the right time with respect to the fuel hedge. It would be silly to try and deny that." The Davis administration's decision not to support the fuel hedge with further cut-price fuel purchases, which the Opposition has blamed for fuel charge increases of up to 163 percent this summer, and 'Station A's' challenges are two separate issues in the BPL political blame game.
"I think it's unfortunate that the Prime Minister and former minister of public works were provided with something called a review which didn't adequately and clearly point out all the issues BPL faced and the accomplishments made in the face of those," Mr Bannister told Tribune Business.
"This is a lot of glossing over. Salient points, but glossing over them and making things look different from what they were. It's a gloss over of what really happened. It's not a substantive report. It doesn't give a clear picture of what really happened. If you read this you will not appreciate what happened in relation to BPL."
The ex-deputy prime minister disputed the review's assertion that the seven Wartsila engines were not tri-fuel engines, capable of burning ADO, heavy fuel oil (HFO) or liquefied natural gas (LNG), because BPL had decided "to forego the engines' gas-ready capabilities".
"Instead, BPL opted for the engines to be tuned for improved operational efficiency on the selected primary fuel option, Heavy Fuel Oil (HFO). The records further indicate that the intent would be to convert the engines during either the manufacturer-recommended 32,000 hours or 48,000 hours overhaul," Mr Cambridge wrote.
"Even in December 2019, these engines were still being touted as tri-fuel when BPL knew they had modified the specifications from October 2018." However, Mr Bannister argued that "they are still tri-fuel engines, and said BPL had opted not to proceed with the gas conversion kits that would allow them to use LNG at that time because the availability of this fuel source was still some three to four years away.
The ability to employ LNG as a fuel source, he added, was directly tied to the deal the Minnis administration was negotiating with Shell North America for the latter to take over New Providence's baseload electricity generation and construct a regasification terminal at Clifton Pier. Those talks, though, appear to have halted with the change in administrations.
Mr Cambridge, in his report, raised queries surrounding other decisions by the former BPL Board and management over the supporting infrastructure for the Wartsila engines. "It should also be noted that there was a deviation in the manner of connection of the units to the system. BPL typically connects its engines to the network through individual generator transformers," he wrote.
"This provides for optimum reliability at the points of connection. With respect to 'Station A', a decision was made to connect the seven engines through three transformers (three engines to one transformer, two engines to a second transformer and two engines to a third).
"This presents an operational risk. Should either transformer fail, multiple engines would be disconnected from the system. In BPL's normal configuration, the loss of one transformer would only result in the disconnection of a single engine."
Mr Cambridge also questioned the use of "singular auxiliary systems", adding: "This is inconsistent with redundant systems normally utilized in baseload power plants. And then there was "the reuse of the old, already compromised borehole cooling system at the original 'Station A'" to cool the seven engines rather than employ a separate closed-loop radiator system as recommended by Wartsila.
Tribune Business sources said no other BPL power plants employ closed-loop radiator systems with all reliant on bore hole cooling. They added that the closed-loop system would also have been exposed to corrosion from the salt air and hot year-round temperatures, which was why this solution was never adopted.
This newspaper's records showed Mr Bannister, though, backed the closed-loop system. "I think there were some questions about where we go in the future as opposed to simply having what we had in the past with the same system," he explained of his stance yesterday.