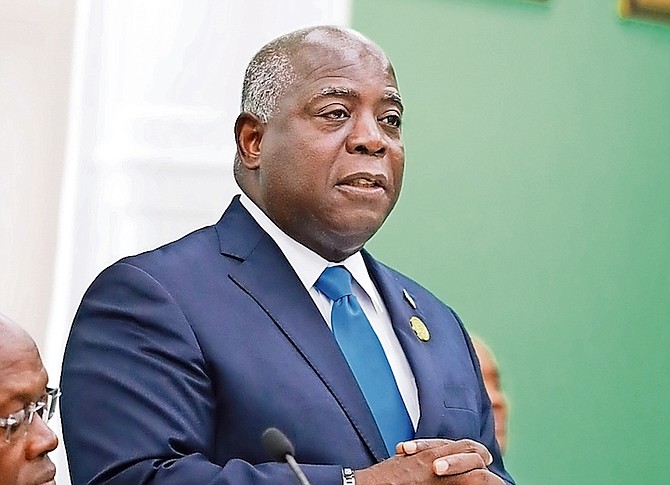 • Rejects claims from SBF's New York trial
• FTX founder failed to refute allegations
• PM's presence 'nothing to do with FTX'
By NEIL HARTNELL
Tribune Business Editor
nhartnell@tribunemedia.net
The Prime Minister's spokesman last night refuted claims he received free "court-side seat" tickets from FTX and other hospitality perks in attending a Miami Heat basketball game.
Latrae Rahming, communications spokesman for Philip Davis KC, told Tribune Business the Prime Minister's attendance at the December 1, 2021, match-up with the Cleveland Cavaliers was "not contingent" on any gifts provided by the failed crypto currency exchange and its embattled founder, Sam Bankman-Fried.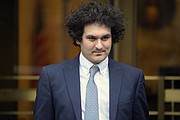 He spoke out after Mr Bankman-Fried, while giving evidence at his New York trial on multiple fraud and money laundering counts, failed to emphatically deny that Mr Davis and his wife, Ann-Marie, received "court-side seats" at the the then-FTX arena courtesy of the crypto exchange.
Danielle Sassoon, an assistant US attorney who is a member of the prosecution team, asked in federal court yesterday whether he gave the Prime Minister and his wife those seats. Mr Bankman-Fried, according to Bloomberg's report of the court proceedings, replied: "I'm not sure. I think they did go to a game. I don't know the details."
However, Ms Sassoon, who sought to create the impression of a cosy relationship between Mr Bankman-Fried and FTX on one side, and the Davis administration and key figures in it on the other, challenged the FTX founder's seemingly hazy memory by saying: "There's a message where you say he's [Mr Davis] in a court side seat with his wife."
That version of events was last night vehemently disputed by Mr Davis' spokesman. "The Prime Minister did attend a basketball game on December 1 to support a Bahamian player, Evan Mobley, with the Cleveland Cavaliers," Mr Rahming told this newspaper in response. "His attendance was not contingent on hospitality by FTX and there were no tickets from them.
"He simply went there to support a Bahamian player and watch the game. His wife was not present at all. He was there to support a Bahamian player, and was greeted by the team owners and players of the Miami Heat. It was nothing to do with FTX. It just happened that FTX was sponsoring the arena" at that time.
However, Mr Bankman-Fried's trial continues to drip-feed allegations about his dealings with the Prime Minister. The "court-side" seat claims surfaced two weeks after an e-mail was presented in the FTX founder's trial purporting to show that Mr Davis asked him to provide advice to his son about a digital assets project the latter was working on just two months before the crypto exchange collapsed.
The contents of that e-mail have not been disputed by Mr Davis or his officials, although there is no suggestion of any wrongdoing by the Prime Minister in relation to those events. Mr Bankman-Fried, meanwhile, yesterday denied discussing with Mr Davis the possibility that FTX could pay-off The Bahamas' entire $11.6bn national debt - as suggested in the book by author Michael Lewis.
Facing hostile questioning by Ms Sassoon, he also denied that he co-operated with the Securities Commission of The Bahamas over the transfer of digital assets to the regulator as part of a ploy to regain control of FTX.
"My memory is to play a role but not control," Mr Bankman-Fried was reported to have ultimately answered. The Securities Commission, which obtained a Supreme Court order authorising the transfer of some $426m in digital assets to its care to prevent their loss to theft and hacking, had to use the FTX founder and his partner, Gary Wang, to effect this process as only they had access to the wallets holding them.
Mr Bankman-Fried was also challenged over his move to open FTX so only Bahamian customers could withdraw assets around the time the exchange was placed into provisional liquidation in The Bahamas and Chapter 11 bankruptcy protection in the US.
This action, while allowing some 1,500 purported "Bahamian" customers to withdraw a collective $100m from the crypto exchange, violated the asset freeze automatically imposed by both processes. Prosecutors asked whether Mr Bankman-Fried approached the Prime Minister over the Bahamian withdrawals plan, but he denied this was then case.
He acknowledged, though, that he wrote an e-mail about his plan, and said: "My memory is that it was a different member of The Bahamas' government." Tribune Business records suggest he was referring to Ryan Pinder KC, the attorney general, who he e-mailed about the scheme at 2.27am on Thursday, November 10, last year - just hours before the Supreme Court placed FTX into provisional liquidation locally.
Mr Pinder last year denied that he or any government official gave permission to open up, adding that "no authorisation was given by any party" after an e-mail exchange between himself and Mr Bankman-Fried revealed the latter sought his go-ahead to "open up withdrawals for all Bahamian customers".
The FTX founder, in his e-mail, gave a now-typical apology for "this mess" and promised the crypto exchange was "deeply committed" to The Bahamas. He then revealed that it had separated all Bahamian client assets from those of other customers, and said it was "the very least of our duty to the country" to give them preferential treatment by returning their funds.
"We are deeply grateful for what The Bahamas has done for us, and deeply committed to it. We are also deeply sorry about this mess," Mr Bankman-Fried told Mr Pinder. "As part of this we have segregated funds for all Bahamian customers on FTX.
"And we would be more than happy to open up withdrawals for all Bahamian customers on FTX, so that they can, tomorrow, fully withdraw all of their assets, making them fully whole. It's your call whether you want us to do this, but we are more than happy to and would consider it the very least of our duty to the country, and could open it up immediately if you reply saying you want us to. If we don't hear back from you, we are going to go ahead and do it tomorrow."
There was NO EVIDENCE presented that Mr Pinder, or any Cabinet minister or government official, gave Mr Bankman-Fried permission to act and the FTX founder duly proceeded to do as he pleased - as the e-mail warned. The early morning message was also copied to Allyson Maynard-Gibson KC, the former attorney general and minister of financial services and investments, who is FTX's Bahamian attorney.
Ms Sassoon, meanwhile, yesterday alleged that Mr Bankman-Fried "bragged" Ryan Salame, former head of FTX Digital Markets, the crypto exchange's local subsidiary, "was essentially a member of the Bahamian government". The FTX founder said he was unable to recall writing such words.