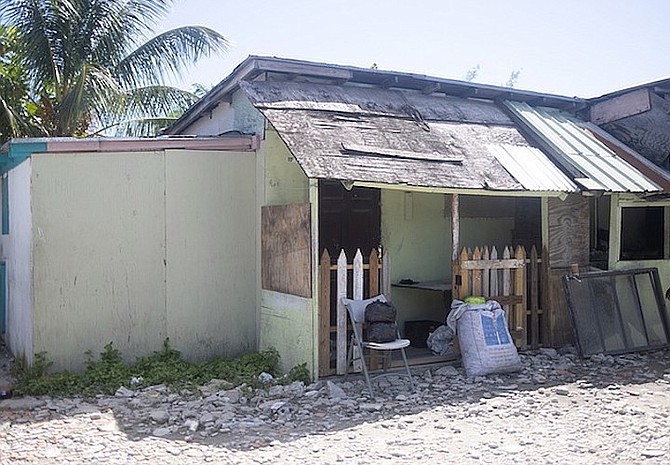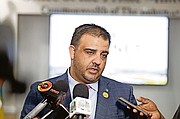 By LYNAIRE MUNNINGS
Tribune Staff Reporter
lmunnings@tribunemedia.net
THE Ministry of Social Services will provide housing assistance to Bahamians facing eviction from the Kool Acres and All Saints Way shanty towns, where 162 illegal structures are set to be demolished starting Monday.
People of other nationalities will not get this help, Minister of Works and Family Island Affairs Clay Sweeting suggested yesterday.
He said the impending demolition activities show the government's zero-tolerance approach to "illegal and unregulated structures" that "compromise the safety and orderly development of our nation".
"We recognise the hardships many face and efforts are underway to facilitate as smooth a transition as possible for affected residents," he said. "Let there be no misunderstanding –– safety, order, and the rule of law will be upheld without compromise."
 During yesterday's press conference, Mr Sweeting, the head of the Unregulated Communities Action Task Force, referred often to the Ministry of Social Service's role in addressing the potential human consequences of the evictions, but no one from Social Services was there to answer questions from the press.
 It is unknown how many people will be affected or helped or for how long they will receive housing assistance.
 "Social Services are assisting Bahamian citizens in that regard," Mr Sweeting said about housing, adding: "Social Services will provide housing."
 "We understand that Bahamians do live in these unregulated communities so we ensure that the Bahamians are assisted."
 Mr Sweeting suggested that non-Bahamians would be dealt with differently. The Department of Immigration, he noted, could deal with those who lack permits or legal status to be in the country.
 Asked about the potential for increased homelessness, he said: "The work permit holder is obligated by law that if you get a work permit for an individual, you are to provide housing for them. That is immigration law."
 Mr Sweeting said law enforcement officers will monitor activities in the shanty towns until demolitions begin.
 He said strict access control will be enforced on the demolition day to ensure a safe process.
 He said there are more than ten unregulated communities in New Providence and that shanty towns across the country will be targeted strategically.
 Authorities posted eviction notices in the Kool Acres and All Saints Way communities on October 2. Unlike in the past, there are no immediate signs that the government's eviction plans will be stymied in courts. Supreme Court Justice Cheryl Grant-Thompson ruled earlier this year that the Minnis administration's 2018 shanty town eradication policies were legal. That decision helped pave the way for the government to initiate an airtight legal process under the Buildings Regulation Act.
 Many of the Haitian residents in the shanty towns have told The Tribune they are unemployed or are temporary workers with dependents and nowhere to go.
 Some said potential rental units are unavailable because they are under renovation. Others said landlords limit how many children can live in a space, prohibiting families with more than a few children.
 The residents have taken the government's warnings seriously. Many have packed their bags and are ready to move out.