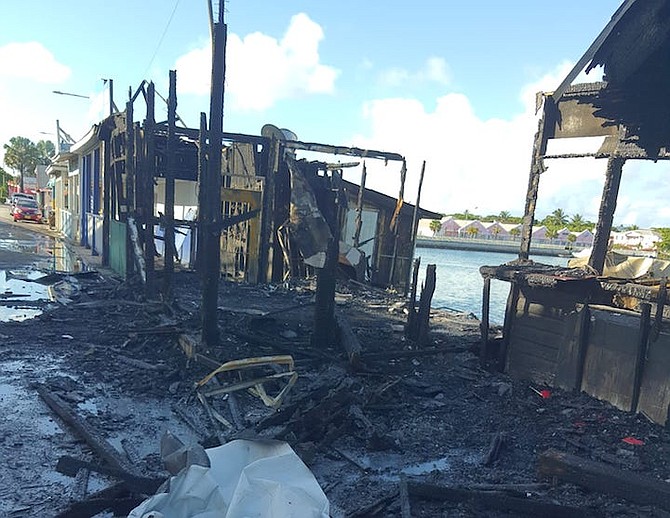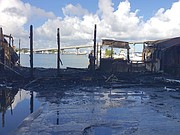 By NEIL HARTNELL
Tribune Business Editor
nhartnell@tribunemedia.net
A FIRE destroyed three stalls at Potter's Cay Dock yesterday and significantly damaged two others.
A small vessel reportedly caught fire shortly after 3am yesterday and floated over to the western edge of the dock where it got jammed. Authorities extinguished the blaze only after it had reduced three stalls –– Captain Bethel, Da Bag Seafood and Wings and Daddy Bow –– to wood and ashes. No injuries were reported.
Cacha Armbrister, co-owner of Da Bag Seafood and Wings stall, said she didn't realise how serious the fire was until her father sent her a video.
"I can't just sit here and cry over it," she said. "The space is open so I guess it's just time for a new beginning, to start over. But it's not cheap because it wasn't cheap putting the building here to start."
Renell Armbrister, co-owner of Da Bag Seafood and Wings, said the stall was supposed to be renovated and reopened next year.
She said renewing insurance for the restaurant was challenging because Potter's Cay Dock is a high-risk area.
She said her insurance premium was worth the high price initially but suggested the stall was not currently insured. "We don't have many companies that are willing to take that risk and insure us," she said.
Kevin Desir, owner of The Island Chef, believes he will close his damaged stall for four days and spend about $5,000 on repairs. He said he hopes the cost doesn't exceed that "because it is rough right now". He said the first thing he would do is reconnect water.
This fire comes more than two years after an April 11, 2021, fire destroyed six stalls on the eastern side of the dock. Rebuilding efforts for vendors affected by that blaze are still ongoing.