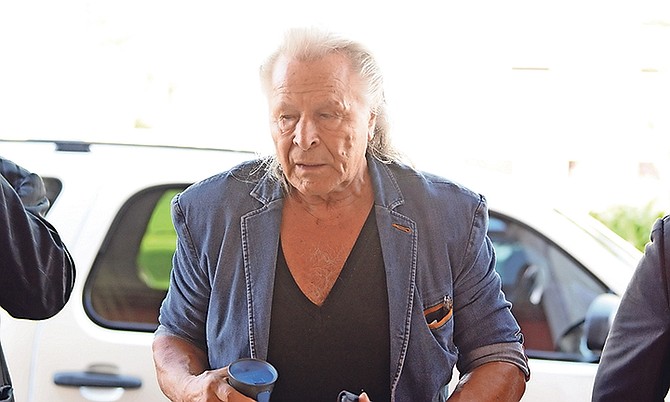 By Tyler McKenzie
SERIAL predator Peter Nygard cornered women in his private suite and sexually assaulted them, time and time again – but judging by the response of officials here in The Bahamas, it's no big thing.
A jury in Toronto found him guilty of four counts of sexual assault on Sunday of last week, and he faces more charges in Montreal, Winnipeg and New York.
The women described feeling trapped in his suite, which had doors that needed a keypad code to open, or the push of a button near the bed. One woman said she was just 16 when Nygard sexually assaulted her. On the way out, another woman handed her an emergency contraceptive pill.
Nygard's own son, Kai Bickle, said outside court: "Most of this abuse happened in The Bahamas, just so you know. This is just Toronto's version that qualified. We are dealing with a systematic monster who used his business talents for evil to prey on others and it's a very good thing that justice was served here."
Mr Bickle said women who escaped were brought back to Nygard's property by Bahamian police, where they were assaulted, and that his father used "jurisdictional loopholes" to avoid accountability here.
So why is there no sign of justice here?
Famously, Nygard featured in a video after the PLP victory that saw Perry Christie become Prime Minister called "Peter Nygard takes back The Bahamas".
New PLP ministers were recorded too, shaking hands and being introduced to Nygard at his home.
And yet, after the guilty verdict, what could current PLP leader and Prime Minister Philip "Brave" Davis manage? Did he excoriate those who allowed Nygard to commit crimes? Did he pledge a thorough investigation?
No, he fired a shot across the bows of the FNM instead. "He was close to both parties," he said. "In fact, his presence was supported by the FNM and you could speak to the FNMs about that. He came to The Bahamas and he had friends on all sides of the divide as far as I'm aware. So, to continue to paint a picture that he is friendly with the PLP government and not the FNM government is bullocks."
FNM chairman Dr Duane Sands fired back: "I am not surprised that the prime minister would try to distance himself from the embarrassing headlines, but they have to own it."
Mr Davis did say he supported Nygard's victims, saying that he believed in the rule of law and "I have daughters, I have a wife, I have a mother and I understand these issues and so for me let justice prevail and let justice be done."
Let's take a look at that justice, shall we?
In 2019, then Police Commissioner Paul Rolle said an investigation had been launched into sexual abuse claims against Nygard after The Tribune reported that six women had made formal complaints.
But in 2020, he said that when officers visited Nygard's home in 2019, he was gone from the country and refused to return. He said that "he's never been interviewed by local police and all of our complaints that came in, came in after he left".
Also in 2020, National Security Minister Marvin Dames said that an investigation would be launched into claims Nygard bribed local law enforcement officials to conceal his crimes.
So where are those investigations now?
Current Police Commissioner Clayton Fernander said he has never seen a file of complaints against Nygard.
The Commissioner – who was on forced vacation leave in 2019 – said that he "would have to locate the files to see what decision was made at that time, why the matter did not make the courts. I'll have to try to find out from CID if they have any files with any sex matters coming from Nygard".
So here we have so-called investigations – the first, by police, seems to have gone no further under Commissioner Rolle because Nygard wasn't home when they came knocking and wasn't coming back. How that would stop police from gathering evidence from the alleged victims, I do not know. Charges could happily be prepared for Nygard should he return. There could even be a petition for extradition. That has not happened.
Then there is the investigation that rose to the ministerial level, with the National Security Minister's involvement – not a word has emerged about that.
And the seriousness with which these things have been taken can be judged by the fact that the incumbent Police Commissioner does not even know if there are any files pertaining to an issue that alleged complicit behaviour by senior police officers that led to the sexual assault of Bahamian women.
If it were not for justice in Toronto, plainly there would be no justice.
Imagine being Nygard's son, who was pushed out of his father's business organisation because he raised his voice when he saw Nygard inappropriately touch a child. Imagine all that he risked and lost because he could not stand idly by while Nygard abused and violated others. And compare that to what we will risk.
There should be no talk of well, he was close to the other party too, you know. It does not matter who Nygard was close to – if any person played a part in protecting him or letting him continue with his crimes, they should be exposed.
And who is letting the dust gather on these investigations, which seem to go no further than saying they exist for the sake of the media? Shake that dust off and get on with them.
Because this is not just about Nygard. Those who protected him may well still be in a position to protect other abusers. It's not just about getting justice for those already made victims of such crimes, it's about protecting others from becoming so. Are we a nation that tolerates such crimes as long as someone here or there can make a little bit of money? Or are we the Christian nation people always loudly claim that we are?
So speak up, party leaders, and demand answers – you too, Mr Davis. Speak up, Marvin Dames. Speak up, Wayne Munroe, in whose offices those investigation files are presumably filed. Speak up Commissioners old and new.
Nygard trapped and abused women because he could get away with it thinking there would never be any consequence. The very least we should do is to expose the truth, so no one else will believe the same.