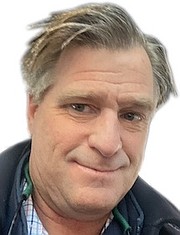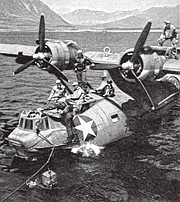 TAXIED to beach, hit trees, and sank: these seven words encapsulate a bad day for a dozen men.
To this day Edward Lockhart, a captain from an island which has produced legendary ship masters – Ragged Island – remembers what he saw and heard eight decades ago, from the World War II Battle of Ragged Island to that plane washed ashore with friendly men inside it. As he recovered from a hurricane which left his dwelling a series of askew walls teetering over his head, Lockhart explained that he and other Ragged Islanders distinctly heard machine gun fire from Holtorf's U-boat U-598 and from military and merchant ships in the convoy about 35 miles away. Edward survived Hurricane Irma as a hermit on this remote depopulated island chain.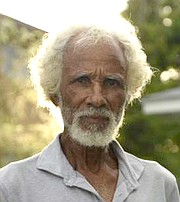 On Sunday, June 11, 1944, a US Navy Consolidated PBY-5 was damaged beyond repair during the taxiing phase of operation at Great Ragged Island. The problem began when, during advance base and over-night navigational training flight from the US, with NAS and NOB Great Exuma acting as a safety net in George Town, the plane lost the use of one of its two radial engines of 1,200 bhp each, with 3 propellers. The pilot landed on the water to the east-southeast of Great Ragged Island. It being the only inhabited island nearby, the pilot then made way for it using the engines on the sea surface, and heading west-northwest probably somewhat clumsily and uncomfortably.
Mike Stowe, aviation accident report investigator, shared a critical file, showing that a week after D-Day, the 13 trainees managed to wrestle a badly disabled amphibian airplane out of the sky and onto the smooth surface of the sea. That accomplished, the pilot decided to head to the welcoming embrace of a wide arc of beach north of Duncan Town, the primary settlement of the remote Ragged Island, or Jumentos Cays chain, which are closer to Cuba, Haiti, and the Turks and Caicos than they are to Nassau. However, the over-confident amphibian aviators mere hours from their Florida base underestimated Bahamian reefs, which made quick work of destroying the underbelly of the aircraft as it rounded a rocky point with just yards to spare. Despite drastic predictions by other military researchers, myself and a team were led to the site by expert fishing guide and hotelier Captain Phicol Wallace and indeed, in just a few feet of water and visible from the shore lay the Catalina PBY-4. Usually, the navy salvors won their reclamation assignments, however in this case several aircraft of experts from NOB and NAS Great Exuma and even salvors with barges failed to ever put this Humpty Dumpty back together again.
On that June morning US Navy Ensign Paul Charles Bernardy was at the controls, being monitored by overall Captain Leon Elton Robbins, and supported by Lieutenant Constantine James Economou. The aircraft was stationed in squadron VPB-2 OTU, at Naval Air Station (NAS) Jacksonville, in northeast Florida, some 600 nautical miles from Ragged Island. The plane was a maritime patrol bomber built for search and rescue in Rhode Island. It became the most utilised seaplane of World War II. The United States gave 93 PBY-5s to the RAF under Lend-lease. They typically required ten crew, were 63'10" long, 104' wide, 21'1" high, and weighed 28,000 pounds. Two radial engines of 1,200 bhp spun three propellers. In combat the aircraft carried 2,000 pounds of bombs, two torpedoes, or four 325-pound depth charges along with three.30 caliber and two .50-caliber machine guns. The top speed was 196mph and range 2,520 nautical miles.
The ten other crew were ensigns Henry William McNair, Reginald Everett Jenkins, mechanics Peter John Pappas, Lee Imey Outlaw, Jr., Eugene Gerald Cratty, Norman Alphonse Tremblay, gunners James Joseph Jowdy, Willis Daniel Birch, William Andrew Doelle, and Thomas Edward Stokel, all of them in the US Naval Reserve, or USNR. They took off from Florida on a routine, over-water navigational training flight, also known as advance base training. Bernardy the pilot has 195 hours of experience with this type of PBY aircraft and 409.3 hours overall flying experience.
The plane was practising navigation on the western edge of the critical artery north of Windward Passage known as Crooked Island Passage, west of Mira Por Vos Islands and the weather was settled; a light wind of 10 knots from the southeast along with just a slight swell from the same direction, undulating like the breathing of the belly of a supine person. Then after noon, trouble came in the form of an engine malfunction, and by 1.15 pm doom had struck. The official report marked confidential by the US Navy relates that "While the plane was circling an island in the Bahama Group at an altitude of approximately 800 feet, the starboard engine caught fire. Subsequent investigation determined that number three cylinder had blown out. The propeller was feathereed, and the fire ceased; the pilot attempted to maintain flight on one engine. When it was determined that the plane could not maintain its altitude, a landing was made at sea. No damage occurred to the plane structurally incident to the sea landing. The pilot [Bernardy] attempted to taxi to a sandy beach of Great Ragged Island, British West Indies at about one mile from the scene of the [water] landing. At approximately 20 yards from a point of land, the plane grounded on a reef. All attempts to remove the plane from the reef failed. Numerous holes in the hull caused the plane to fill with water rapidly . When the salvage crew and equipment arrived [from Exuma], the hull was damaged beyond repair."
All military units from Florida to Nassau, the Naval Air Station in Great Exuma and the Naval Operating Base in Guantanamo and beyond were alerted that day of the "Jacksonville PBY forced down off Great Ragged Island." The report read that "At 11.25 am a PBY from NAS Jacksonville reported to its base that her starboard engine had caught fire and was forced to land off Great Ragged Island. The PBY further advised that she had caught on a reef, and was taking on water fast. Her hull was gradually being broken up, and the aircraft requested instructions from NAS Jacksonville. At 12.39pm (just over an hour after the mishap) the Gulf Sea Frontier commander advised the bases in Exuma and Cuba that the PBY was forced down, and that the plane was in a sinking condition, further stating that assistance was requested."
"At 1pm, NAS Great Exuma [approximately 85 miles north of Ragged Island], advised NAS Jacksonville that they were sending a boat immediately, and would advise if possible to tow the plane after contact was made. RAF Nassau advised at 2.50 pm that the following message was received from the commissioner of Ragged Island at 2 pm: 'PBY Navy with 13 men fell on northeast side of mainland [Great Inagua] at 11.30 am, now grounded among dangerous rocks. Every assistance for safety of plane and accomodation of men is being rendered." The original District Commissioner of Ragged Island's reports from 1944 at the National Archives of The Bahamas are not readily available. Overall, several similar messages with the urgent nature and need for assistance were transmitted that day from various stations.
Investigating engineers remarked at how the "hull bottom was crushed and broken. Stringers of remainder of hull loosened. No 3 cyl. of stbd. Engine was blown off. Engine case broken around base of No 3 cyl. Corrosion of both engines, equipment and accessories of plane." Attribution of blame was "80% Pilot Error; 70% judgement; 10% technique, 10% pp, or engine structure, 10% misc.; airport, terrain, etc." – ie: reef. The worst, from the third-in-command's perspective, was the Commanding Officer's indorsement: "In the Board's opinion Lt Economou, the second pilot disclaimed the proper responsibility. This officer has had varied experience aboard Navy ships. It is the further opinion of the Board that this officer should have advised Ensign Bernardy against taxiing toward shore, and that he, Economou, should not have continued taxiing toward the shore."
Mrs Ilka Lockhart and Dear Mrs Yvette Lockhart helped earlier. Brita Cadoret helped much as well, making introductions.Konstantinos Economou in Greece has helped as well connect the Constantine Economou's side of the family. Captain and entrepreneur Phicol Wallace led us to the partly exposed amphib in just moments.
Edward Lockhart knew the names of two of the PBY crew; Kurt and Droddy. In fact, crewmen had almost identical names; mechanic Eugene Gerald Cratty and gunner Willis Daniel Birch. They were repatriated by Americans to Georgetown, Exuma, via boat or amphibious aircraft. Less than half a year later two other large amphibious planes, these capable of carrier take-offs and known as OS2U Kingfishers ran out of gas in the vicinity of Ragged Island on December 6, 1944. A large VIP carrier known as an Army JRF as well as a pair of US Army rescue boats were sent from NAS Georgetown, Exuma to refuel them. First, they had to be located, as one was drifting off Ragged Island, and the other further out to sea. Then, a year later, on July 1, 1945, a Grumman Goose GB amphibious plane landed at Great Ragged Island. It avoided grounding.