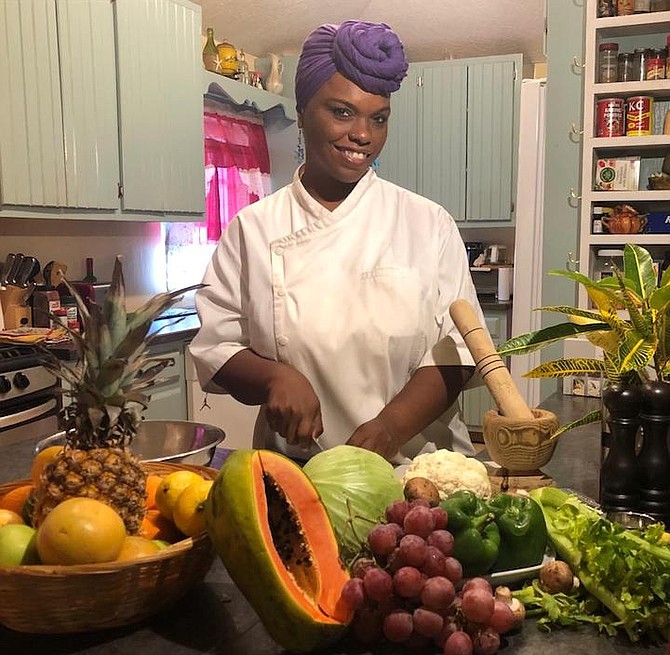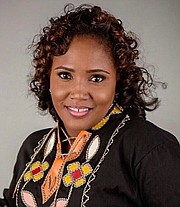 By FELICITY DARVILLE
AKHEPRAN International Academy is emerging as a force to be reckoned with in the junior culinary world. Students are gaining national attention with creative, scrumptious, health conscious Bahamian dishes. This month, Akeelah Maura, an eighth grade student at Akhepran, won the 31st Bahamas Young Chef New Providence District Inter-Island Culinary Competition. Akhepran's senior scholar, Judah Seymour, claimed the top prize in the New Providence District in the Senior category. Both of these young chefs will be ones to watch in November's national finales.
Last year, ten-year-old Akhepran student Amina Eneas made history by becoming the youngest student to ever enter and win the Bahamas Junior Young Chef competition for New Providence in its 30-plus year history. Also in 2022, Amina's schoolmate Sia Wright became the New Providence District Winner for 2021 and 2022 and placed 3rd for the Nationals in 2021.
While accolades came pouring in for Akhepran and its rock solid culinary arts programme, the school credited the success to Culinary Instructor/Coach Chef Amunet, who has been guiding the young chefs at Akhepran for about six years.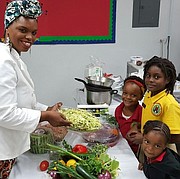 She helps the youngsters to bring out their gifts in the kitchen and wow the judges with their meals - all underpinned by the values of healthy eating and cultural preservation.
"My experience working with the young chefs is an amazing experience," Chef Amunet said.
"These young chefs are eager to learn, passionate in the kitchen and they all have come with some home based cooking experience, and that is what I love. This shows that they have that deep innate passion and love for food and cooking."
Akhepran's junior scholar Akeelah Maura prepared a Grand Bahamian dish of banana pannycake and fish for her recent win. In AIA's in-house competition, she presented the banana pannycake with an Asian fusion of sesame crusted tuna.
"What set Akeelah apart from the other in-house competitors was her creativity," Chef Amunet said.
"When choosing a scholar to represent Akhepran, as a chef, creativity, willingness to learn and how she/he is able to maneuver or flow in the kitchen under pressure is key in preparing for this competition. We were able to assist Akeelah Maura in fine tuning her dish to suit the Bahamas Young Chef Competition theme "Bahamian Cuisine, Our Flavour Profile, Our Food Culture, Our Identity". So she was able to win the judges over in the New Providence district round with banana pannycake w/ snapper fillet topped with pickled onions and a spiced hibiscus syrup and a guava duff-inspired guava rice pudding créme brulee. "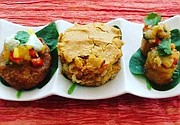 Akhepran's competitor in the senior division, Judah Seymour, became the senior New Providence district winner with his vegan stuffed cabbage filled with coconut peas 'n rice, fried coconut fish topped with coleslaw and plantain and with his breadfruit and guava jubilee twist drizzled with soursop icing - all inspired by traditional Bahamian fried fish, peas 'n rice, coleslaw and fried plantains and a family favorite pastry, Model Bakery's twist.
"Judah was able to blend Bahamian traditional food staples effortlessly in both the in-house and New Providence district competitions," Chef Amunet said.
"I am truly excited to assist them in elevating themselves creatively and guiding them to present mind blowing flavor profiles, original dishes and top notch plating presentations."
Whereas Chef Amunet's students do not have to present vegan dishes to the competition, what is so exciting is that many of their entries are vegan, proving that native Bahamian plant dishes can taste even better than their traditional preparations.
"Because I have been preparing vegan food for 20-plus years, it is so natural to fall in love with young chefs who love vegan food," she said.
"Gone are the days where vegan food is considered 'rabbit food'. The young chefs light up in the kitchen when they can learn to take their favorite vegan dish and elevate it in flavor and presentation. It is like a whole new world has opened up for them because not only can they express their 'true' selves as vegans/ plant based lovers, but they are able to showcase these specialty meals as if they are presenting or cooking in a five-star restaurant."
"At Akhepran, there are only a handful of 'vegan' scholars. However in the classroom, the non-vegan scholars, too, are amazed that they can take some of the usual vegetables that they may have not enjoyed and begin to enjoy them when presented in a most dynamic, flavorful and creative way."
Chef Amunet's success in cooking has been decades in the making. She grew up with her father in a large family who loved cooking.
"My father owned a top restaurant where I absolutely loved spending time in the kitchen being mesmerised by the food ingredients and food preparations, and watching the chefs move skillfully and intently - especially in presentations," she recalls.
"These times I never knew would have unknowingly ignited and prepared me for what I do today at Akhepran, in my food business Nature Soul Food, and the many other aspects of who I am."
Chef Amunet, also known as Tesha Fritz-Eneas, is a woman who wears many different hats. She is a chef, culinary instructor, food business owner, fashion and jewelry designer, health and wellness coach,doula/birth worker, mother of five amazing children, wife to Dr Cleveland W Eneas III and also an Min Id Vizier (Associate Pastor) at The Holy Qubtic Church.
"Each hat is intricately woven together like a beautiful tapestry that displays divine gifts that I cannot hold unto myself," she shared.
"Talents and gifts are to be shared purposefully and to assist others in this journey called life. Each year in preparing the junior and senior scholars in the Bahamas Young Chef competitions, I am able to harness the love, passion and creativity from within each of them and assist them with skillful techniques, guidance and support to ensure that they are well-equipped to compete confidently and competitively."
Although her specialty is vegan/plant-based food preparation, she has also been trained, reared and exposed in preparing other meats and foods, pastries and more. When her daughter Amina was victorious in last year's Bahamas Young Chef Competition, Chef Amunet saw all her hard work, and the path she took as a young girl, come full circle.
"I truly give credence to my father (deceased), Mr Theophilus Fritz, my mother (deceased) Doris Taylor-Collins and of course the 'mother' who raised me, Lorena Adderley - all of whom worked in the food and restaurant industry for many years," she said.
"Thanks to my mentor, Dr Jacinta Higgs, my husband Dr Cleveland Eneas III, Mrs Rhonda Wright, Dr AJ Varmah, and many others who believe in me and push me to greatness in all that I do."
"It is said that 'everything that you are and will be is already with you'. This statement reflects everything that I am and what we do at Akhepran International Academy. Education: educate-educare: to draw or bring out. We draw out the gifts, passion, and purpose of the scholars within the classrooms."
Outside of the walls of Akhepran, Chef Amunet runs a food business - Nature Soul Food - which merges two of her greatest passions: helping others heal and cooking. She is able to use nutrition and her culinary expertise in one platform. The company offers an array of nutritional, health and wellness products and services, including meal prep; detox programs; weight loss programs; cooking classes; and catering. She also has a brand of vegan foods called Nature's Vegan Delights, which produces items such as frozen vegan burgers, meatballs, sea moss gels, pancakes and granola - all freshly made. Nature Soul Food, she said, is a sustainable company that provides nutritional, health and wellness products and services.
Chef Amunet has found a calling that allows her to extend her passion and purpose beyond just her home and the school at which she works. She is a part of the Bahamas Healthy Lifestyles Team where members educate, inspire and empower people to make healthier lifestyle choices and advocate for better health in the Bahamas.
"We are presently moving through preschools, primary schools and other places to educate young school children, teachers, staff and administration on healthy habits and assisting schools to adopt water days to assist in reducing the intake of high sugary drinks which affects brain health and increases the risk of child obesity," she said.
"We, along with members of the Healthy Bahamas Coalition and the Healthy Caribbean Coalition. We are currently working on raising awareness about Octagonal High-In Front of package warning labels. Front of package warning labels are labels or seals applied to the front of packaged products which allows consumers to quickly, correctly, and easily identify when a product contains excessive amounts of nutrients, such as salt, sugar, and fats."
This busy chef, wife, mother and spiritual leader still finds time to give back in another special way. She founded an organisation called Sacred Butterflies for young girls between 7-17 who have experienced trauma of sexual abuse, bullying, rape, sexual violence and other social ills.
"Our team has formulated school programmes to empower our young girls in healing and transforming themselves and their lives to lead a successful thriving life after trauma."
Herr recipes in the kitchen are truly a reflection of her recipes for life - rich ingredients of love and faith, preparation and hard work, resulting in rich rewards to be enjoyed. Contact Chef Amunet at Facebook: Nature Soul Food; Instagram: naturesoulfood2426; email: naturesoulfood@gmail.com or WhatsApp (242) 810-9628.