New Cabinet Assignments
Prime Minister and Minister of Finance: Philip "Brave" Davis
Deputy Prime Minister and Minister of Tourism, Investments and Aviation: Chester Cooper
Minister of Foreign Affairs: Fred Mitchell
Minister of Education and Technical and Vocational Training: Glenys Hanna-Martin
Minister of Social Services, Information and Broadcasting, Leader of Government Business in the House of Assembly: Obie Wilchcombe
Minister of Immigration and National Insurance: Alfred Sears
Attorney General and Minister of Legal Affairs: Ryan Pinder
Minister of Economic Affairs and Leader of Government Business in the Senate: Michael Halkitis
Minister of Health and Wellness: Dr Michael Darville
Minister of Works and Family Island Affairs: Clay Sweeting
Minister of Housing and Urban Renewal: Keith Bell
Minister of National Security: Wayne Munroe
Minister of Environment and Natural Resources: Vaughn Miller
Minister of Energy and Transport: JoBeth Coleby-Davis
Minister of Youth, Sports and Culture: Mario Bowleg
Minister for Grand Bahama: Ginger Moxey
Minister of Agriculture and Marine Resources: Jomo Campbell
Minister of Labour and the Public Service: Pia Glover-Rolle
Minister of State for Aviation in the Ministry of Tourism, Investments and Aviation: Basil McIntosh
Minister of State in the Office of the Prime Minister: Myles Laroda
Minister of State in the Ministry of Housing and Urban Renewal: Lisa Rahming
Minister of State for the Environment in the Ministry of the Environment and Natural Resources: Zane Lightbourne
By LETRE SWEETING
Tribune Staff Reporter
lsweeting@tribunemedia.net
ALMOST two years into his administration, Prime Minister Philip "Brave" Davis has shuffled his Cabinet, with Keith Bell and Alfred Sears being moved to new ministerial posts.
Mr Davis yesterday announced seven new ministerial appointments and portfolio adjustments as well as two shifts in state ministers.
The new appointments will take effect immediately, with Cabinet meetings to be held on Tuesdays as usual.
Many of the new roles come following calls for the resignation of several of the ministers, though Mr Davis has defended his Cabinet ministers, shutting down those calls for resignation.
During his national statement, he outlined several serious and long-standing issues, sought to be addressed with this shuffle, including the price of light bills, the need for reformation and transformation of the energy sector, more support on the family islands, more affordable housing, crime and bail reform.
Mr Davis said the new portfolio and responsibility adjustments of Cabinet would "strengthen policy execution, and balance continuity and experience with renewal and fresh perspective".
Labour and Immigration Minister to become the new Minister for Housing and Urban Renewal.
Obie Wilchcombe, whose portfolio at Social Services previously included Urban Renewal, is now Minister of Social Services, Information and Broadcasting.
Mr Davis said as Mr Bell was a part of the team that originally launched Urban Renewal his "experience and commitment" will be vital in his new role as Housing and Urban Renewal Minister.
"I know he will bring his trademark energy and determination to his new role, as Minister of Housing and Urban Renewal. Building affordable homes and building stronger communities is a priority for us, and doing it in a big way requires strength and focus.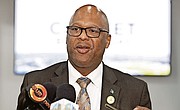 "Keith Bell was part of the team that originally launched Urban Renewal. His experience and commitment to that mission will help to drive the programme to even greater success," Mr Davis said.
Calls for Mr Bell's resignation or removal from Cabinet from the Coalition of Independents and the Free National Movement (FNM) came after Mr Bell, in an unorthodox way, at a funeral, oversaw the ceremony granting citizenship to the two children of the deceased man and their mother.
Former Immigration Minister Brent Symonette called Mr Bell's actions "highly improper" and agreed they warranted his resignation from Cabinet.
This caused widespread controversy as many called into question Mr Bell's commitment to valuing Bahamian sovereignty and citizenship.
Several weeks later, Prime Minister Davis came to Mr Bell's defence saying Mr Bell does not need to resign for overseeing a citizenship swearing-in ceremony at a funeral.
A number of other allegations about actions during Mr Bell's tenure have been raised, including his involvement when a number of Chinese workers were released from custody after an immigration operation.
Mr Davis said that moving forward his administration will prioritise taking a closer look at immigration policy, which will include a review of work permit needs in the financial services sector.
He said: "As I announced over the summer, we will be conducting a comprehensive review of immigration procedures, with the goal of strengthening them, so that Bahamians can be confident that the rules promote efficiency and fairness.
"We are also reviewing agreements made with investors in years past, to ensure they are carrying out the commitments they have made to our communities and country.
"And we are reviewing work permits in our financial services and tourism industries, to make sure opportunities for Bahamians are not being unfairly blocked."
With Housing now part of Mr Bell's new portfolio, former Transport and Housing Minister JoBeth Coleby-Davis will now serve as Minister of Energy and Transport.
Mr Davis said she was granted this new portfolio to "do the critical work of bringing together and coordinating experts and teams from throughout the government to tackle the energy transition.
"Minister Coleby-Davis, whose dissertation for her Masters Degree focused on overcoming barriers to renewable energy deployment in The Bahamas, is going to be a formidable advocate for our country as we transition to clean energy," Mr Davis said.
Mrs Coleby-Davis' new appointment comes more than eight months after Wesley Ferguson, President of The Bahamas Taxi Cab Union called for her to resign as Minister of Transport, claiming that her decisions since assuming office have caused utter "chaos" and "turmoil" in the industry.
The union's grievances stemmed from the minister's decision to issue hundreds of taxi plates last year which the union says has caused the market to become oversaturated.
However, Mrs Coleby-Davis denied this, saying she had always left a line of communication open to the union.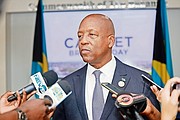 Former Works Minister Alfred Sears is now the new Minister of Immigration and National Insurance.
Prime Minister Davis said Mr Sears, who has served in previous administrations as the Attorney General, and as a Minister of Education is uniquely qualified to oversee reforms to the National Insurance Board as well as reforms which emerge from the review of immigration procedures.
In November 2022, Mr Sears too received calls for his resignation. FNM leader Michael Pintard called for Mr Sears to resign, pointing to what he called a "failure of the government to act appropriately to reduce the cost of electricity".
Mr Pintard made the remarks outside the Office of The Prime Minister where he led a press conference in the parking lot, after urging ministers at Parliament earlier that week to admit to the public that they received recommendations on how to avoid a 163 percent increase in BPL's fuel surcharge for consumers.
Mr Pintard told Tribune Business at the time that he and other opposition MPs were left "stunned" after Mr Sears said that the Ministry of Finance, headed by the prime minister, had dismissed recommendations to continue the trades, calling BPL's fuel hedging initiative "not in the interests of the country at that time."
Mr Sears responded: "The Minister of Finance communicated that based on what was presented, it was not supported. That determination was communicated in October 2021. What is the relevance of this new revelation?"
Mr Sears has since declined to speak further on the issue.
The National Insurance portfolio had previously been part of Minister of State in the Office of the Prime Minister Myles Laroda's remit, but is now removed. He retains his post as Minister of State, however. 
Meanwhile, the new title of Minister of Works and Family Island Affairs has gone to former Agriculture Minister Clay Sweeting who had vowed to make agriculture "sexy" in October 2021.
In addition, former Minister of State for Legal Affairs Jomo Campbell has been promoted to Minister of Agriculture and Marine Resources.
"He has contributed wise counsel on a range of complex legal and policy issues," Prime Minister Davis said. "He has shown he can do the hardest and most important thing in government, which is take a plan on paper and make it real.
"His ability to drive change will be essential in his new role as substantive Minister for Agriculture and Marine Resources," Mr Davis said.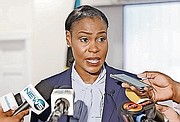 Pia Glover-Rolle, who was the Minister of State for Public Service has been promoted to Minister of Labour and Public Service for wide accomplishment in the sector as State Minister, with Prime Minister Davis saying he is "confident she will serve with distinction".
Former Minister of State for Education Zane Lightbourne is now Minister of State for Environment to "help drive this push for more sustainable development" and " to strengthen the work" of the ministry, Prime Minister Davis said.
Former Minister of State for the Environment Basil McIntosh has also been moved to Minister of State for Aviation.
Following the announcement of the Cabinet shuffle, FNM leader Michael Pintard released a statement voicing his dissatisfaction with the new appointments, saying little has changed.
He said: "This desperate move is an admission of the Davis administration's declining favour with the public. The name attached to the government plates may be different, but little has changed.
"When these ministers finally return to work, there will still be over 100 unanswered questions on their desks form the Opposition. The Bahamian people's confidence in this long-talking crew will still be low.
"No amount of pomp, pageantry and public relations will change what even their endless consultants can see clear as day; the PLP (Progressive Liberal Party) government is running out of time and they will soon be out of office."
The shuffling of Cabinet has been widely anticipated following the proroguing of Parliament on August 12, with a new Parliament session beginning on October 4.