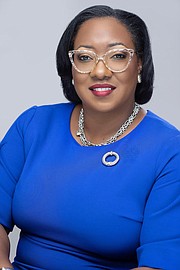 By Fay Simmons
Tribune Business Reporter
jsimmons@tribunemedia.net
THE business community is "looking forward" to working with new Cabinet ministers following the government reshuffle, said Khrystle Rutherford-Ferguson, the Bahamas Chamber of Commerce and Employers Confederation's chairman, yesterday.
She said: "As always, the BCCEC remains committed to working with the government of the day on key issues impacting the business community. This extends to all ministers inclusive of those with new responsibilities or ministries assigned to them.
"We are looking forward to meeting ministers with new portfolios that are relevant to businesses. This will allow for a reintroduction and restatement of key priority areas for our members."
She noted that consultation with the private sector on industry matters is a fundamental part of ensuring that policies are implemented seamlessly.
She said: "The BCCEC believes in meaningful and robust consultation and considers this to be a key cornerstone of good governance and community participation. When stakeholders are engaged, we offer our industry expertise to improve the economic environment. This is particularly important for the smooth implementation of policies."
The Prime Minister gave a national address on Sunday when he revealed several new ministerial posts and portfolio adjustments.
He said that Clay Sweeting, Minister of Agriculture, Marine Resources and Family Island Affairs will now be responsible for the Ministry of Works and Family Island Affairs. He added that combing the two ministries "makes sense" due to the large number of Family Island initiatives underway, including the $260m Family Island Airports Renaissance Programme.
He said: "As the new Minister of Works and Family Island Affairs, Minister Sweeting will oversee the significant number of infrastructural projects and upgrades that are underway. Pulling Works and Family Island Affairs together makes sense in our government, because of the scope of our ambitions for our Family Islands.
"With two new airports already opened, and 14 more to go, and major roadworks across multiple islands, we are looking at transformative change."
Daphne DeGregory-Miaoulis, the Abaco Chamber of Commerce president, said that while she has not yet consulted the local business community on the new ministerial posts, she is hopeful that Mr Sweeting retaining his Family Island Affairs portfolio will benefit them as he is familiar with the portfolio and aware of their issues.
She said: "He has been travelling the Family Islands, so he should be well aware of the issues that are of concern to the Family Islands. So maybe that'll be good for us. I'm hopeful that'll be good that he still has his hand in there."
The Prime Minister also announced that Alfred Sears will be reassigned from Ministry of Works to become Minister of Immigration and the National Insurance Board (NIB).
Mr Davis said that Sears' role at NIB will be to oversee the agencies "reform" prior to the 1.5 percent increase scheduled for next year. He noted that the changes will simplify the system, prevent fraud and expedite claims.
He said: "Minister Sears will be overseeing those reforms, to make the system simpler and easier to navigate. It's important to prevent fraudulent claims, and to expedite claims for people who deserve them. NIB should be there when Bahamians need it, so we need to strengthen the fundamentals, and improve services and accountability.
Mr Davis also announced that Minister of Housing and Transport, JoBeth Coleby Davis will be reassigned as the Minister of Energy and Transport. He explained that the country must transition to renewable energy to make electricity costs more affordable but warned that we should not 'underestimate' the costs associated with the change.
He said: "If we want to make electricity affordable, if we want Bahamian companies to compete and prosper, if we want to create a more dynamic and inclusive economy, we must transition away from our country's expensive, outdated, and unreliable electricity infrastructure.
"Energy reform can be a game-changer for us, but no one should underestimate the up-front costs and complexity of transforming the country's grid.
"Minister Coleby-Davis to serve as Minister of Energy and Transport, to do the critical work of bringing together and coordinating experts and teams from throughout our government to tackle our energy transition."
Mr Davis said that Minister of Immigration, Keith Bell will be the Minister of Housing and Urban Renewal. He noted that many Bahamians face difficulties securing affordable housing and said that building affordable homes is a 'priority'.
He said: "Another problem that has become very serious is that too many of our families are priced out of affordable housing.
"Building affordable homes and building stronger communities is a priority for us, and doing it in a big way requires strength and focus."
He also announced that Minister of State for the Public Service, Pia Glover Rolle will be the Minister of Labour and the Public Service; Minister of State for the Ministry of Legal Affairs, Jomo Campbell will be the Minister of Agriculture; Minister of State for Education, Zane Lightbourne will be the Minister of State for the Environment and Basil McIntosh will take on the role of Minister of State in the Ministry of Aviation.