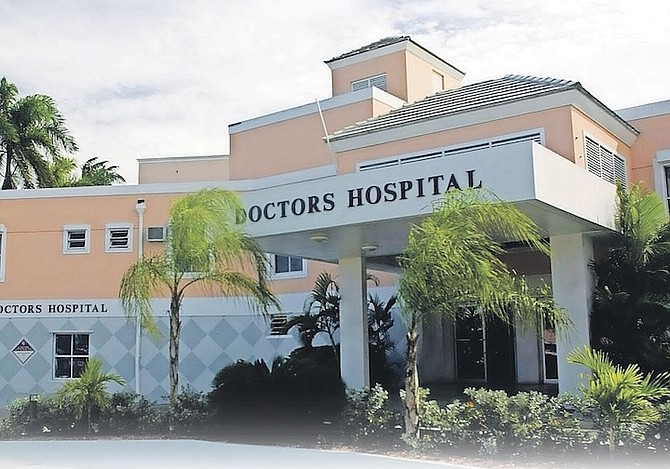 • Raise to target three 'priority' investor groups
• Doctors and existing shareholders; staff ESOP
• Timeline delayed, uncompensated care 'alarm'
By NEIL HARTNELL
Tribune Business Editor
nhartnell@tribunemedia.net
Doctors Hospital has secured $25m from Royal Bank of Canada (RBC) to finance its continued expansion as it works to "refine" its upcoming equity capital raise by "prioritising" three target investor groups.
Dennis Deveaux, the BISX-listed company's chief financial officer, told Tribune Business the debt funding will enable the healthcare provider to proceed with its $25m-$30m Grand Bahama hospital and other facilities while it finalises plans for offering additional shares to investors within the next three to six months.
He explained that Doctors Hospital intends to give "physicians and the medical community"; its own employees and healthcare workers; and existing shareholders first preference to buy into and acquire shares before the opportunity is expanded to other investors - primarily smaller Bahamian retail players. The creation of an Employee Stock Ownership Plan (ESOP) is being discussed as the mechanism that would enable Doctors Hospital staff to invest.
"We continue to look at our timeline. To some extent, we've looked at our strategy, and that involves - in addition to equity - a commitment for some debt," Mr Deveaux told this newspaper. "We'll announce in a few days that we've secured a financing commitment from RBC of up to $25m in debt.
"It's flexibly structured, and that will allow us the capacity to continue to fund the Grand Bahama hospital while we properly engage [potential investors] regarding the share offering. There are three groups we are targeting, including the physicians and medical community at large. We want to invite physicians to invest along with us, and be not only partners but owners of Doctors Hospital as it goes forward with private medicine in the country.
"We are refining our offering to target physicians at large and our associates. We're discussing an ESOP for employees and healthcare workers. We want them to not only be partners but owners in what we're trying to do. Third, we want to give every opportunity for existing shareholders not to be diluted," Mr Deveaux continued.
"Existing and large shareholders have indicated they want to participate in the raise. We think that once we're able to sort out the priority of those three groups - physicians and partners in medicine; associates; and existing shareholders - we intend to come to the Bahamian public, the retail investor, with an opportunity to buy into our business.
"Our intention is that we have executed on the $25m commitment from RBC. We're certainly going to advance that and add an equity component, hopefully over the next three to six months. We remain open, but we're not prioritising a private placement for the reasons mentioned."
Mr Deveaux's comments indicate that Doctors Hospital has pushed back the timeline for its planned equity capital raise given that he told Tribune Business in mid-June 2023 that the healthcare provider was targeting an end-August launch. Given the "three to six months" mentioned, it now appears to have been delayed until the fourth quarter or even moved into early 2024.
Besides its hundreds of shareholders, Doctors Hospital's just-released 2023 annual report reveals that it 1,022 total persons during the 12 months to end-January - 595 full-time and 427 contract workers - which gives an idea of how many may be eligible for participation in the proposed ESOP.
"What I would say is that there's huge interest we're fielding on the equity side," Mr Deveaux told Tribune Business, "so it's really important to give the priority out to physicians, staff and existing shareholders before we go to the public. We have a target in mind, and a flexible strategy on good, affordable, well-structured debt and then equity. That's our current thinking and we'll keep the public apprised." He declined to reveal the equity raise target.
The Doctors Hospital chief, meanwhile, said the healthcare provider continued to be concerned at "the alarming rate of uncompensated care" it is incurring, meaning that it is providing medical care and services to patients who would traditionally be seen by the public sector but receiving no compensation for this.
"Uncompensated care remains a top priority for redress," Doctors Hospital said in its annual report. "In financial year 2023, Doctors Hospital saw its provision for self-pay receivables grow to 40 percent for non-current receivables aged up to 364 days, and 100 percent for all receivables aged 365 days or more.
"These issues are balanced against Doctors Hospital's commitment to remain affordable and accessible, but nonetheless represented a considerable impact to profitability and cash flow in financial year 2023. Accordingly, Doctors Hospital reported a loss allowance for trade receivables of $5.8m in financial year 2023 versus $3.5m in financial year 2022, a 64.7 percent increase.
"Most of this risk is significantly concentrated in self-pay patients presenting with acute medical conditions. Such cases result in write-offs for Doctors Hospital given no capacity exists to facilitate a safe and seamless transition to care at the Princess Margaret Hospital (PMH), or to an alternate US-based hospital for clinical and financial reasons."
Mr Deveaux, who in June disclosed that "uncompensated care" is costing Doctors Hospital between $3m to $5m per annum, backed up the annual report's warning. "The only thing I continue to be concerned about is the alarming rate of uncompensated care we continue to have," he told Tribune Business.
"It's a difficult challenge. Bahamians want high quality care, and sometimes on the private side it's difficult to afford. We continue to try and find ways to work with the Government of The Bahamas to solve the issue of uncompensated care in the country. We know Bahamians ultimately deserve access to high quality and affordable care.
"The question is how we do that in partnership with the Government, and we remain optimistic about finding a solution." Mr Deveaux explained that uncompensated care typically arose when patients normally seen by the public health system, usually at PMH or the Rand Memorial Hospital in Freeport, have to seek treatment at Doctors Hospital "because capacity issues mean they cannot be accommodated" at those two institutions.
"Some of that is borne by ourselves, and there is no reimbursement for that, so ultimately the shareholders at Doctors Hospital ultimately end up picking up the tab. That's something we feel needs long-term resolution. There are solutions and we have confidence we are going to find one," he added.
"That's the only part of our business that continues to be under stress. With everything else, we are having strong signals from the market that there is high demand for our services, and we are able to deliver on that efficiently with the quality of service that Doctors Hospital is known for."