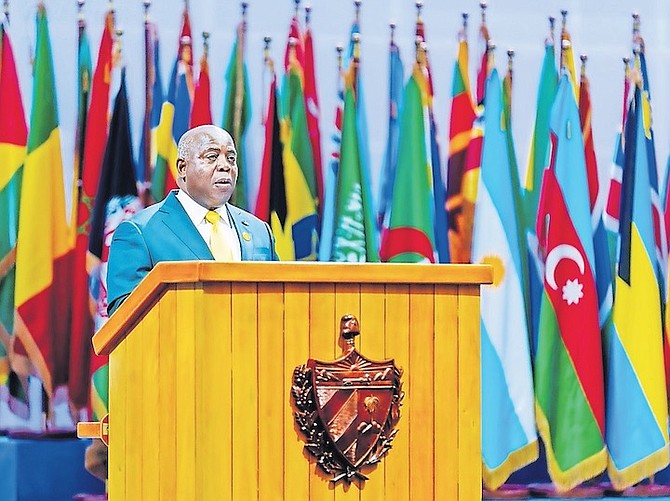 By TYLER MCKENZIE
TWO years in, the Progressive Liberal Party is taking the opportunity to pat itself on the back for its time in government in the current administration.
The weekend was one of victory celebrations, with a thanksgiving church service, a grill and chill, a curbside breakfast, and no doubt more.
A flier circulating on social media a couple of weeks ago listed the administration's success – although frankly, it looked a little thin.
The first item boasted about lifting the curfew and ending emergency orders – but let's face it, that's something the whole world has done.
It talked of free testing and free masks, reopening schools and initiatives to help learning recovery, again issues that any administration would have been dealing with.
There was talk of recruitment of police, immigration and defence officers, which is a fair point, though some recruitment would of course have taken place regardless to cover retirements and departures as part of natural turnover.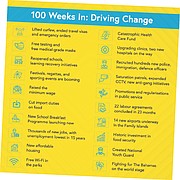 Strangely, rather low down on the list is the boast of unemployment being the lowest in 15 years, which frankly should be top of the list.
If there is anything this government has to boast about, it is the strength of the economic recovery. Perhaps the wave was coming regardless, but the administration appears to have ridden it effectively.
Also low down is that 22 labour agreements have been concluded – and this administration seems to have been strong in getting deals concluded and, broadly, getting many unions on its side.
What was lacking was any boast of a strong legislative agenda, any suggestion of laws that have made people's lives better.
It was spend, spend, spend on salaries, medical facilities, labour agreements – not so much about where the money is coming from, which would be our pockets.
So if this is the hard sell, it is coming up surprisingly short for a party so seemingly confident of its successes.
There have also been two notable opinion polls of late – one, from Public Domain, reporting that 70 percent of people approve of the job being done by Prime Minister Philip "Brave" Davis, with only 15 percent disapproving.
A second poll circulating in the past week went in the other direction, with 83.7 percent of respondents having a negative view of Mr Davis, and interestingly 81.4 percent not believing the outcome of the Public Domain poll.
Now we can argue which poll is more likely to be true – but one thing is clear, both cannot be true. In the end, the only opinion poll that will matter is the one where Bahamians cast their votes in the next election, and the PLP would be fools if they sat too comfortably based on the outcome of any opinion poll between now and then.
There are some things that seem clear – the government can certainly tout the economic strength of the country as it recovers after the pandemic and it can talk about jobs, jobs, jobs as long as anyone is within earshot.
Meanwhile, also playing in its favour is that it can seemingly point to the apparent disunity in the FNM, where leader Michael Pintard is looking over his shoulder at the lingering presence of former Prime Minister Dr Hubert Minnis, who appears to be wanting to lose the "former" part of that sentence.
Interestingly, that second poll that has circulated – which it must be said, seems of uncertain origin – said that 90.7 percent of people were opposed to Dr Minnis getting another chance as Prime Minister. Although, perhaps I'm being too generous, as the poll might be shown up by the fact that the question, "Should Dr Hubert Minnis be giving a next opportunity to be Prime Minister" was in such poor English that it brings doubts about the professionalism of the results.
Dr Minnis should not, however, be anywhere near a chance at leadership again. His leadership was roundly rejected at the last election, and there seems to have been no sign of people changing their opinion about him. There are plenty of people who do not appear to be convinced by Mr Pintard one way or another, but most seem convinced Dr Minnis would not be the answer.
So, two years in, where does that leave the PLP?
Having just taken a break to reset ahead of the next legislative session, and reshuffled with an utterly unconvincing reshuffle that leaves those who needed to be shuffled still in ministerial posts, it means the coming year has to be a strong one for the party.
People need to feel a difference in their pockets. The cost of electricity is really hurting the PLP's hopes at the moment, so they will be counting on that changing by the time of the next election. The missed opportunity to hedge fuel and limit the costs on the public – one of a number of reasons why Alfred Sears needed to be ousted as Minister of Works – will haunt the party until those costs come down.
It is good to tout jobs, it is good to tout the deals with unions, but if that money is going straight out of people's pockets, they won't feel the benefits of those other gains yet.
The administration has suffered other hits, too – not least of all to its trustworthiness.
Issues over lack of transparency, things such as the myriad unorthodox methods of Keith Bell at Immigration going unanswered, several other investigations that appear to be treated without urgency all count against the party for now. The cutting back of public briefings is another sign that the party is moving away from being open with the public rather than towards greater accountability. The reshuffle also showed a reluctance by Mr Davis to completely remove appointees who have led to flak for his administration – and that's not a good sign.
If this was a report card, we might conclude that the party must do better – but then again, it is only partway through its term. Perhaps we must conclude that it is a work in progress – and see what the administration delivers by its full term.