A LITTER clean-up was held in Coral Harbour on Saturday to mark International Coastal Clean-up Day.
The event was hosted by Blue Lagoon Island's not-for-profit educational department Dolphin Encounters - Project BEACH.
Event coordinator Te-Shalla Clarke, education supervisor at Blue Lagoon Island, said: "Often we go into areas that are obviously used as dumping grounds. We find old appliances, mattresses and other big items. What we found out here though was garbage being left behind by beach goers. There were lots of small items, one spot where we found more than 400 bottles, all left behind by people who came here to enjoy the beach. It just doesn't make sense."
The event was supported by corporate sponsors including Caribbean Bottling, Bahamas Waste, New Providence Ecology Park, Bahamas Wholesale Agencies, Aliv, CAT Bahamas and T&K Trash Removal. The Bahamas Red Cross provided an on-site ambulance service and Randy C of 917.6FM provided music.
This year's clean-up saw more volunteers than ever before - with organisations showing up including the Governor General's Youth Award, the Girl Guides and Brownies, the Boys Brigade, the Rotary Club of Nassau, Eco-Schools Bahamas, Temple Christian School Eco Club, BREEF, Visionaries, University of The Bahamas Eco Club, Certified Conch and Journey International.
Miss Bahamas Universe 2023 Melissa Ingraham joined the event, and said: "It's really heart warming to see so many young people getting involved, she said, "That's really important to the whole platform that I'm targeting, ensuring that there is ongoing education and awareness and the inclusion of all ages, but specifically the youth, and ensuring that they're aware of the importance of what's going on and what we need to all do to preserve our beautiful environment."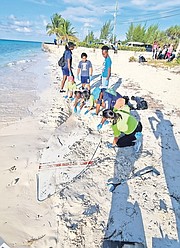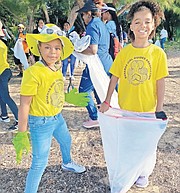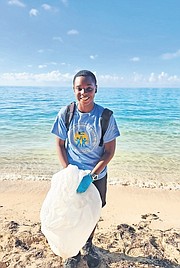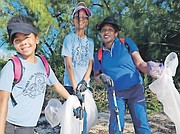 BY DENISE MAYCOCK
Tribune Freeport Reporter
dmaycock@tribunemedia.net.
A large turnout of volunteers participated in a major beach clean-up initiative on Grand Bahama in observance of International Coastal Cleanup (ICC) Day on September 16.
Eleven beaches were identified, and 31 civic organisations and 21 schools assisted this year.
Aulenna Robinson, sustainable tourism representative at the Ministry of Tourism Investment and Aviation, was pleased with the level of interest and support from local organisations and businesses.
ICC is an annual event that was started by Ocean Conservancy which engages people to remove trash from the world's beaches and waterways.

Ms Robinson said data was collected. Volunteers identified the trash found on the beach on tally cards, and garbage bags were weighed to determine the amount of trash collected.
"We appreciate the support and the interest we are getting from organisations that are calling and asking to participate in the ICC initiative, which initially started with the schools," she said.
Mr Robinson recalled that the schools did not participate only in 2021 because of safety restrictions due to the COVID-19 pandemic.

At Williams Town Beach, the Bishop Michael Eldon School scored a very large find buried in the sand.
Ms Selim–Dela Pena and her team of students, were able to remove the part of the small sailboat.
"It was heavy, and we think it is approximately 300 pounds and it took a lot of time because it was very deep under the sand," she said.
"This initiative is very important because it allows children to see what is happening around them, and how they can help save the environment."
Shannals Johnson, principal of Mary Star of the Sea Catholic Academy, said students from the Fourth Freeport Girls Guides, Brownies, Sunflower, and Anchor Club participated.
According to Ms Johnson, the institution received its eco-school designation and is internationally recognized as an environmental school.
"This initiative is important, and we have to continue the effort of instilling into our students and indeed the entire Bahamas that we must keep the Bahamas clean, green, and pristine," she said.
Joye Ritchie, vice president of the Pilot Club of Lucaya, said their service organisation looks forward to partnering with other organisations. She said their two Anchor Clubs, which are the junior arm of Pilot Club, also volunteered.
"One of our mandates is mental health and making sure your environment is clean contributes to good mental health and so every year we partner with organisations on the island anytime they call for service," she said.
Ms Robinson commended and thanked local businesses for their contributions, including Halt which donated gloves; PharmaChem donated gloves and gift cards from Cost Right for hand sanitizers; Bahamas Wholesale Agency (BWA), which donated garbage bags; Bethel's Superstore donated pencils; and Crown Ice and Bahama Pure each donated five 50 gallons of water.