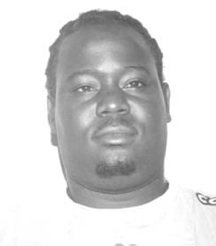 OLRIC "BLU" GLADSTONE MARSHALL
unknown - unknown
Funeral Service for OLRIC GLADSTONE "BLU" MARSHALL aged 27 years of Nassau East, North who died on Saturday, April 14th, 2012 will be held on Saturday, April 28th at 11:00am at New Covenant Baptist Church, Independence Drive. Officiating will be Bishop Simeon B. Hall assisted by other Ministers of the Gospel. Interment will follow in Lakeview Memorial Gardens and Mausoleums, John F. Kennedy Drive.
Left to cherish his memories are his Parents: Norenson and Olive Palacious; Father: Richard Marshall; Brothers: Darrel Miller, Jerard "JC" Palacious, Corporal 2672 Desmond Palacious, Crayshawn, Cherenzo, Kody, Justin, Rashad, Travis, Savor and Rick Marshall; Sisters: Desiree Rolle and Shorntelle; Sister-in-law: Lisa Miller; Uncles & Aunts: Edward (Joanne), Freddie (Michelle), Samuel (Margo), Sidney (Christine), John (CaSandra) Evans, Eric (Yolanda) Evans of Florida, Elizabeth (Denham) Stennett of Florida, Gladys Johnson, Frankiemae Evans, Estella (Gregory) Thompson, Lorina (Paul) Pennerman, Dennis, Winston and Dr. Lincoln Marshall, Estella Evans, Lawrence, Hilton, Earnest Jr., Rev. Priscola Roberts, Annamae Mortimore, Elvis (Pandora) Palacious; Grand Uncles: Charles (Mena) Taylor of Eleuthera, David Evans, Dr. Joseph (Ethel) Evans; Grand Aunts: Thelma (David) Duncombe and Sylvia Williams; Special friends: Shannel Rahming and Sammy Woodside; A host of other Relatives & Friends including: Danard and Dominique Russell, Jermaine, Kim and Michael Taylor, Thelma, Giovanah, Ryan, Shakeel, Raven, Tashell, Travis, Branden, Jania, Peebody, Vernon, Kennon, and Leshawn Evans, Racquel Johnson, Donovan and Ajariah Thompson, Shanice Mayers, Joshua Pennerrman, Jade, Ashley, Rudy, Melanie, Raymond, Carla, Garvin, Samantha, Nikita and John Evans, Beverly Finley, Syd Butler, Ella Thompson and Family, Mervin Sweeting and Family, Olga Thompson and family, Bersil and Donnalee Miller, Willamae Sweeting, Jamal Bastian, Cardo Dean, Pinky Percentie, Betty Sands and family, Mrs. Mackey & family, Alfred Spence & family, Mr. & Mrs. Julian Smith, the Marshall family, The Braciel Clarke family, Sandy Thomas of Philidelphia, Madeline Young, Inez and Dorothy Sands and Family, Travis Crossgill and Family, Jermaine Black and Family, Buba, Jiles Bostwick and family, Richardo Dean, Diamond Johnson, Nick Lightbourne, Roselyn Dames, Melonie Miller, Michael Francis, Shalique Johnson, the Collie Family, Bishop Simeon & Mrs. Linda Hall and the Church family of New Covenant Baptist, Pastor Mario Moxey and the Church Family of Bahamas Harvest Church, Bank Leu Staff, Private Investment Bank, Seagrape Plaza family, Administrators and Teachers of NCA School, the entire Deep Creek, Palm Beach Street and Nassau East North communities.
Viewing will be held at Clarke's Funeral Home #10 Tonique Williams-Darling Highway on Friday, April 27th from 10:00am to 6:00pm and on Saturday from 10:00am at the church until service time.