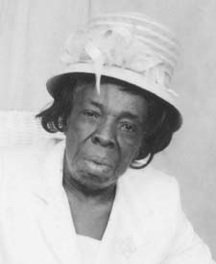 BRENDA CORAL STRACHAN-BROWN
unknown - unknown
Funeral Service for BRENDA CORAL STRACHAN-BROWN aged 72 years of Lincoln Boulevard and formerly of New Bight, Cat Island who died on Saturday, December 15th, 2012 will be held on Saturday, December 29th, at 11:00am at United Christian Church, Lincoln Boulevard. Officiating will be Pastor Raymond Hepburn assisted by Evangelist Rev. Dorothy P. Bain and other Ministers of the Gospel. Interment will follow in the Old Trail Cemetery, Abundant Life Road.
Precious memories of Brenda will linger in the hearts of her Loving Children: Andrew, Deacon Peter & Agrette Brown; Grandchildren: La'Shawn, La'Shae & P.J Brown & Kerven Pierre; Daughter-in-law: Joycelin Brown; Sisters: Betty Seymour & Judy Strapp; Brother: Oris Strachan; Aunt: Louise Gilbert of New Bight, Cat Island; Sister-in-law: Predencil Strachan; Nieces: Sallymae Sturrup, Jasmine Swaby & Opal Strachan; Nephews: Kingsley, Andy, Kevin, Dwight, Randy, Clinton, Clifney Seymour, Boaz and Terry Strapp, Jamaal & Kendal Strachan; Grand Nieces & Nephews: Ashley Strapp & Deronique Swaby, Joshua Strapp, Anderson, Kingsley, Kevin, Dwight, Randy, Clint, Clifney, Seymour & Sallymae Sturrup, Shaunlee, Diguel, Deargo, Dwight, Devantae, Cordell, Daniel & Mandy, Eurie & Tiffany Seymour; Niece-in-law: Andrea Strapp; Nephew-in-law: Carlos Sturrup; Numerous Cousins including: Rev. Dorothy P. Bain, Audrey Johnson, Bertha Walkes, Ruth Edgecombe, Janet, Allan and James Gilbert, Barbara Dorsett, Lionel, Dennis & Wendy Gilbert, Paul Strachan, Joycelyn, Elneka & Eddison Knowles; A host of other Relatives and Friends including: The entire Gilbert family, William, McKinney, Romer, Andrew, and Russell families, Pastor Raymond Hepburn, Bishop Albert Hepburn & the officers and members of United Christian Churches, Pastor Wellington Collie and the officers and Members Mt. Carmel Native Baptist Church, Joseph Feast & family, Sandra Gardiner & family and the entire communities of New Bight, Cat Island and Lincoln Boulevard.
Viewing will be held at Clarke's Funeral Home #10 Tonique Williams-Darling Highway on Friday, December 28th, from 1:00pm to 6:00pm and on Saturday from 10:00am at the church until service time.