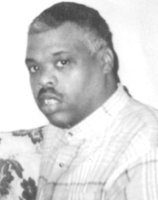 Kenyon Gregory Alexander McDeigan
unknown - unknown
Funeral Service for the Late Kenyon Gregory Alexander McDeigan, 55, of #9 St. Michael's Road, Gleniston Gardens, will be held on Friday July 27th, 11:00 a.m. at St. Francis Xavier Cathedral, West Hill Street. Monsignor Preston Moss and Fr. Glen Nixon will officiate. Interment will follow in Woodlawn Memorial Gardens, Soldier Road.
He is survived by his loving and devoted mother Mrs. Gwen McDeigan and his sister Lyn McDeigan. Other surviving relatives include five aunts: Ms. Janet Brown, Mrs. Gweneth Munnings, Mrs. Marilyn Bowleg, Mrs. Eileen Christian of Trinidad and Mrs. Elizabeth Matthews of Trinidad; three uncles: Mr. Harold Munnings, Mr. John McDeigan of Trinidad and Mr. David McDeigan of Trinidad; cousins: Mr. Richard Munnings, Ms. Linda Munnings, Dr. Harold Munnings, Mrs. Carol Misiewicz, Mr. Timothy Munnings, Mr. Leslie Munnings, Mr. Harrison Lockhart, Mr. Ken Lockhart, Mr. Cedric Munnings, Mrs. Judy Deveaux, Ms. Vanria Munnings, Ms. Sandra Munnings, Mr. Anthony Munnings, Mr. Wendel Munnings, Ms. Gaye Brown, Mr. William Brown, Ms. Jennie Brown and Mrs. Corrine Bartlett, Mrs. Zoe Galanis, Mrs. Nadie Maynard-Maycock, Mrs. Elizabeth Lapointe and Andre Lapointe of Ottawa, Canada, Mrs. Anne Moss, Mr. and Mrs. Joseph Alfred, Mrs. Sharon Dennis of Trinidad, Mrs. Dolly Armbrister of Freeport, Grand Bahama, Mrs. Gwen Hanna, Mrs. Doris Fitzgerald, and numerous other relatives. Godmother: Ms. Majorie Davis. Adopted aunts include: Mrs. Yvonne Bethel, Mrs. Patricia Jervis, Mrs. Prisca Pratt, and Mrs. Sheila Pessoa. Family friends: Mrs. Constance Joseph, Dr. Carla Bethel, Miss Margaret Dillet, Mr. James Harris, Mrs. Joan Roach, Mrs. Billy Godet, Mrs. Mellie Dillet, Mrs. Althea McCartney, Mrs. Kim Carey, Miss Linda Rolle, Mr. & Mrs. George Cox, Mr. & Mrs. Michael Stewart, Mrs. Myfawny Drummond, Mrs. Barbara Chatterton, Mrs. Carolyn Davis, Mrs. Sheila Gordon, Mr. Joseph Brown, Dr. Paul Roberts, Father Neil Nairn, Mrs. Elsa Barrett, Mrs. Paula Cunningham. Special thank you to: Dr. Harold Munnings, Dr. Adrian Sawyer and the dedicated nurses of Private Medical Ward, Princess Margaret Hospital, Mrs. Elsa Barrett, Mr. Joseph Lewis and the dedicated teachers of the Stapledon School.
Friends may pay their last respects at Bethel Brothers Morticians, Nassau Street on Thursday from 10:00 a.m. to 6:00 p.m. and on Friday at the church from 10:00 a.m. until service time.