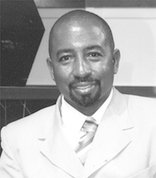 Lester A. Smith
unknown - unknown
Funeral service for Mr. Lester A. Smith, 48, of #1 Grovesnor Way, Windsor Park, Freeport will be held at 11:00 a.m. on Saturday, July 28, 2012 at First Baptist Church, Freeport.  Officiating will be Rev. Keith A. Russell. Interment will follow in the Grand Bahama Memorial Park II, Settler's Way and Frobisher Dr., Freeport, Grand Bahama.
Left of cherish his memories are wife: Elizabeth Munnings-Smith; mother: Teasil Jackson-Smith; children: Monique Anderson (Brian Sr.), LaKayshala Prosper (Michael), Lester Jr., Ethan and Eljay Smith; grandchildren:  Brian Jr., Ma'Lyka and Ma'Lyko Anderson; La'Kayzhia and Mi'Kai Prosper; sisters:  Theresa Bethel and Rosalee "Cody" Bethel; brothers: Robert Coakley, Sr. and Samuel Smith; nephews:  Brisco Glinton, Errol Flowers; Trevor, Larry, Robert, Jr., McGuyver, Sheldon, Quelin, Leslie and Calvin Coakley; Alonzo Russell, Jr.; Sametri and Samar'e Smith; Lamont Farquarson and Kevon Mader; nieces:  Aloniqua Russell, Theresa Coakley and Sameka Smith; uncles: Pastor Allen Sr., Herman Willie, Sonny, Jacob and Gerald Dixon; Ivan "Buddo" and Leo "Tupac" Jackson, Michael Douglas, Peter Catalano, Michael Douglas, Peter Catalano and Max Brown; aunts: Thelma Jackson-Douglas, Deborah Dixon, Margaret Brown, Loretta Algreen, Albertha Gianza and Theresa Calalano; grand aunts: Martha Smith and Hilda Gibson; granduncle: Willard Gibson; mother-in-law: Advern Munnings; father-in-law: Andrew Munnings; brothers-in-law: Kevin Hall and Jermaine Bowleg; sister-in-law: Jennell Smith, Jonniemae Munnings, Sonja Hall; cousins: Michelle Forbes, Sophie Flowers, Lt. Allen Dixon, Jr., Fiona Wildgoose, Tameka Andrews; Pedric, Keshelia, Takeshno, Herman, Jr., Johnny, Larry, Charles, Elvis, Mario, Otis, Jennifer, Jaba, Cecil, and Sabrina Dixon, Malcolm, Carrie, Shanda, Devin, Dwayne, Dexter, Deneka, Shavone and Zhivago Jackson, Cara Davis, Neil, Michael and Anya Douglas, Beverley McKinney; god children: Catavia and Matravia McPhee, Carrington Rolle; special friends: Patrick Adderley, Steven Adderley, Oscar Riley, Brando Stewart, Fatback, Jonathan McHardy, Mr. and Mrs. Mario McPhee, Wilton Brooks, Rex Pratt, Arabella Adderley, Emerald Willamae, Craig Pratt, Brian Diane and Johnny Bethel and Christopher Hall, Deon Pinder, Dexter Sargent, Trevor Smith, Mr. and Mrs. Ted Mackey, David Rodgers and Davanisha Rodgers; extended family and friends: Patricia Stuart, Rodney Stuart, Vandyke Stuart and family, Irene Smith and family, Marque Drummond and Family, Mr. and Mrs. Joe Dorsette, Nat Dorsette, Willie Bethel, Management and staff of the Freeport Container Port, Management and staff of ZNS, entire community of Long Island and the community of Hart's Exuma.
Viewing will be on Friday, July 27, at First Baptist Church, Columbus Dr. and Nansen Ave from 12:00 noon until 6 p.m. and on Saturday at the church from 9:30 a.m. until service time.