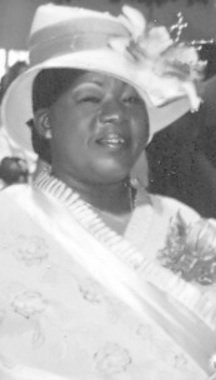 Maria Brenhilda Wallace-Bain
unknown - unknown
Funeral services for Maria Brenhilda Wallace-Bain age 51 of Pitt Road and formerly of Mastic Point, Andros, will be held on Saturday, May 5th, 2012 at 1:45 p.m., at St. Joseph Roman Catholic Church, Boyd Road. Officiating will be Monsignor Alfred Clumer. Interment will be made in: St. Joseph Cemetery, Tyler Street.
Left to cherish her memories are: Her husband: Raymond Bain Sr.; One son: Raymond Bain Jr.; Two daughters, Mrs. Shantal Moss and Sonovia Bain; Five adopted sons: Tuscon Ferguson, Michael Hanna Anton Butler, Omar and Kino Bethel; Three adopted daughters: Tamara Sands, Timmaka Edgecombe and Mrs Shelly Rolle; Four Grandchildren: Raygene and Raven Bain, Edwardo Moss Jr. and Hennessy Miller; One brother: Samuel Robert Robinson; Three sisters: Mrs. Violet Deroscar of Miami Florida, Mrs. Mary Elliot and Mrs Louise Knowles; One son-in-law: Edwardo Moss Sr.; Nine brothers-in-laws: Charles Deroscar Sr. of Miami Florida, John Elliot Sr., Daniel Knowles, Michael Jeffery Sr. Butch, Solomon and Lenord Bain, and James Coakley; Six sisters-in-laws: Geneva Mckenzie, Elena Wilkason, Brenadett, Brendalee, Patsy and Patricia Bain; Nieces: Alberta, Anna and Marionette Deroscar of Miami Florida, Opal, Jovan, Johnette, Johnicka, Elliot, Terez Bain, Erica, Beverly, Shavon, Aniska, Sherika, Marissa, Jamara, Jennifer, Janet, Beinca, Samantha Dean, Alex, Erinique Deandra, Nephews; John Jr., Charles Jr., Christopher, James Mckenzie Carlton, Anton, Steven, Rosevel Jr. Marcell, Marco Lavingston, Rafix Raja, Matavi Bain of Fort Lauderdale Florida, Jeffery Jr., Solomon Jr, Donna Fisher and family, And host of other relatives and friends including: Princess hompson, Theresa Whyms, Sylvia Seymour, Diana, Merline Rolle, Keanna and Anton Elliot, Ann Smith, Bridgette Burrows, Sheryl Hanna, Hatlie, Adury's, Enid Dean, Monique Sears, Lasherman, Kendra, Lawrease, Netty, Sharon, Aschelle, Al of Miami Florida, Cherio, Darrio, Stephine, Stephen, Shaquille, Synamon, Mrs. Francis Clarke and family, Rev Sabrina Moss and family, Sunny Martin and family of Mastic Point Andros, Roeana of Freeport, Iolamae Taylor, Staff at Ministry of Healh, St. Joseph Church family, Christian Tabbernacle Church family, Staff at the Airport Fire Branch, The St. Clair Family of Miami Florida, Pitt Road and Bain Town family and many others too numerous to mention.
The body will repose in the Blessed Redeemer Chapel at Ferguson's Funeral Directors, 7th Terrace Collins Avenue, on Friday from 10:00 a.m. - 5: 00 p.m. and at the church on Saturday from 12:45 p.m. until service time.