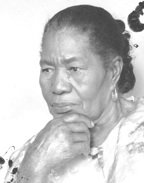 ETHEL FLORENCE FERNANDER
unknown - unknown
Funeral Service for MATRIACH ETHEL FLORENCE FERNANDER aged 97 years of Long Bay, South Andros who died on Thursday, May 10th, 2012 will be held on Friday, May 18th, at 10:00am at Mount Moriah Baptist Church, Farrington Road. Officiating will be Bishop B. Wenith Davis assisted by Pastor Charles T. Dorsett and other Ministers of the Gospel. Interment will follow in the Southern Cemetery, Cowpen & Spikenard Roads.
Mama will forever be loved and cherished in the hearts of those who knew her well which includes her (2) remaining Children: George Fernander and Gloria Rolle; (2) Sons-in-law: Hubert Rolle and Jenkin Nottage; (2) Daughter-in-law: Pastor Harriete and Dolly Fernander; (4) Sisters-in-law: Cleora, Jestina, Cecilia and Louise McKenzie; (27) Grandchildren: Gwendolyn Smith, Cardinal and Christine, Michael and Debbie Fernander, Conrad and Norma Fernander, Ruth and Alphonso Munroe, Catherine Pinder, Elva and Vandyke Bethel, Anita and Lernax Williams, Valden, Valdez, Valenti Fernander, Ophelia, Jeffrey and Sidney Stubbs, Dion and Danielle Stubbs, Shevaun and Michael Bain, Anthea and Kevin Gardiner, Kevin, Sheldon, Trevor and Jason Fernander, Lynette Brown, Mr. & Mrs. Bernadette Adderley, Judy, Sharon, Sabrina and Barbara, Tyrone Bonaby, Christine and Pedro Cleare, Sean Seymour, Margo Sturrup, Marvin and Sue Thompson, Mr. & Mrs. Perry Rolle; Great Grandchildren: Kevin, Jermaine, Valencia, Valentino, Diargo, Dania, Imani, D'Jenae, K'Shon, Jedargo, Kaysha, Jordan, Gavaun, Gavan, Kelvano, Cleon, Pacara, Keanna, Kaivann, Lamont, Cardinal, Cadrin, Blayre, Mikea, Kevin Jr., Danesha, Lamar, Alisha, Dayke, Madison, Serena, Lea, Alyssa, Joshua, Dillon, Shan, Whitney, Tameko, Angel, Darren, Quentin, Perry Jr. and Paris, Princess, Philencia and Pedrica, Shequita, Lynessa, Antoinesha, Brandon, Dentry, Imani, Clintnessa, Demario, Destiny; Numerous Nieces & Nephews including: Ignatius, Bradley, Dudley and Emperor Jr., James Williams, Antrim, Idena, Arazetta, Blossom, Annie, Obedia, Leslie, Angela, Fred, Ernestine, Bernadette, Patricia and Patrice, Basil, Alphonso, Sara, Nezelene, Willamina, Jocelyne, Anthony, Tyrone, Oswald, Sandra, Rebecca and Rev. Dr. William Kelly; A host of other Relatives and Friends including;, Bloneva, Havinson, Antoinette Bonaby, the Sturrup, Henfeild, Kelly & Smith families, Mandarine and Chester McKenzie, Almina and family, Laranamae, Yvette, Stephen, Marie, Lynden, Patrice and Kayla, Nesa and Janette, Sharon Henfeild, Wilton Stuart & family, Pastor Eulalee Gibson and Sister Leta Davis, Reverand Harry Davis & Family, Lamaicee Atiylo, Carolyn, Dedree, Bethsheba, Keith, Berrnard, Althea, Nurse Mullings, Paula & Dru Newbold, the Pennerman family from Mangrove Cay, families of Driggs Hill including the Forbes, Rolle, Flowers and Williams, Kendal Burrows & family, the Duvalier, Davis and Nottage families of Congo Town, Desiree Clarke & family, Mrs. Johnson & family, Tia Barette & family, Joan Culmer & family, the Duncombe & Edgecombe families, Shirley Newbold & family, Mable Smith, Knox Russell, Mr. Fonswit Stubbs & family, Mr. Clonius Stubbs & family, Ms. Pat Bethel and family, Pastor Mario Moxey & family, the officers & members of Mount Moriah Baptist Church, the officers & members of the Zion Baptist community, the members of the Mothers Club of South Andros and the entire community of Long Bay and numerous other relative and friends
Viewing will be held at Clarke's Funeral Home #10 Tonique Williams-Darling Highway on Thursday, May 17th, from 12:00noon to 5:00pm and on Friday from 9:00am at the church until service time.