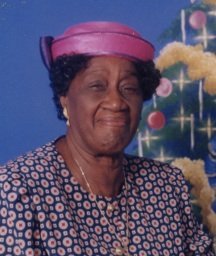 Anna Colebrooke-Lewis
unknown - unknown
Funeral Service for Anna Colebrooke-Lewis, 87 years of #22 Woodlawn Way, Winton Heights will be held on Saturday June 2nd, 11:00 a.m. at Wesley Methodist Church, Grants Town, Blue Hill and Chapel Street. Rev. L. Carla R. Culmer assisted by Rev. Frederick Kelly will officiate. Interment will follow in the Western cemetery, Nassau Street.
Left to cherish her memories are her son: Wendell Colebrooke, daughter: Sandra Neville, Daughters in law: Mrs. Grenda Colebrooke and Mrs. Annie Colebrooke; Son in Law: Dr. Michael Neville; Grand daughters: Kim, and Ashanique Colebrooke. Mrs.Aldeka Rolle, Mrs. Phillipa Wilson and Attorney Mrs. Michelle Neville Clarke; Grand sons: Bradley, Brendan, Andrea, Brian and P.C. 3405 Phillip Colebrooke Jr., Sean and Attorney Damian Neville; Great-grandchildren: Willinque Wilson, Antoine Deonte and Tavon Colebrooke, Aidan and Alana Marie Clarke, Skylar and Deaglan Neville; In – Laws: Mrs. Annie Neville, Mrs. Tameka Colebrooke, P.C.Det. 2671 Corey Rolle and Mr. Glen Clarke Jr; Sisters in Law: Mrs. Eloise and Deaconess Alamanda Colebrooke; Close family and friends include: Nurse Lucy Darville and Family, Mrs. Irene McQuay-Smith and family, Patrick and Ruth Ferguson and Family, Sandra and Winston Knight, Ms. Carol Nixon and Family. Mrs. Anna McPhee and the Theophilus Chipman family of Miami Fla. Ms. Gloria Grant and family, Ms.Maud Thompson and family. Ms. Janet Demeritte. Nurse Eloise Nicolls and Family, Nurse Winifred Bullard, Ms. Erma Finlayson and Family, Mr. John Bullard, Anita and Fletcher Dillete, George, Micheal and Ruth Darville and Family, Brenda and Kendra Samuels, Mr. Henry Dean and Family, Ms. Anita Bowe and Family, Ms. Gwen McDigan, Mr. Harrold Munnings and Family, Ms. Eulalee Johnson, Ms.Sandra Archer, Ms. Nora Dorsette, Ms. Naomi and Bernice Eneas and Family, Rev.Cynthia Mother Pratt , Mr. Edmondo and Patricia Moxey , Mr. Charles Moxey. Mrs. Janice Davis and Family, Mrs. Mary Rodland and Family, Ms. Salomaie Gibson, Former neighbors The Lockharts, Grimes, Symonette and Armbrister Family, Kirk and Brenda Simms and Family, Mr. Basil and Dorothy Tucker and Family, Mr. Carlton Cleare and Family Ms. Florence Johnson and Family, Ms. Joyce Drakes and Family, Kirk and Francina Thurston and Family, Mr. Cardinal Hutcheson, Mrs. Nathalie Hutcheson and Family, Dr. Portia Brown and Family, Nurse Erma Adderly, Nurse Marilyn Knowles, Rev. Fredrick and Mrs. Kelly and the officers and members of Epiphany Methodist Church, Rev. Carla Culmer and Members of Wesley Methodist Church Grants Town. Monsignor Preston Moss, Bishop V.G. and Beverly Clarke and Family, Dr. Patterson, Mr. Micheal and Allison Hamilton, The Over The Hill Reunion Group, The Winton Neighbors: Pastor Butler and Family, Mr. Doyle Burrows, and The Toote Family, Dr. Harry and Marie Frere, Ms. Ruth Johnson and Family, Staff of the Bahamas Heart Center and Dr. Agreta Eneas.
Friends may pay their last respects at Bethel Brothers Morticians, Nassau Street on Thursday from 10:00 a.m. to 6:00 p.m. and on Saturday at the Church from 10:00 a.m. until service time.