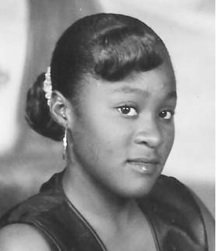 Dashinique Roshae Delancey
unknown - unknown
Funeral Service for Dashinique Roshae Delancey age 32 years of White's Addition off Kemp Road will be held on Saturday 1st June, 2012 at Glad Tidings Tabernacle Assemblies of God at 11:00a.m. Officiating will be Pastor I. Russell assisted by other Ministers of the Gospel. Interment will follow at Woodlawn Gardens.
Left to cherish the memories are: her Parents: Grawdin Stuart & Brenda Delancy; Children: Brittany Cuffe, Trevor & Tashanae Ferguson, Siblings: Shaquille Adderley, Fritzgerald, Shawn Staurt, Gina, Staurt, Vanessa Stuart Robinson, Keisha & Melrose, Aunts: Eurika Adderley,Lavenia, Georgie, Kathlean, Agnes, Patricia, Rogena Uncles: Wellington Hall Sr., Livingston, William Jr., David Nephews: Wellington Hall Jr., Lavon, Lathario, Lamar, Lavar, Justin, Nathan, Kryzharro, Nieces: Appalonia, Akariyah, Kia, Vanal, Lauren, Brittany, Octovia Numerous Cousins & Relatives including: Richard Delancy, Samuel McIntosh, Julianna Metelus, Lucitian & Rachel Metelus, Shirley Pinder, Stephanie Adderley, Leslie Williams, Theresa Deal, Rochelle, Orville, Anthony, Freddy, Terry, Roderick, Eddie, Joey, Joel, Dan, William, Williamae, Anna, Nicki, Brenda, Gloria, Vanny, KiKi, Juliette, Romeo, Neko, Icis, Whitney, Shantell, Vanessa, Euel, Nicky, Idell, Richard, Sandra Clarke & family, Glendina Sweeting & family, James Mckinney, Cyril Swain & family, Vernal Adderly & family, Judy Taylor & family, Joseph Adderley & family, Marvin Pinder & family, Victoria Leadon & family, Maria Mortimer & family, Val, CeCe, Berverly, The White's Addition & Kemp Road Community, Carmicheal Road Family, The Nurses & Doctors at Princess Margaret Hospital, Dept. of Environmental Health.
Viewing will be held in the Rose Suite at Evergreen Mortuary on Collins Avenue & Fifth Terrace Centreville on Thursday from 10:00 a.m. - 6:00 p.m. and again at the church on Saturday from 10:00a.m. until service time.