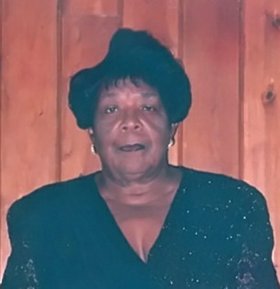 Elma Margurite Johnson-Thompson
unknown - unknown
Ruby Funeral Service for Mrs. Elma Margurite Johnson-Thompson age 79 years of Dignity Gardens and formerly of Stanyard Creek Andros and Savannah Sound Eleuthera will be held on Saturday, June 02, 2012 at 11:30am at St. Agnes Anglican Church, Blue Hill Road North. The Venerable Archdeacon I. Ranfurly Brown, assisted by Fr. Neil Nairn will officiate and burial will be in Woodlawn Gardens Cemetery, Soldier Road.
The Radiance of this "Ruby of A Gem" will always glow in the hearts of her:
One Son: Sidney Bernard Jr.;
One Step Son: Scott Thompson;
Four Daughters: Judith Ellen, Joy Charlene Alison and Kerry Ferrell Thompson and Cheryl Donna-lee Arnett;
Eleven Grandsons: Elvis Jr. and Kelvin Cooper, Chal Burchard, Trey Bienaine, Oslee McCardy, Semeko and Shavard Arnett, Kenton and Kendron Fines, Leonard Jr. and Mateo Papageorge;
Twenty Three Granddaughters: Elvia and Tishonia Cooper, Shonique Moss, Antonia Young, Regena, Tamara, Tammy, Shianna, Diamond and Cherish Thompson, Renee Graves, Lisa Bullard, Keturah Farrington, Collene Clarke, Sanay Collie, Brittany, Bianca, Shavard, Jewel and Cheree Arnett, Anastacia, Dianna and Khloe Papageorge;
Eighteen Great Grandchildren: Elisea and Elianna Cooper, Duran Moss Jr., Zoria and D'Azurnae Scott, Carleeyah and Cailyn Young, Jazmen Green, Justin, Trinity, Lindsey and Jevaun Graves, Infiniti Arnett, Kaidyn and Kelson Auguste, Kayla, Zacary and Eton Bullard;
One Sister: Vernell Storr;
Twenty Nephews: Stafford Clarke, Kennedy and Mark Storr, Charles, Elwin, Shane, Lawrence and Terrence Carey, Vaughn, James and Jerry Gibson, Vernon, Elvin Jr., Glen, Larry, Vincent, Thaddeus, Hiram, Tyrone and Neville Thompson;
Ten Nieces: Jacqueline Bourque, Gwendolyn Brice-Sealy, Carolyn Storr, Patronia Crawford, Lenny Thompson, Deidre LaRoda, Vanessa Gibson, Sandra Carey, Gilda Dean and Calliope Longley;
One Uncle: Clarance Woodside;
Three Sons-in-law: Superintendent of Police Bruce Arnett, Leonard Papageorge and Trevor Ximinies;
Two Daughters-in-law: Delphine and Katherine Thompson;
One Sister-in-law: Closandra M. Gibson;
Two Godchildren: Marsha Gibson-Nottage and Melissa Kelly;
Other loving family and friends including: Harcourt Gibson, Ellen, Karen and Maxine Thompson, Dr. Anthony and Ellamae Davis, Stacy, Anthony and Wesley Bastian, Francoise Bourque, Carlotta Klass, Leonard and Shirley Papageorge, Leonard and Katherine Bullard, Annis Antrobus, Lindsey Graves, Trevor Ximines, Elvis Sr. and Tommika Cooper, Cailyn Young, Jade Hilton, Paul Sealy, Duran Moss Sr., Joe Whyms, Omar Stubbs, Inez Knowles, Stella Dorsette, Clarice Jones, Norma and Rozelda Woodside, Travis Deveaux, Eulease Johnson, Emerald Brown and their families;
Special Thanks To: Doctors and Nurses of Princess Margaret Hospital, Community of Savannah Sound, Staff of Parliamentary Registration Department, Department of Public Service, Atlantis Hotel, Sky Bahamas and Uniquely Bahamian.
Visitation will be in the "Sapphire Suite" Emerald Ridge Mortuary & Monument Company Ltd. #20 Claridge Road on Friday, June 01, 2012 from 10am to 1pm and at St. Agnes Anglican Church, Blue Hill Road North on Saturday, June 02, 2012 from 10:30am.