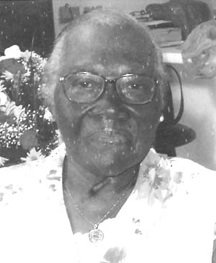 Alwilter Jane Bain
unknown - unknown
Memorial Service for Alwilter Jane Bain, age 95 years, of Melvern Road and Maize Court, formerly of Harbour Island will be held on Friday November 30th, 2012 at 11:00 a.m., at Christ the King Anglican Church, Ridgeland Park West. Officiating will be Rev. Canon Curtis Robinson assisted by Rev. Whitfield Hutcheson.
Left to cherish her memories are: her three sons: Ormond and Basil Davis and Fred Bain, grandchildren: Sean Bain, Tirzah and Jeff McClinton, Byron, Tiffany and Brehon Davis, Lataziz and William Brown and Pina and Stanya Davis and Meredith Stubbs, Suzette and Celestino Butterfield and Ray Forbes; great grandchildren: Serayah, Jeffery and Andrew McClinton, Ramon and Noelle Davis, Malia Cash, Jaden Stubbs, Candiece, Celestino and Darrius Butterfield; great-great grandchildren: Ramiya Davis, Bethany and Celeskia Butterfield; three sisters: Diana Culmer, Althea Davis and Ruth (Auntie Boo) Percentie; nieces: Laugana, Margaret, Geneta, Vilma, Beryl, Betty, Sandra, Delma, Gretchen, Portia, Coralie, Sherll, Luchie, Louisa, Valbunza, Agnes, and Healias; nephews: Michael, Kinworth, Edward, Ulysses Jr., Daron and Solomon; brothers-in-law: Ulysses Culmer and Godfrey Bain; special friends: Pat Mortimore and Marie Rodgers; other relatives and friends including: Nora, Tessiemae, Norma Newton, Sucette Maycock, Vilma Marshall, Michelle Pickstock, Betty, Beryl Carey Davis, Wilfred, Alafia Moree, Rodgers, Yvonne Brown, Antoinette, Esthel, Rudell Albury and family, the Davis family of Harbour Island; the Melvern Street residence and the communities of Inagua and Harbour Island and many others too numerous to mention.
Special Thanks to: Dr. Agreta Eneas, Dr. and Mrs. Kates and Dr. Gomez
There will be no viewing.
Arrangements are being handled by Butlers' Funeral Homes and Crematorium, Ernest and York Streets.