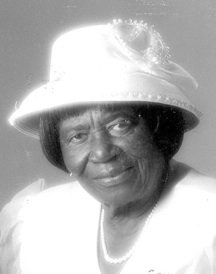 Emily Thompson
unknown - unknown
There will be a memorial service held for Mrs. Emily Thompson on Thursday November 29th at 6:30 pm at Southland Church of God, Soldier Rd. Officiating will be bishop Goliath Burrows.
Funeral service for the late Mrs. Emily Iva Thompson age 90 years of Flamingo Gardens formerly of New Bight, Cat Island will be held at Highway Church Of God, New Bight, Cat island on Saturday December 1st at 11am. Officiating will be Bishop Jeffery Johnson Assisted by Pastor Daniel Johnson. Internment will follow in the New Bight Public Cemetery, New Bight Cat island.
Precious memories will forever be cherished by those who loved her so much:
2 DAUGHTERS: Elizabeth Carey and Staff Nurse Sheena Woodside
2 ADOPTED DAUGHTERS: Sheila Kemp & Melany Marshall
1 SON: Berthram Thompson of Berlington New Jersey
3 SISTERS: Roslyn Johnson, Beverly Thacker, Velma Hanna of Delary Beach Fla.,
3 BROTHERS: Rev. Daniel Johnson, Erskin & George Johnson
1 DAUGHTER-IN-LAW: Manda Thompson
2 SONS-IN-LAWS: Carl Carey & James Woodside Sr.
4 SISTERS-IN-LAWS: Irene, Vernita, Mavis and Gertrude Johnson
1 BROTHER-IN-LAW: Charles Hanna of Delray Beach Fla.
GRAND CHILDREN: Elma Storr, Ivy Bauld, Mosel Jones, Duke Moss, Patrice Hunter, P.C.1496 Dion Thompson, Peggy Johnson, James Jr. and Sidney Woodside, Patrice Thompson, Rev. David Wallace, Cheryl Ewing, Pamela Russell, Perry Williams, Nadia Thompson, Sonia, Clarence, Tony & James Thompson, adopted grandson Christopher Knowles, adopted granddaughter Melanie Curling of Halifax, Nova Scotia, Canada
GRAND SONS-IN-LAW: Junior Johnson, Rev. Bradley Russell, Jerry Hunter, James Ewing, Trevor Marshall, Alfred Storr Sr. and Edward Kemp
GRAND-DAUGHTERS-IN-LAW: Kenva Wallace, Brenda Jones, Deandra Williams, Shannell Moss and Sandy Thompson
GREAT-GRAND CHILDREN: Capt. Davidson Thompson, Samantha, Dino and Travis Thompson, P.C.3385 Lechristo Lesbott, Marine Seaman Claude Lesbott Jr. , Bradesha Tate, Bradia, Bianca, Bradley Jr. and Dillon Russell, Tracy Jones, Cardinal Fernander Jr., Alfred Storr Jr., Sheneka Williams, Moniqua Jones, Jason Bauld, Ramourn and Deandra Williams, Christina, Azharia, Teanno and Duke Moss Jr., P.C.3677 Theo Armbrister, Jerrinique, Nevaeh and Jerry Hunter Jr., Andrew Woodside, Jayden, Shawn and Junior Johnson Jr., Tashinka Bethel, Keilan Roach, Jaeyla and Jahmiya Curling, Shari Williams, Desmond, Davaughn, Kentin, Katriel and David Wallace Jr., Larry Roker, Jermaine, Veandra and Tevin Ewing, Chekhovia & Alphoso Bethel, Derek Heburn, Jezreel & Akeem Moxey, Daja Roberts, Jeffrey Neely and Destiny Thompson
NUMEROUS GREAT-GREAT GRAND CHILDREN
NIECES: Jennimae Williams, Ferris & Tiffany Johnson, Valerie Brown, Chevanne Karr, Gillian Gray, Evamae Ferguson, Daisy Glass, Monique Jones, Emily and Monica Cornish, Antoinette Deleveaux, Melvern Davis, Dr. Debra Johnson-Dottin, Stephanie Ferguson and Marsha Hanna
NEPHEWS: Edward Johnson, Eric Darville, Leon & George Johnson, Marcus & Jacob Thacker, PC Jason Johnson, Jared Johnson, Bishop Jeffrey Johnson, Everett, Lynn, Rodney, Frank & Floyd Johnson, Franklyn & Anthony Johnson, Dr. Oswald Johnson, Rev. Jerome Johnson, Dr. Dexter Johnson, Dr. Peter Rahming & Family
NUMEROUS GRAND-NIECES & GRAND-NEPHEWS
SHE IS SURVIVED BY A HOST OF OTHER RELATIVES & FRIENDS INCLUDING:
Hon. Philip "Brave" Davis & Family, Dorris Farrah & Family, Bishop Winslow Moss & Family, Father Rex Seymour, Father Chester Burton, Father Hugh Bartlette & Family, Elsiemae & Lilimae Johnson & Family, Mother Louise Gilbert, Allan & Maguerite Russell, Shervin Tate, Gregory Darville, Sam & Paula Romer & Family, Viry Smith, Raplh & Ursula Ingersol & Family , Tony & Pam Ambrister, Ted & Judy Ambrister, Donna & Mark Keisler, Staff of Fernander's Bay Village, Henry Williams, Ida Dorsette, Brad & Idell Dorsette, Alice Woodside, Bishop Tueton Stubbs & Family, Bishop Goliath Burrows & Family, Evangelist Dr. Ivy Dean & Family, Patrice Rolle & Family, Dianna Rahming & Family, Lana Mingo & Family, Lilly Rolle & Family, The Southland Church of God Family, Queeny & Peter Gilbert, Charmaine Ferguson & Family, Allan Gilbert & Family, Michael Harris & Family, Carlton Seymour, Martha Mckenzie, Winston & Bernadette Bunch, Pam Stubbs, Ruth Williams, Albert Ambrister, Pompey Johnson, Angelique Brown & family, Euricka Dorsette, Bettymae McKenzie, Vanessa Hunter, Sharado Thompson, Rosie McKinney, Bernadette Lightbourne, Marge Romer, Virginia Bain and the entire Cat Island community
SPECIAL THANKS ARE EXTENDED TO THOSE FAMILY MEMBERS WHO VISITED, PRAYED, SANG AND CARED FOR HER DURING HER FINAL DAYS:
Roslyn Johnson, Elizabeth Carey, Beverly Thacker, Erskin Johnson, George & Mavis Johnson, Evamae Ferguson, Dorris Farrah, Elma Storr, Tracy Jones, Alfred Storr Jr., Melanie Marshall, Captain Davidson Thompson, Eric Darville, George & Leon Johnson, Duke Moss, Samantha, Dino & Travis Thompson, P.C.1496 Dion Thompson, P.C.3385 Lechristo Lesbott, Ivy Bauld, Pamela Russell, Sidney Woodside, James Woodside Jr., Junior & Peggy Johnson, Sheila Kemp, Dr. Peter Rahming & Family, Tiffany Johnson, Gregory Darville, Ursula Ingersoll and Martha McKenzie
SPECIAL THANKS: Nurse Rose Saunders, Nurse Elsa Behrings, Dr. M Gabolwelwe of Cat Island, Nursing & Auxiliary staff from Gynae & Maternity Ward, Dr. R Wallace & Dr. J. Pintard of Maternity Ward, Medical Consultant Dr. A Sawyer, Dr. D. Bowleg & Dr. K. Bannister, Gastroenterologist Consultant Dr. G. Rolle & Dr. Ricardo Davis and Staff of the Ultra Sound Department PMH
Friends may pay their respect at Demeritte's Funeral Home Nassau, Bahamas on Friday from 10am to 12noon and again on Friday at the church from 5pm until service time.